Preliminary 1955
Naval Support Force Antarctica (NSFA) established (1 February) along with Task Force 43, to be commanded by Rear Admiral George Dufek.
Plans finalized for 6 scientific stations: Pole, Byrd, Wilkes, Ellsworth, Hallett, and Little America V (LA5), along with a secondary air support/ logistics base at McMurdo.
Rear Admiral Richard E. Byrd designated "OIC, US Antarctic Program" (March).
"Operation Deep Freeze I" started (after being renamed due to trademark concerns by Amana regarding their freezers).
First arrival at Hut Point (12/18), tent camp set up, soon to become McM.
First aircraft land at McM ice runway (2 Neptunes (P2V's) and 2 Skymasters R5D's), 12/20).
First IGY-era flight over Pole (3 January) (Admiral Byrd was on the first 2 in 1929 and 1947 and did it again along with Paul Siple on 8 January, This was Byrd's final trip to the ice).
EO3 Richard Williams and his D8 disappear (6 January) in the Ross Sea en route to the then-planned land runway at Cape Evans.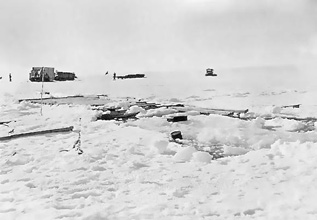 Construction Driver Third Class Richard T. Williams was driving a D-8 towing cargo trailers to the then-planned land runway site between Cape Evans and Cape Royds. A bridge had been set up to span a gap, but after crossing it, the ice gave way, and he did not emerge from the sinking tractor. At left, the site of his death
(the rest of the story)
.
A view of Little America V under construction during summer 1956-57. All 6 of the original research stations had the same architecture--T5 buildings, a RAWIN dome as seen here, aurora tower...photo by
Jim Waldron
from his book
Flight of the Puckered Penguins
(archive site).
...73 men at Little America V, 93 at McMurdo...including Navy doctor Isaac Taylor, father of singer James Taylor, who was 8 years old at the time (the story).
First cargo airdrop to Pole (as yet unoccupied), a C-124 Globemaster with Paul Siple aboard (25 October).
Beardmore Station set up as a weather/refueling station for Pole flights at the south end of the Ross Ice Shelf (85°S-166°W which was actually near Liv Glacier 120 miles east of the Beardmore).
Admiral Dufek lands in R4D Que Sera Sera (31 October).
Here's one view of the aircraft, piloted by LT Gus Shinn, on deck at Pole. This picture was taken by LT John R. Swadener (the navigator) and appeared in TIME magazine (
info and more photos
)
First construction crew arrives led by LT Dick Bowers (20 November). They determined they'd actually landed 8 miles from the Pole, to which some of them traveled with their dog team a few days later. They left their disabled Weasel behind. Pole has remained continuously occupied since this date.
First parachute jump (26 November); USAF TSGT Richard J. Patton jumps using a static line from a C-124 at 1,500' above the surface. He actually jumped at the site of the disabled Weasel, where parts had just been dropped. The Weasel was quickly repaired, and he rode to Pole with the Seabees who'd been left behind. His task was to help coordinate the airdrop operation.
P2V on deck at Pole, Christmas Eve 1956. The major structures of the new station are visible in the background. This photo by
Jim Waldron
(archive site) from the flight deck of one of two R4D aircraft that also made this trip; the flight crews had an early Christmas dinner before returning to McM.
Ceremonial Pole (original striped bamboo pole with glass ball) first erected on the garage roof (14 December).
This low aerial view of the station, taken before New Year's Day 1957, shows the newly erected bamboo pole atop the garage, with the tunnel framework under construction. This view looks southeast; from left to right are the balloon inflation building (small square structure), science building, gap where Siple's berthing Jamesway would be erected, garage, berthing Jamesway (shortly replaced by a prefab Clements building, see below), and galley. Note the skylights in the roofs; these would go away as the flat-roofed Clements buildings were replaced with pitched-roof T-5 structures. This photo is by UT Don Scott. He may have taken it as he departed on 24 December 1956 on one of the R4D's mentioned above.
First team of Seabees departs (24 December)
Before they left, the group posed for this photo, in which can be seen the shadow of the striped flagpole topped by the glass ball. Standing: Bristol, Speirs, Williamson, Tyler, Wagner, Bevilacqua, McCormick, Randall, Patton, Roberts, Goodwin, Bowers. Kneeling: Scott, Chaudoin, Hisey, Prescott, Powell, Nolan, Montgomery, Hubel, Woody, McGrillis, Slaton. Not pictured: Tuck. The shadow of the bamboo ceremonial Pole flagpole is visible (U. S. Navy photo from the
USAP Antarctic Photo Library)
Galley completed and occupied (around 27 December).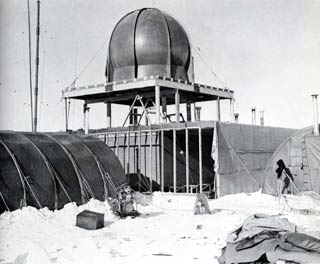 This photo, taken about the same time as the one above, looks northwest at the other end of the galley, with the newly erected RAWIN (radar weather balloon tracking) dome at the south end above the met office.
(U.S. Navy cruisebook photo)
Time capsule marked "to be opened in the year 2000" deposited in the astronomical hut at the real Pole (1 January).
The capsule, seen here being photographed in 1960-61, came from Peoria and was a D8 cylinder containing mementos from citizens of Peoria, to be unearthed in 2000. That didn't happen as it disappeared; NSF had plans at one time to try and find it somewhere in the old station, but that didn't happen either.
More information...
.
Station officially dedicated "Amundsen-Scott IGY South Pole Station" in a major ceremony held at McMurdo; the Polies didn't find out until much later.

At left, RADM Dufek makes the dedication speech at McMurdo for the commissioning of the new Pole station on 23 January 1957. Dr. Laurence M. Gould was the master of ceremonies, and other participants included Trevor Hatherton (Scott Base station leader), Kaare Rodahl representing Norway, and US IGY chief scientist Harry Wexler. Although congratulatory messages came in from President Eisenhower, Norway's King Haakon, and RADM Byrd among others, those at Pole didn't hear about this until the final w/o's arrived on the final R4D flight on 12 February. Meanwhile, station supply, construction, and manning had remained incomplete until the slushy McM ice runway was reworked for service (with help from a cold spell), and airdrops and other flights resumed on 10 February (US Navy photo from the Operation Deep Freeze II cruisebook).

Last airdrop, "station closed" (21 February).
OIC: LTJG Jack Tuck Jr., population 18 (list and photos)
Berthing building, delivered with last airdrop, finished in early March.
The winterover crew got to erect the berthing building in late February. This structure would later be rebuilt and turned into Club 90 (photo by Paul Siple)
(more information)
.
Admiral Byrd dies in Boston (11 March) at age 66.
First weather balloon launched (26 March)...using generated hydrogen as was normal for the original station.
Another late season construction project, building the seismo tunnel from formed snow walls and burlap. (photo by Paul Siple
more info
)
Temperature hits -100°F for the first time (12 May).
IGY officially begins (1 July).
Record cold recorded for the first winter: -102.1°F/-74.5°C on 18 September.
First flights are made from McMurdo to open Beardmore (9 September); this weather/refueling station site was relocated to the base of the Beardmore Glacier [in the pre-LC-130 days,the VX-6 aircraft were left on the ice over the winter, these R4D's had wintered at LA5].
Paul
Siple stands on the garage roof next to the, er, Ceremonial Pole... (photo from Paul Siple
the rest of the story
). I'm not sure when this photograph was taken; based on the snowdrifts and sun angle I'm guessing it was in the spring.
Geographic Pole marked with a circle of 55-gallon drums in a 100-foot radius (9 October).
While waiting for the first airdrop, Paul Siple's group moved these empty 55 gallon drums to form a circle which contained the best guess as to the
location of the real Pole. They used the results of many extensive celestial observations during the winter, made from the 4x8-foot astronomical hut visible in the right photo. The American and UN flags were flown to mark the location. In the left photo (behind Siple and Jack Tuck) the station is visible in the distance, with the galley/dome to the left and the aurora tower to the right. (
photo information and credits
)
First commercial airliner, a Pan American Stratocruiser (Boeing 377), lands at McMurdo (15 October) --a military charter flight carrying 37 passengers, mostly deploying Seabees plus some civilians.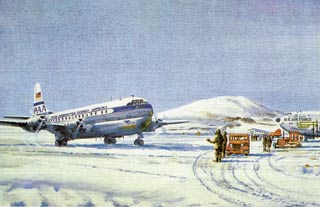 They'd started from Quonset Point, RI on a DC-4; this flight left San Francisco for McMurdo with stops in Honolulu, Canton Island, and Nandi, Fiji. The pilot was 25-year veteran Ralph Savory, his nine-person flight crew included woman flight attendants Patricia Hepinstall and Ruth Kelly, the first women to visit McMurdo (and media presence to get the story out). The aircraft was equipped with a new gyrocompass, rather than the magnetic compasses in use at the time. Navy officials said that the flight (which cost them $43,000) was intended to show the feasibility of commercial flights to Antarctica. This postcard was created from a print by artist John T. McCoy
(info from the Pan Am Historical Foundation)
. Here's another
photo of the aircraft
along with a D-8 and one of probably several Herman Nelson heaters (photo from Jay Gates).
Opening Pole airdrop (17 October).
Russian transcontinental flight crosses from Mirny to McMurdo (24 October). The Il-12 aircraft flew low over parts of the plateau including Pole...taking ice altitude measurements during the 14-hour flight. The faster return flight on 26 October took 8 hours.
The 8000' skiway dragged with weasel, as the only tractor (the D-2) was down for parts.
Opening flight (28 October). At a temperature of -60°F/-51°C, the P2V-7 pilot turns his engines off; result: multiple oil leaks, a cracked cylinder and an engine change at Pole. Reporters on the turnaround flight end up staying more than 2 weeks.
Second D-2 airdropped (11/10), streams in (parachutes didn't work) and buries itself 45+ feet deep; still today a target visible on LC-130 radar.
Seismologist Father Linehan determines from seismic sounding (made at the bottom of the 45-foot-deep D-2 crater) that the station is 8,397 feet above bedrock which is 903 feet above sea level.
The station team learns that Pole would continue to be occupied after IGY (5 December); the official announcement was made in January by President Eisenhower that the U. S. Antarctic program would continue indefinitely beyond IGY.
Sir Edmund Hillary arrives from Scott Base (4 January), leading the support leg of the Commonwealth Transantarctic Expedition (TAE)...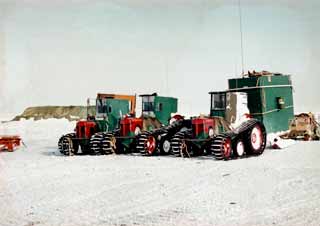 Here's the lineup of Hillary's three Ferguson TE-20 tractors parked near the station. The foreground tractor is hitched to a wanigan that Hillary called the "caboose." His trip to Pole had also been supported by dog teams as well as a Weasel loaned to him by the US Navy. That "caboose" was later used as
an air traffic control facility and passenger terminal
by the station until it burned in February 1962. This photo is by Cliff Dickey and is from the Antarctic Photo Library
(link to original).
...and TAE leader Vivian Fuchs arrives from Shackleton Base (20 January) halfway on his trip across the continent to Scott Base.
At left, Sir Edmund Hillary (left), Dr. Vivian Fuchs, and RADM George Dufek meet at Pole on 20 January 1958.
Hillary had traveled back to McMurdo by air after completing his overland depot-laying trek from Scott Base earlier in the month. He and RADM Dufek came to Pole to meet Fuchs as he arrived on the halfway point of his historic trip. Oh yes, Hillary left behind tractors, wanigans, dogs, and other supplies for the Pole folks in return for having VX-6 fly him back to McMurdo.
This photo is from
The Crossing of Antarctica,
by Sir Vivian Fuchs and Sir Edmund Hillary; ©1958 by The Trans-Antarctic Expedition; Little, Brown and Company (Boston/Toronto).
OIC Vernon Houk (left) chats with a couple of TAE members in the galley--Ralph A. Lenton (center), and Peter Mulgrew (right). Ralph was part of the eight-man advance team for Fuchs' party at Shackleton Base. They spent the 1956-57 winter living in a packing crate as they were unable to build their hut before winter set in, and many of their supplies were washed away during a storm. Peter was part of the New Zealand contingent led by Edmund Hillary; he died in 1979 on board the New Zealand DC-10 that crashed into Mt. Erebus (he was the commentator on that flight). This photo is from the
Amundsen-Scott IGY South Pole Station 1958
yearbook
(cover page)
.
OIC: LT Vernon N. Houk, population 18 (list and photo)
President Eisenhower first proposes Antarctic Treaty to other IGY participants (2 May).
USS Norton Sound, while in Antarctic waters south of the Falklands, launches the first of three 3-stage X-17A rockets armed with low-yield (1.7 kiloton)atomic bombs (27 August); the bombs were detonated at 100-466 mile altitudes at about 40°S in "Project Argus," a classified study of the earth's magnetic field which contributed to the discovery of the Van Allen radiation belts.
First Russian trans-Antarctic flight (Mirny-McM) passes over Pole (24 October).
The first Pole appendicitis case is treated without surgery by Dr. Houk.
First "power plant upgrade" -- two new 60 kw generators are installed in a new power plant building, replacing the original 30kw units.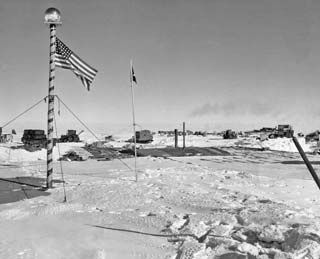 We're looking southwest across the garage roof, across the new power plant...source of the exhaust you see. I'm not exactly sure when this photo was taken, but
here are more details and photos
.
The snow melter/water system is upgraded using an asphalt melter in a separate structure just south of the new power plant, with two new water tanks in the shops building. This occurred after the original melter system had been seriously contaminated with bacteria from the dogs who sometimes visited the snow mine...
Seismo tunnel hit by a box during airdrop, no injuries but a 2-day repair job.
A view of one of the tunnels, already reinforced with stacked fuel drums which are already starting to crumple. Not a good long-term solution
(Fred Mayeda)
.
Galley, head and garage rebuilt, science lab remodeled.
This is Thanksgiving dinner 1958...OIC Sid Tolchin is at the head of the table. To his left is Lt. "Buz" Dryfoose, pilot of the VX-6 R4D-8 "Wilshie Duit". This version of the photo is from Fred Mayeda.
First part of a central fuel distribution system installed.
Weather Bureau sends the first Dobson spectrophotometer to Pole with Ben Remington, installed in a hut adjacent to BIT, but the optical wedges were distorted and it was unusable.
Russian team reaches the Pole of Inaccessibility (POI) for the first time (14 December).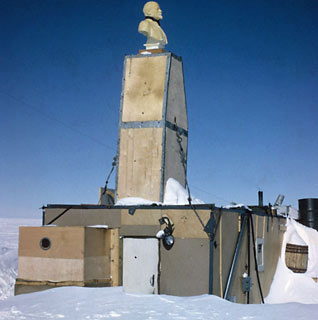 The term "pole of inaccessibility" refers to the location most distant from the Southern Ocean...this is arbitrary depending on one's definition of the "coast," which may be land, sea, or glacier ice. Recognizing this, early accounts referred to it as the "Pole of Relative Inaccessibility." When the Russians decided to set up an observation station there, they determined it to be at 82°06'S-54°58'E, 546 miles from Pole, at an elevation of 12,198 feet. They first overflew the site in an
IL-12
aircraft in December 1957. An 18-man tractor team, part of the the 3rd Soviet Antarctic Expedition departed from Komsomolskaya (74°06'S-97°29'E) on 3 February for the POI but ended up setting up an intermediate station (Sovetskaya, 77°58'S-89°16'E) (on the 10th) where 5 men wintered. The POI was not reached until the following season when a 17-man team arrived on 14 December after an 11-day trip from Sovetskaya. They set up some temporary structures and this sled-mounted hut (left) with a bust of Lenin atop the chimney.
More details about the station and that bust...
Geomagnetic "absolutes" hut completed; observations started.
Berthing Jamesway evacuated (30 January) due to roof collapse.
Little Rockford summer weather station (79°35'S-156°46'W) established along LA5-Byrd tractor trail near west edge of Ross Ice Shelf.
Little America V closed (19 January) by LTJG Frank Stokes after continuous use through 3 winters (use as a science base had officially ended 31 December; other visitors including the Glacier and Arneb visited later to recover stuff).
The "Chapel of Our Faith" was built SW of the galley--an Atwell hut (similar to a Jamesway but with a peaked roof that would prove no match for the snow load).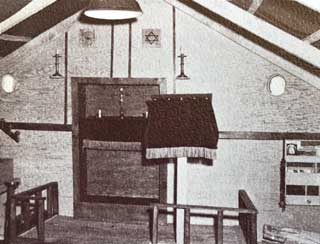 The 16x16-foot structure with ceiling height of 10-1/2 feet was dedicated on 25 January; it had representations from the Protestant, Catholic, Buddhist, and Jewish religions (representing at least one member of the group) on the front wall. Above the altar were pictures of the Buddhist chrysanthemum (left) and the Jewish star of David. On either side of the chapel were false windows with corrugated fabric glass with religious paintings lighted from behind. On 8 January 1960 the Navy chaplain Edwin Weidler conducted the first Protestant communion service. Alas, it collapsed from the snow load on 2 December 1960.
US turns over Wilkes Station to Australia (2/4), Ellsworth Station to Argentina (February).
OIC: LT Sidney Tolchin, population 17 (list and photos)
Official end of the US IGY science regime; NSF takes over from the National Academy of Sciences (NAS) as the USCARP program begins ("Continuing Antarctic Research Program") quickly renamed USARP.
One of the USARPs was Fred Mayeda, from the Seattle office of the US Weather Bureau. Fred was the first Japanese-American to work at Pole
(Fred Mayeda)
.
Fred passed away in 1964, but his son Stan graciously sent me a fine collection of his Pole photos.
Here's a full page of them!
New Navy/Air Force/NSF facilities developed near Christchurch airport.
The original American facilities had been scattered around Christchurch--including the international airport then known as Harewood, a disused brewery on Kilmore Street, the Wigram RNZAF base southwest of downtown, and the Weedons base further southwest of Wigram. But the continuation of the US Antarctic Research Program prompted consolidation at more permanent facilities just west of the roundabout at Harewood. These facilities would be used by USARP/USAP until the program
moved to the new Antarctic Centre development site
in September 1990
(more information and photo credit)
.
Fuel shortage concerns keep building temperatures below 60°F for the first half of the winter.
First 200 club at Pole, using a cabinet-type steam bath constructed from a packing crate. This (plus a tanning bed) was set up in the original garage. Rules: +120° steam bath temperature followed by a roll in the snow at -80° or below.
First surgery at Pole, in the new sickbay operating room (successful treatment for a urinary retention problem).
Record low temperature of -110°F/-79°C recorded (13 September).
First permanent laboratory, a 20x48 T-5 structure that would evolve into the Eklund Biological Center, occupied at McMurdo in April, managed under contract by the Arctic Institute of North America.
A view of the 59-60 station looking north, the ramp into the original garage is to the right, and the exhaust from the new power plant is to the left. Note the parked D-4. Near the RAWIN dome (atop the south end of the galley building) a pibal (small uninstrumented "pilot" weather balloon used to observe upper air wind speeds) is about to be released (US Navy cruisebook photo).
Heaviest recorded C-124 airdrop at Pole...
the first of 2 D4's (21 October), 9 tons, using 5 100'-diameter "G-11" chutes rigged 235' above the tractor. More pictures and info
here
.
Antarctic Treaty signed by original 12 member nations (1 December).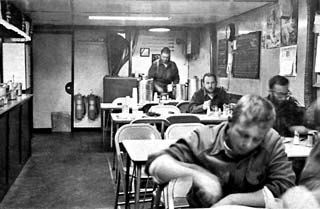 A photograph of the galley from the DF-60 cruisebook. Not a lot of that art work on the walls yet...back to front: ET1 E. C. O'Quinn, RM2 E. C. Allison, Michael Sabbagh (summer met), and BU3 Frank Dodd.
New VX-6 hanger at Christchurch airport completed by ASA Seabees.
At left is my 2014 photo of this hangar. The structure was a prefabricated steel building erected in 1959, after the United States decided to continue the Antarctic research program after the original IGY period. There was a need to consolidate military and NSF facilities
(more photos and information)
.
First "South Pole Marker" created and installed.
This marker, like those that would later appear in the 1970's and 80's, was NOT fabricated at Pole. And this marker was unique in that it was NOT intended to be installed at the actual pole, but rather inside the station nearby.
And it seems that this wasn't the only version of this marker created...an alternate version was up on Ebay in January 2016
(more info)
.
First major surgery: Dr. DuMais performs an appendectomy on CM3 H. F. Bibbee (23 December).
Navy quarters and sickbay--two 20'x52' T-5 structures, constructed west of the galley.
This view is looking WNW from near the south entrance door of the galley--the Navy berthing building (later named the Taj Mahal) is on the left, and sickbay is on the right. This picture was taken by Ron Lampert during the 1963-64 summer when this area was excavated to install the present structural steel roof framing in this area. (The OIC office/store/post office structure was erected in the foreground space in 1969-70).
New garage erected south of the main station (map).
This was a 28'x56' T-5 structure, although by the time this photo was taken (for the 1961-62 cruisebook
Our World in Antarctica
) a lean-to had been added, housing an office. Parked next to the garage is one of the sled-mounted wanigans that the 1960-61 Byrd-Pole Traverse had brought. The garage also housed a 30kw emergency generator and supplies, so that the garage could be used as a survival area in case the main station was uninhabitable. Alas, this garage would
burn down in October 1964.
16-man Russian glaciology traverse arrives on round trip from Vostok at 2135 on 12/26; they stay until 12/29 and determine with seismic shots that the icecap is 9219' thick with its base at sea level.
The 3-tractor traverse (seen here at Pole) was led by Alexander G. Dralkin, director of the Fourth Soviet Antarctic Expedition.
(more information, photos and credit)
.
New 28'x56' T-5 garage erected 700' from the main station, with a 30kw emergency generator.
All of the original comms antennas are replaced.
Second new geomag building erected along with new tunnel sections; not enough electric power would be available to heat both buildings.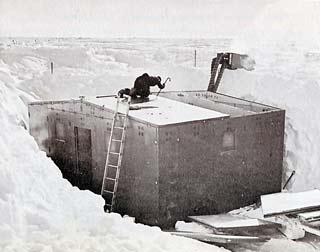 One of two prefabricated supposedly nonmagnetic T-5 structures erected east of the main station, about half way down that long tunnel to seismo. This is the larger "variables" building to the south of the main tunnel; the absolutes hut built the previous year was in the main tunnel.
Here's another view
(US Navy cruisebook photos).
Tunnel from science building to BIT rebuilt.
Antenna field rearranged in an attempt to minimize interferences between projects and with comms.
Power problems continue; tent stove used for heat in absolutes building causes 2 minor fires.
Little Rockford relocated to the east edge of Marie Byrd Land (79°30'S-147°19'W).
Navy Chaplain Edwin Weidler conducts first protestant Communion service in the chapel (8 January).
First flights of C-130's (Air Force) showed up to help move cargo inland.
This photo shows the first landing at a specially prepared skiway at McM. The first one of these made it to Pole on 1/28 with 14,000 lbs of cargo. There is speculation that the inland stations might have had to close without this assistance (
Details and stats
). The Navy, meanwhile, ordered 4.
Original 20' x 40' McMurdo cosray building erected between Crater Hill and Ob Hill for Bartol neutron monitors.
This structure was located roughly behind the later site of the Thiel Earth Sciences Laboratory/FSTOP; and ended up getting replaced almost immediately because it was too close to the nuclear power plant site, which would affect its measurements
(more information and photos)
.
OIC: LT Clay DuMais, population 19 (list and photo)
Generator problems and fuel shortage force severe crowding as new garage and barracks and old Jamesway are closed for the first part of winter (15 sleep in old barracks (club), 3 in science building and 1 in Dobson hut). Later, interior finish in new barracks was started, stopped; geomag buildings can't be heated.
Major fire in met building at Mirny during 110-knot windstorm kills 8, including station leader (3 August).
Atomic Energy Commission (AEC) awards a contract to the Martin Company for the 1500 kilowatt reactor PM-3A for McMurdo.
Record low temperature at Vostok to date: -126.9°F/-88.3°C (24 August).
Stanford begins 5 year contract to operate the McM biolab, which is doubled in size.
VX-6 gets Navy ski-equipped LC-130's to the ice (they were originally designated C-130-BL). The first landing at Pole was opening flight at 0147 local time on 30 October. It was piloted by CDR Elbert B. Binkley with RADM Tyree on board. Cargo included a special 10-ton sled for cargo unloading. Flight time to Pole was only 1 hour and 54 minutes; on deck time was 12 minutes.
The first LC-130 to arrive at McMurdo, in October 1960, #321, is shown here being refueled at Williams Field with one of those Gorman-Rupp fuel pumps (DF-1959-60 winterover Navy cruisebook photo). Here is PK Swartz'
color photo
of 321, along with the rest of the story of this famous aircraft.
First TACAN van delivered to Pole.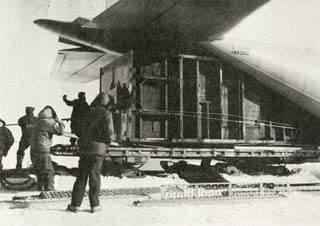 Here it is getting unloaded, probably on that new cargo sled. A better
GCA
system was important now that most of the cargo was to be delivered this way rather than by airdrop.
Two major seismic traverses arrive...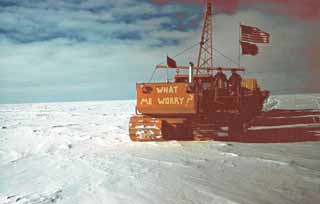 This Byrd-Pole traverse showed up on 11 January with 2 orange D-8's that had originally traveled from LA5. One reason for the trip actually was to deliver the D-8's
(more information and pictures)
.
...and a scientific traverse led by A. P. Crary which departed from McMurdo on 11 December local time and showed up on 12 February without fanfare because they were ahead of schedule. Crary was the first person to set foot on both the North and South poles, having flown to the North Pole from "Fletcher's ice island" (ice station T-3) on a C-47 with Joseph O. Fletcher and William P. Benedict on 3 May 1952.
In the galley, Dr. Albert P. Crary (center) discusses his 64-day 1230-mile traverse to Pole with
SSL
Dr. Ben Harlin (left) (U.S. Navy photo from the December 1987
Antarctic Journal).
Crary was the 7th expedition leader to arrive at Pole by surface transportation...the sequence was Amundsen, Scott, Hillary, Fuchs, the 1959-60 Russian traverse from Vostok, Havola, Crary. This 8-man traverse used 3 Sno-Cats with trailers. The traverse team was flown back to McMurdo on the 17 February closing flight. Two reports--
the first, listing the objectives
and naming the team, and the second,
describing the completion and including a map.
These are from the
Bulletin of the U.S. Antarctic Projects Officer
, January and March 1961.
Navy artist Arthur Beaumont visits, sketches, paints first watercolors of station (outside, with antifreeze in the paint) (at age 70).
Arthur's amazing painting of Pole...
More information
about the artist, and his work...
First engineering study for a new Pole station. Results: "Present plans call for replacement of this station beginning in DF-64.".
Comms building erected, the final westward expansion of the station.
This aerial view is looking east, the roof of the new comms building is visible in the left center foreground. I'm thinking that dark wall on the north side was erected to backfill against while preserving a passageway outside of the building. Just south of the new building are the furnace stacks of the already-buried sickbay and enlisted barracks which had been built in 1959-60. Here is the
full aerial view
of the station
(huge version, 842kb)
. These aerial photos also show the new garage structure (erected in 1959-60) to the south of the main station, as well as the taxiway and that new TACAN unit just west of the taxiway, both well west of the new comms building (Seabee Museum photo).
Interior finish work continued on the sickbay building.
Fuel line run to aurora tower.
Seismo tunnel reworked, widened.
Chapel (Atwell hut) collapses as does the old garage tunnel ceiling (27 December).
New head (still a "holer") constructed on the south side of the passageway SE of the shops building...and a third 60KW generator is installed in the same building with the engine fan reversed to blow warm air into the facility (a photo of the generator is here). The generator was delivered full of fluids and fuel and had to be manhandled into place.
CNSFA Admiral Tyree shows up with the first 50-star American flag to be flown at Pole (8 February).
This flagpole at the geographic Pole was a popular photo spot for visiting DV's who often brought their own flags. On one occasion a visiting Congressman flew his state's flag. When it was leaked to the press that he had flown it upside down, the station got a strong nastygram from above...
caption, credits and more photos
.
Construction begins on new buried Byrd Station 6 miles NE of original station, with buildings in trenches with arched roofs based on proven Camp Century, Greenland design.
Here is one of the freshly dug tunnels. These were created with Peter Snow Millers, which worked well at Byrd but did not do so well a few years later when they were used for surface preparation for the domed station at Pole. These trenches were covered with Wonder Arch, the same material used for the Pole arches, and the station buildings constructed inside. These trench walls would narrow due to the weight of new snow, so they had to be "shaved" every so often. (From D. R. Walk, Byrd '61 OIC)
Excavation and site prep completed for McM nuclear plant.
Martin Pomerantz makes first trip to the ice, and Pole....
New Dobson ozone hut erected (perhaps to see if the spectrophotometer would work better there than in BIT or the aurora tower).
Replacement cosray lab (present one) built in McMurdo because original Pass site was too close to nuclear plant radiation. The two sites operated in parallel at first so data could be standardized. The old structure was reconstructed at Pole in 1963-64 (more info and photos).
Major McMurdo fire destroys VX-6 parachute loft and avionics shop (1-2 February).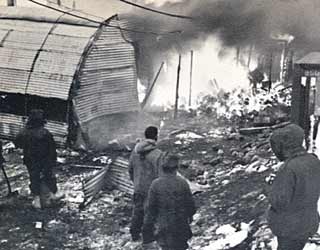 The fire, first discovered in the evening of 1 February, was the most serious non-flight-related disaster to date. The two interconnected Quonset huts were totally destroyed, causing the loss of much equipment, but fortunately there were no injuries.
Here's more information and photos.
Sadly, this was not the only fire during the DF-61 year...during the winter, a fire near the photo lab damaged the snow melter and part of the head; fighting that fire was an all-hands evolution.
Sir Charles Wright, once on Scott's 1912 expedition, reaches Pole at last (12 February).
At age 74 in 1961, Sir Charles, nicknamed Silas for his middle name Seymour, had been the physicist on Scott's ill-fated venture. He was a member of the team that located Scott's tent and the bodies during the 1912-13 summer. This 1961 Pole trip was a LC-130 turnaround flight in February, to take a gravity measurement. This picture was taken when he visited Byrd Station earlier in the season.
(more information)
McMurdo construction and development proceeds, as the US Antarctic Research Program continues.
At left is an aerial photo of downtown McMurdo early in the 1960-61 austral summer season (otherwise known as
DF
-61). This facility had originally been named the Williams Air Operating Facility, but at this point the base was formally named
NAF
McMurdo Sound, or what we now know as McMurdo Station. As the US Antarctic Research Program was to continue indefinitely, significant improvements had been made to McMurdo.
This page
features a detailed map and photos of the place as of 1960-61.
OIC: LT P. K. Swartz, population 20 (list and photos).
The South Pole post office; this is PK Swartz perhaps contemplating the philatelic mail...
photo courtesy of Billy-Ace Baker
; see the
caption and more information...
. In these days the post office was located in the NE corner of the galley building.
There finally was enough power to heat the variables hut (May).
Summer biology research project continues as winter gardening and other fun.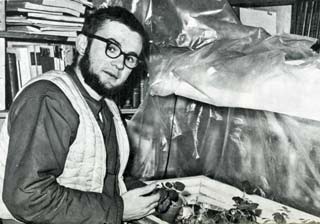 A summer UCLA science project brought these bean plants to Pole, along with cockroaches, fungi, fruit flies, and hamsters, in a study of biological clocks and whether they would get messed up at Pole. The cockroaches and fruit flies were made to go away, but these bean plants stayed around for the winter, along with a few of the hamsters. Results...the first birth at Pole--hamster "Pandora" gave birth to twins (14 March), as well as the the unique midwinter hamster races of 1961!
(more information)
.
Congress approves present Antarctic Service Medal (Naval History museum page and Wikipedia page) for service after 1 January 1946 (12 July) (prewar Byrd/USAS expeditions had separate medals). [Note that the criteria in this article is not current as of 2019. For details regarding the winterover clasp requirements "March through October" see these pages: DOD May 2015 summary markup; and the current (20 June 2019) regulation full text (scroll to page 22).] I'll add that when I visited McMurdo in December 1972 with NSFA, I became eligible to wear the Antarctic Service Medal/Ribbon, as the rules then required a visit of 24 hours. In May 1973 that was changed to one week.
Russian physician at Novolazarevskaya removes his own appendix.
Dr. Leonid Rogozov, the winterover physician at Novolazarevskaya Station (Novo) awoke on 29 April 1961 with weakness, nausea, pain and fever. The next day, the symptoms of a perforated appendix and peritonitis became apparent. Immediate surgery was indicated, and he had to be his own surgeon (left).
Here's the story,
with journal links and another photo. Thanks to Alex Zaitsev for unearthing the original info!
Antarctic Treaty ratified, officially goes into effect (23 June).
Medevac from Byrd (4/9) for Leonid Kuperov a Russian exchange scientist with an undetermined stomach ailment, first such use of C-130 aircraft in winter.
Here's the first winter medevac LC-130 flight taking off from Williams Field for ChCh with the Russian scientist aboard...well, despite that JATO it didn't make it on this try, they had to pack the skiway down a bit more before it got off. The
full story
of the medevac, including the strange final twist that came to light 50+ years later in 2012,
is here
.
Marble plaque presented to the station by Norwegian and UK government representatives (30 October).
The ceremony participants had arrived on the opening flight on the 28th. The presentation ceremony marked the 50th anniversary year of Amundsen's and Scott's arrival. This is a more recent photo of the commemorative plaque, which is of course still on display in the station today.
Here's the story and more photos
.
Navy P2V Neptune crashes at Wilkes (9 November, the day after Pole opening flight) killing 5 including glaciologist Edward Thiel (crash documentation from Billy-Ace Baker on Dave Riley's site, from Darryn Schneider, and from a May 2012 Antarctic Sun article about the memorial plaque installed near the crash site).
Byrd memorial statue dedicated on Memorial Avenue near Arlington National cemetery (13 November).
Weather Bureau tries again and gets a Dobson spectrophotometer to monitor ozone (17 November) supposedly the first successful operation according to NOAA.
New hut for Pole's Baker hydrogen generator erected adjacent to balloon inflation room (the Gill H2 generator remained).
Another 50th anniversary event--presentation of this 1911 Pole photo signed by the last survivor of Amundsen's visit (7 December).
This photo was a signed personal gift from Olav Bjaaland, who had died earlier in the year at the age of 88. Guests at the Pole presentation ceremony included Captain Finn Ronne (
the rest of the story
).
USGS completes result of detailed icecap position survey with daylight star observations: their determination was that the station was moving 20m per year.
2 Argentine DC-3's visit from Ellsworth.
This was the first Argentine visit to Pole, but by no means the last. The team left behind this plaque which was on the wall of the dome pool room until 2005
(more information)
.
Six skuas are brought to Pole in an LC-130 and released (25 January); one of these birds is observed with a mate at their Camp Crozier nest site 10 days later.
The first turbo helicopters (U.S. Army), capable of 13,000' altitude, are deployed to support McMurdo area science.
"USARP Swiss Chalet" constructed at McMurdo.
This fancy facility, based on the Jamesway design, was the NSF headquarters office as well as a lecture hall. It was located in approximately the same location as the present Chalet, with, of course, a large picture window to provide a view of the helos and the distant mountains.
The rest of its story,
with photos from its creator George Marks...
PM-3A nuclear reactor arrives at McM aboard USS Arneb (12 December).
Here's one conex of nuclear plant material being unloaded on 14 December (US Navy photo from the USAP
Antarctic Photo Library
). The reactor went critical only 3 months later, on 4 March. More information (for now)
is here in this report
by Stanford student Tyler Reid; my
older discussion of the nuclear plant is here
.
Camp Sky-Hi, first upper atmosphere/VLF summer station (near the site of future Siple, associated with conjugate radio site in Quebec) established (75°14'S-77°10'W). Construction involved a total of 5 Navy LC-130 landings and six Air Force C-124 airdrops.
First nuclear powered automated weather station put out 60 miles south of McMurdo, (by traverse, it weighed 3700 pounds).
New buried Byrd Station dedicated (13 February) and occupied, powered by 4 150kw generators.
Speaking of buried facilities, this is some of the Pole fuel storage...empty drums were stacked in this trench which was then roofed over. The drums were filled with a hose from the surface. Later, fuel could be drawn from these drums with a pump or siphon. Much easier than handling lots of full drums.
Since new 55-gallon drums later became scarce after bladders came into use, the old ones were often reused. I probably handled some of these same drums in our 1977 emergency fuel cache
(US Navy DF-62 cruisebook photo).
Closing flight: 15 February.
OIC: LT Malcolm Lentz, population 22 (list)
Fire destroys the air-traffic control (ATC)/passenger terminal wanigan (22 February).
The fire was probably caused by an overheated stove. Some radio equipment was lost. This lovely structure was one of many items left behind by Hillary in January 1959 (1958-59 photo by Fred Mayeda). Here's a view (from the DF-62 cruisebook) of
the other side
; the wanigan is behind the trash sled.
This wanigan was actually the "caboose" that Hillary left at Pole after he arrived from Scott Base in January 1958,
as one can see in this photo
by Cliff Dickey from the Antarctic Photo Library.
Memorial to Admiral Byrd dedicated in New Zealand (11 March).
The memorial is located in Wellington at the Mount Victoria lookout, east of the city center. It was unveiled on 11 March by prime minister Keith Holyoake. It features a bronze bust and commemorative plaques, and ceramic plaques depicting auroras were later added. The details and more recent photos are
here
.
First of 2 planned winters began at "Delta One," the Byrd Auroral Substation, a prefabricated hut with photo and observation domes set on 55-gallon drums, 40 miles NE of Byrd, on 17 March.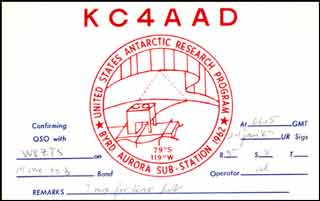 3 men were to occupy it--the smallest US station since Byrd's "Alone" experience in 1934--New Zealander Graeme N. "Johnny" Johnstone who'd wintered at Scott Base in 1960, Alan E. Hedin, and John P. Turtle, with the Arctic Institute of North America. But the 8 KW diesel generator failed on 13 March, and the station was without power until a 10 KW generator was delivered on the 22nd. Because the station lacked a standby generator and effective emergency communications, the substation was evacuated to Byrd Station on the 28th. I could find no photos, but this QSL card depicts the station. The call sign KC4AAD was later used for the Byrd VLF station in the late 60s, Siple Station, and in this century the Siple Dome field camp.
The McMurdo nuclear plant first goes critical on 4 March, only 3 months after reactor delivery.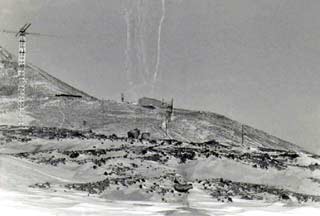 First power was output to McMurdo on 12 July, and things went reasonably well until 7 October, when a hydrogen leak, combined with a short circuit, created a flash fire in the containment, and an automatic scram shut things down--results as seen from town at right in a photo from Richard Barnard, and
a less accurate depiction
created by someone on site. The plant shut down for repairs and modifications for 2 months afterward. While the
NNPU
operated the plant, they were supervised by supplier Martin, which had become Martin-Marietta in a 1961 merger. That continued until March 1964...the first power was produced under Navy supervision on 10 June. So this fire (and perhaps other incidents) isn't included in NNPU's
final operating report,
which commences from March 1964.
USNS Eltanin, first exclusive NSF Antarctic research vessel (converted from a cargo ship), begins 15-year program (June).
AEC cancels nuclear plant for Byrd, citing cost increases, schedule and design issues (1 October).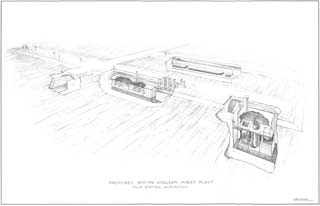 Actually the photo at left is a vision of the smaller Pole plant, planned for after the Byrd plant went online. The Byrd project would have been a boiling water reactor (unlike the pressurized water reactor at McMurdo) driving a 480v 3ø generator with a site output of 800kw. This was being developed by
ALCO
; their final quarterly progress report(that I could find) from March 1962
is here.
The project was based on
a 1960 preliminary design
from Kaiser Engineers.
The Pole plant (design report)
would have been a smaller clone...500kw site capacity, and unlike Byrd, with a fuel bladder arch for the standby diesel plant. Presumably further design of the Pole plant was on hold pending how things went at Byrd, which was the priority.
First US transcontinental flight (McM-PA,November).
Last year of fuel drums airdropped by the AF/first year of bulk fuel deliveries by VX-6 LC-130's using fuselage tanks, plus the bladders to put it all in and the first steel fuel arch ("Cache #1" with 3 25,000 gallon bladders and a smaller one).
Fuel Cache #2, which was built a year later during 1963-64. This arch has 6 10,000 gallon bladders. Unlike more recent photos, here the bladders are full, the lights are on, and you can't reach them...
photo by Bob Nyden during the 1971-72 season
Replacement power plant (not the last one) built inside the builders' tunnel which was enclosed by a new wonder arch.
Summer visitors include: Lowell Thomas, Gen. Jimmy Doolittle, and...the first helicopters to arrive at Pole (4 February).
These were 3 Army Iroquois UH-1B's that had supported USGS survey teams. They arrived from near Mt. Weaver (87°S 154°W), guided by an LC-130. They'd flown there from McM via Brockton earlier in the season. The crews were from the US Army Transportation Corps, Fort Eustis, VA. The helos were dismantled and flown back to McM in LC-130's . Here are
more photos
, information, links, and credits.
First "Pole Bowl" football game (Thanksgiving, 22 November).
At game time the temperature was a brisk -33ºF, and the field was snow covered (!). The game saw NMCB-8 face off against the USARPs, some of whom were still around from the winter...one of them was the late Malcolm Mellor whom I worked with at Pole in 1989. No football was available so a basketball was used. At left, Seabee "Moose" Marino makes a run around left end, as Dan Belecz
(USWB)
and Bill Aitken
(AINA)
move to stop him. The final score was NMCB-8 6, USARP 0. A more detailed account of the game including the team rosters is in
this March 1963 Navy Civil Engineer article
...and this account by then-Navy photographer Ernie Mrozek originally published in this Imlay, MI
Tri-City Times article.
A VX-6 aircraft crash on 25 November 1962...no lives were lost, but there was a spectacular photo!
This venerable aircraft, most recently designated an LC-47J, sometimes known as a Dakota or an R4D
(see Joe Hawkins' information page)
, was picking up members of a New Zealand geological party led by W. R. Logie at Davis Glacier...on takeoff, pilot LT D.R. Miller fired his 6 JATO bottles and was about 30 feet off deck when one of the bottles broke loose and hit a prop. The aircraft started to cartwheel before settling back on the snow surface. The air crew and passengers were flown back to McMurdo the next day. This photo was taken by Dave Skinner and John Ricker who had remained at the
NZARP
camp with their dogs (and would later be airlifted to another study site)...and
it was enhanced and shared here
by friend Colin Monteath.
VLF hut built about 1/2 mile north of the station. This buried hut was also used as an emergency cache and had a backup generator.
NRL building also built 120' ENE of balloon inflation; used for radiation measurement equipment that was moved out of the met office to give more office space.
Seismo vault replaced.
Not quite buried yet; the seismometer vault is the larger building, the recording building is on the left, and the station is to the west in the distance. New equipment was installed, part of the World Wide Seismograph network, and operated by the Coast and Geodetic Survey (USC&GS; predecessor organization to USGS). (Photo by R. N. Davis, USC&GS, from the
Bulletin of the U. S. Antarctic Projects Officer,
Summer 1964).
USARP barracks is erected on the site of the original berthing Jamesway, which was collapsing.
The Pole darkroom is enlarged.
Mary Alice McWhinnie, pioneer US female USARP researcher, visits the ice for the first time (to the Peninsula on the research vessel USNS Eltanin).
Summer/winter Eights Station established.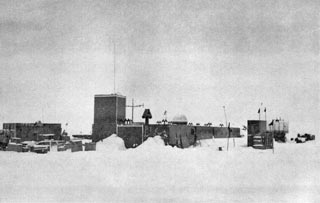 This station was erected at the site of the summer Ski-Hi station which had been set up in 1961-62. Near the Antarctic Peninsula, it consisted of 8 "vans" (modules that would fit in an aircraft...fabricated by a Canadian concern, the Alberta Trailer Company (ATCO) that would later build Plateau, Byrd Longwire/Siple I, and the domed station Pole modules). Eleven men would winter in 1963. It was closed after the 1965 winter; some of its generators and equipment was returned to McMurdo for future use at Plateau Station. This photo was on a postcard, the image is from David De Roo who spent time at Pole in 1968-69.
Ellsworth Station closed (30 December; this station on the Filchner Ice Shelf had been turned over to Argentina 1 February 1959. By now it has gone to sea).
NZ instructors first employed for snowcraft survival ("happy camper") school at McMurdo.
First survey selects Arthur Harbor, Anvers Island site for proposed Palmer Station (22-25 January).
USS Edisto sights the remains of Little America in an iceberg (24 February).
The icebreaker was supporting oceanographic research in the Ross Sea when it came across this tabular berg. Amazingly, it had broken off in the midst of one of the Little America stations, later suspected to be Little America III. This station was part of Admiral Byrd's U. S. Antarctic Service Expedition of 1939-41, although his previous stations (LA I and II) had been located nearby in the former Bay of Whales
(more info and photos)
OIC: LT Don Bessinger, population 22 (list)
Here is the radio crew inside the comm center at the west end of the station. I'm not sure when this photo was taken, but these three guys wintered in 1963. Left to right: "Tom" Thomas, Dave Peterson and Gary Larsen. Note the dart board!
Here's more information and photos.
Another engineering study on the proposed new station released (26 June)--this one is by NCEL (Naval Civil Engineering Lab--Port Hueneme) and recommends "...an elevated structure and underlying tunnel for the camp core, with the major outlying facilities connected to this core by fully lined under-snow tunnels." (link to abstract, there is no digital version).
Continental overflight from Cape Town with 2 LC-130's, RADM Reedy, and Lowell Thomas (1 October) passes over Pole.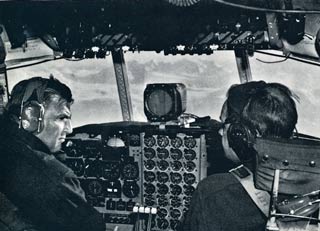 Up until this time, these were the longest recorded VX-6 flights to Antarctica...and the first from Africa. Of course, these days there are many flights from Cape Town to Novo...but these historic flights were the first. In the photo at left, RADM Reedy is in the left seat of 318.
Here is the full story
.
3-man Byrd Auroral Substation closes (10/9) after second winter--this year's 3-man team included OSU glaciologist Art Rundle (who wintered the first 2 years at Palmer, 1965 and 1966) and Allan Gill (who may have been the Allan Gill who accompanied Wally Herbert on his 1968--69 North Pole adventure).
Earliest opening flight to date: 1153 Pole time on 24 October. The flight was piloted by CDR George R. Kelly, Commanding Officer of VX-6, with RADM James Reedy, CNSFA aboard. The landing was made in 21mph winds and -55ºF temperatures.
President Kennedy killed in Dallas TX (22 November)...due to comms blackouts and no flights, Pole folks don't find out for 20 days.
Air Force C-130E's (wheeled) used to augment ChC-McM cargo flights; one of these overflies Pole (12/3) on a flight to McMurdo--13 hours flight time
Steel arches replace earlier wood-supported supply and seismo tunnels.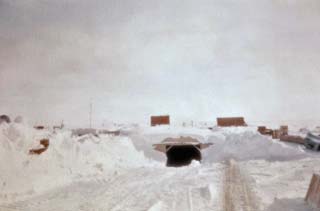 Looking north at the entrance to the newly completed supply tunnel (photo from Ron Lampert).
...and here's the new seismo tunnel--new, unfrosted and uncrumpled (photo by Bob Tate). One of the geomag huts had to be relocated because there wasn't enough arch material
Twin 220-foot "forward scatter" science antenna towers erected (the project never worked well).
Second fuel arch constructed ("#2" east of the builder's tunnel, with 6 10k bladders).
Construction of fuel arch #2 underway south of the USARP barracks. At the far right is a three-sided plywood wind screen upwind of the roof hatch of the balloon inflation shelter (photo by Ron Lampert).
Club 90 building (original Clements building used for berthing) rebuilt.
This was some of the work being done by NMCB-8 this season...basically rebuilding the structure from scratch. It still remained a Clements hut (flat roof). Here the Seabees are replacing the floor panels (official US Navy photo by PH2 Philip T. McClure taken 5 December; with thanks to Henry Storm).
Yet another power plant building constructed.
Forgotten buried orange D-8 "bow tanker" dug out of snow near the garage; blade installed (one of 2 D-8's that came from Byrd in 1961).
Station completely dug out for major reconstruction of tunnels.
Looking north at the central portion of the station; the white structure is the galley; at left is fuel arch #1 which was constructed the previous season. In this view the area west of the galley has been dug out to install the rigid frame (prefab structural steel with a roof deck) over the food storage area. (photo by Ron Lampert). Here is
a closer look at the south end of the galley
during this project.
Cardinal Spellman visits to celebrate midnight Mass on Christmas Eve.
The Cardinal, along with RADM Floyd Dreith, the U.S. Navy Chief of Chaplains, flew to McM on 22 December. They flew to Pole on Christmas Eve; the Cardinal conducted Mass (left) and presented the celebrants with a special medal. RADM Dreith held a candlelight service for Protestants. They traveled back to McM on the 25th and held services there as well. The Cardinal also held a memorial Mass at McMurdo on 22 December in honor of the late President Kennedy (photo and info from the
Bulletin of the U.S. Antarctic Projects Officer
, February 1964.).
First (to date) visit from a head of state...Sir Bernard Fergusson, Governor- General of NZ, stops in (11/11), and the oldest reported visitor at age 81-- the Hon. Walter Nash, the former PM of New Zealand, visits (29 January).
Bartol and Dr. Pomerantz set up first cosray detectors (buried in lead bricks in a separate hut north of the snow melter).
The hut (seen here in 1965-66) was reconstructed from the original McM cosray building that was too close to the nuclear plant. Martin Pomerantz broke a finger while securing the copper screen shielding the hut. Note also the D8...at second glance given the lighting conditions, it is obvious that this is the orange one, which had arrived on
the 1960-61 Byrd-Pole traverse.
The black D8 would show up after the 1964 winter...both were fixtures at Pole for many years. (photo from Lars Andersson, the 1966 cosray w/o).
Aurora domes replaced in aurora tower.
VX-6 LC-130 aircraft BUNO 148319 suffers a hard landing at Pole (18 January).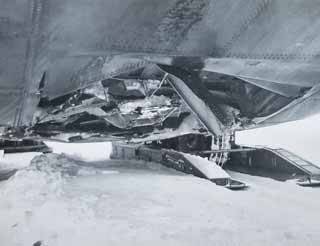 Looks like the starboard landing gear didn't land well. The cargo had to be offloaded by hand as seen in this photo. I dug into the chronology in the Bulletin of the US Antarctic Projects Officer...this happened on 18 January 1964, "One LC-130F sustained damage on landing at Amundsen-Scott South Pole Station. No personnel injuries." On the 20th it flew to Christchurch and the next day it headed back to the US for repairs, arriving on the 23rd (no info on where it went). It headed back to Christchurch on 12 February to take part in the season closing flights. Photos from 1964 Pole winterover Larry Cox.

BIF (balloon inflation) doors enlarged, hydrogen generator storage area built.
US Weather Bureau w/o 1963 team leaves Wilkes Station, ending US participation at the now-Australian base.
US Secretary of the Interior approves renaming of the Antarctic Peninsula (21 February).
Latest closing flight to date...25 February.
OIC: LT William E. McClean, population 22 (list and photo)
Time capsule hidden in striped flagpole that would later be the Ceremonial Pole (where is it now?).
First head with 3 flush toilets and urinal, plus laundry, water tanks etc... constructed in the northeast corner of builders tunnel), it included a gray water system for flushing the toilets!.
DFA distribution piping installed to reduce manhauling of drums to refill building day tanks. Reported fuel use for the year: 220,000 gallons.
Amateur astronomical observatory constructed.
First winter airdrop (well, 30 September) with mail and freshies, from an LC-130 with RADM Reedy. It left Melbourne, flew over Pole, and landed at Byrd before continuing to McM...after the Pole airdrop the sliding door wouldn't close; upon arrival at Byrd the nose ski could not be lowered...plane landed safely without it (details as described by Leo Campbell (VX-6) and Phillip Law (ANARE) who were on board...).
Spectacular spring fire (13 October) destroys the garage.
This free-standing structure
(erected in 1959-60)
was 150 yards south of the supply tunnel. The fire started in a Coleman heater in the office, a lean-to addition. It was discovered by mechanic Alan Kane and operator James (Pete) Peterson when they went to work. Pete went in to attempt to get the D8 out, burning his beard in the process. The fire caused exploding DFA drums to blow their ends off and send them flying like Frisbees. The Nodwell fire sled with a large Ansul bottle was parked next to the garage, but it fizzled as the pressurizing nitrogen bottles had bled off due to a failed valve, and efforts to fight the fire at -67°F in 10-knot winds were fruitless. It smoldered for a week. Three tractors including one of the D8's were destroyed (
more post-fire photos of the remains.
Fire destroys Hallett science building (6 March)...
...and as a result, this was the last winter at Hallett; NZ involvement ends (summer US use for penguin studies would continue).
Appendectomy surgery is conducted at McMurdo....
...and the second midwinter medevac from McMurdo happens (26 June): BU1 Bethel McMullen was injured in a fall...well, on 20 June he suffered a severe back injury in the fire house after sliding down the pole head first (really!) The firehouse was then in the large Quonset hut which would later became Hill Cargo (Building 61), northeast of Building 155.
Little Jeana weather station is established (October, 81°23'S-170°45'E) built on the Ross Ice Shelf to replace the earlier Beardmore stations.
Top of page
| Continue to
1965-75