The complex of buildings just southwest of Christchurch airport (Harewood) had been a World War II RNZAF site; since that time some of the buildings had been disused; this structure had previously been a YMCA.
The original American facilities had been scattered around Christchurch--including the international airport then known as Harewood, a disused brewery on Kilmore Street, the Wigram RNZAF base southwest of downtown, and the Weedons RNZAF supply depot further southwest of Wigram. But the continuation of the US Antarctic Research Program prompted consolidation at more permanent facilities just west of the roundabout at Harewood.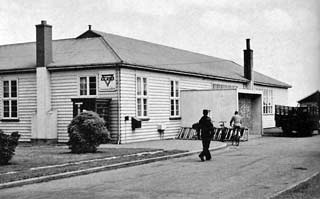 Above...the former YMCA building was dedicated on 31 March 1959 as the headquarters for the U.S. Antarctic program military and civilian operations (at right, an earlier photo of the north side of the building when it was still a YMCA). Renovations of the adjacent barracks, mess hall, and other structures would continue through the year, as would the construction of the new VX-6 hangar nearby.
The photo at the top of this page originally appeared in the Christchurch Press; the photo at right is from the US Navy Operation Deep Freeze 60 (1959-60) cruisebook.