Rear Admiral David M. Tyree, commander of Operation Deep Freeze, just after raising the flag on 8 February 1961...don't ask me why it took so long to get a new flag down there. The color photo is from PK Swartz. Here's a larger view of the Admiral.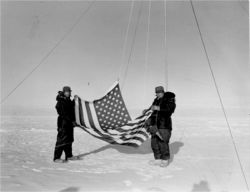 The Navy brought along an official photographer for the event, and these black-and-whites are the official photos. At left are the preparations... with the official caption below. Admiral Tyree is on the right, with his aide LCDR Douglas Madison assisting him. And at right is another view of the event.
These pictures came from the files of Bruce Raymond. As a bit of further trivia, the photographer resided in New Zealand after leaving the Navy, and later returned to the ice as a free-lance photographer after the DC-10 crash on Mt. Erebus in November 1979. That's another story...