The Mystery of the IGY Time Capsule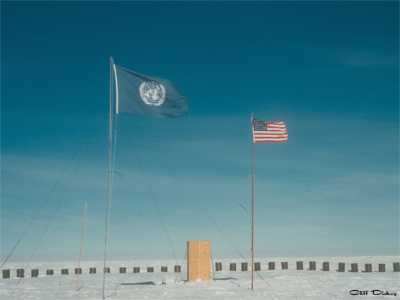 The original Pole crew had been entrusted with a time capsule from the citizens of Peoria; this was actually a sealed-up D-8 cylinder liner which was to be deposited at Pole, with instructions that it be retrieved and opened in 2000. Since anything buried was likely to become lost, they decided to place the capsule in the small observation hut located at the geographic Pole. This hut was used for solar and celestial observations which were made in an effort to locate the exact location of the geographic South Pole (determined to be somewhere inside the ring of 55 gallon drums). Dick Bowers, the leader of the Seabee construction group, saw the capsule in place on New Years Day 1957 shortly before he left Pole.
This hut may have been removed after the first winter; it appears in some but not all photos of the South Pole taken during the 1957-58 summer. There was a hut (perhaps a different one) in this location during the early 60's which became buried and lost according to members of the 1964 w/o crew. Dick Bowers worked with Jerry Marty, the construction manager of the new station, in an effort to determine where the time capsule might be today...so that it can be retrieved eventually. Jerry Marty has a couple of clues as to where the time capsule might have been moved inside the old station, and one last trip into the place may be made in an effort to locate it. Perhaps it will be found.
Okay, anyone know anything? Remember seeing the capsule or the hut? If so, please let me know....
The installation of the time capsule is well documented in Paul Siple's book 90° South. The above photo from late in the 1956-57 summer was provided by Cliff Dickey of the first w/o crew; thanks to Dick Bowers.
(here is another photo of this scene a year later, from the Fuchs/Hillary book about the Trans-Antarctic Expedition)
---
back to features index | home