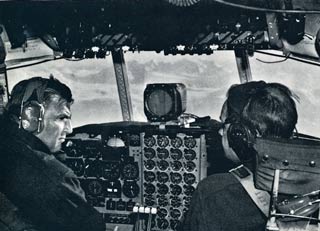 Nowadays, flights from South Africa to Antarctica (mainly to Novo, the Russian station directly south of South Africa), are common. But once upon a time there had to be the first flight from Africa to Antarctica. RADM James R. Reedy, the commander of Task Force 43/Naval Support Force Antarctica, came up with the idea for this flight while attending a SCAR meeting in Paris in August 1962, at which Cape Town was selected as the site for the next SCAR meeting in September 1963. RADM Reedy discussed the idea with CDR W. H. Everett, the commanding officer of VX-6...plans were made, approvals were given...and two LC-130's (318 and 320) showed up in Cape Town in September 1963 for this historic flight...along with selected newsman Lowell Thomas and University of Natal professor Lester King.
The photo at left depicts RADM Reedy at the controls of 318. The plane commander was LCDR Richard Dickerson (right, below), and Art Herr was the official copilot. The second aircraft, 320, was piloted by LT Bill Kurlak.
RADM Reedy's flight almost ended early...after takeoff, the nose wheel light failed to indicate "up and locked." After dithering about dumping thousands of gallons of JP-4 over the South African vineyards in preparation for an early landing, they recycled the landing gear, and this time the nose gear clicked home.
The rest of the flight was mostly uneventful...mail was dropped at Pole, and a more detailed account of this flight appeared in the March 1964 National Geographic magazine.
What follows below is the article about this historic flight from the November 1963 Bulletin of the US Antarctic Projects Officer.
DEEP FREEZE 64 Opens with Culmination of Historic Flight
Rear Admiral James R. Reedy, Commander, U. S. Naval Support Force, Antarctica, officially opened DEEP FREEZE 64 operations on 1 October, at McMurdo Station, Antarctica, after a historic non-stop flight from Cape Town, South Africa in an LC-130F. A welcoming crowd of over 100 greeted the Admiral in the minus 9º temperature at windy Williams Field, The Admiral's first words were: "A great flight; a historic flight."
Two LC-130F's took off from Cape Town, each carrying 9,600 gallons of fuel and weighing 10,000 pounds more than usual. After flying 4,700 miles in 14 hours and 26 minutes, they landed at McMurdo at 0426 hours. These simple facts tell the story of weeks of preparation by Navy personnel and wholehearted cooperation of foreign nations.
The day before, 30 September, two LC-130F's flew the 2,100 mile route from Christchurch, New Zealand to McMurdo, bringing 56 relief personnel and over 2-1/2 tons of mail to the wintering-over party there. The early arrival of this flight was planned so that facilities and aircraft could be utilized as navigational aids, radio communications back-up, and search-and-rescue, if necessary, for the Cape Town-McMurdo flight.
Cape Town preparations included a week of intensive briefing, equipment check and tune up, and radio communications tests. The South African Air Force flew weather probes, and the South African Navy stationed the frigate Transvaal 1,200 miles from Cape Town in the Antarctic Ocean, along the flight line, to serve as a navigational aid, radio communications aid, and as an advance weather station.
The two aircraft lifted off at 1400 hours from South Africa's Malan Airfield and proceeded along the planned flight line of 18º 30' East longitude toward the Antarctic continent. The LC-130F's, flying at altitudes of 25,000 and 31,000 feet, with an outside temperature of minus 79°F, reached the "point of no return" at about 67 degrees South after 7 hours and 11 minutes flight time. Shortly thereafter, radar picked up the outline of the Antarctic coast and the planes continued over 1,400 miles of uncharted Queen Maud Land and the Antarctic Plateau to Amundsen-Scott South Pole Station. Weather was perfect and the flight comfortable, with visual contact between aircraft possible at all times. Communications were excellent with contact being made with Amundsen-Scott South Pole Station as far out on course as 2,700 miles. A message of "God Speed" was received from the Transvaal and an offer of assistance received from the men at Mirnyy Station.
Before departure from Cape Town, Admiral Reedy had said to a crowd of 600 well-wishing South Africans and pressmen: "This is a great venture; a great first for the United States and the Navy, and certainly an important link between many nations of the world." Indeed it was, for the flight proved the feasibility of transantarctic flights between Africa and the Southern Continent, and served to climax 25 years of aviation in the Antarctic.
---
Other references...the top photo of RADM Reedy in the left seat is a US Navy photo from the DF-65 NSFA cruisebook "Ten Years of Progress." The photo of LCDR Dickerson is from Billy-Ace Baker, who noted that it was taken by LTJG H.S. Hemphill (who perhaps also took the RADM Reedy photo). I also have emails from Don Bessinger, who was the wintering OIC at Pole during the flight. Another interesting and obscure source was the volume The Unknown Southern Land Central Florida Antarctic Explorers, edited by Elizabeth Phillips and published in 1990 by the Central Florida chapter of the Explorer's Club. This book included an extensive interview with Floridian RADM Reedy. Also...Dave Riley's radiocom.net page, which also discusses the later Melbourne-Antarctica flight.