The Antarctic Deep Freeze Association (ADFA) was the organization originally consisting of members of Operation Deep Freeze who established the "7 Cities of Antarctica" before and during the International Geophysical Year (IGY, 1957-58). ADFA held reunions every several years, and on 3-5 May 2005 they met in Biloxi, MS to commemorate the 50th anniversary of Operation Deep Freeze.
One of the highlights of this and other gatherings has been a satellite phone call with members of the winterover group at Pole. I've participated in the last two of these from CONUS, but this time I was involved at the southern end. In Biloxi the participants included Dick Bowers, Bob Epperly, Jerry Marty, Charlie Bevilacqua, Jim Waldron, and Olav Loken. Discussion items included the weather, construction progress on the new elevated station, and comparisons with life in the earlier days--medical, science, food, and communications. Here are a few photos of the phone call participants in Comms at Pole on 6 May (Pole time)...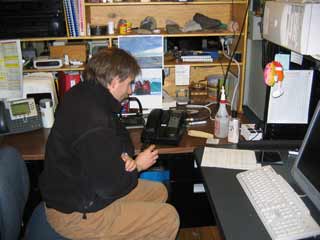 Winter manager Bill Henriksen leads off the call (this was Bill's second such event--he was also at Pole in 2003 for the ADFA Jacksonville, FL gathering).
A view of the group...from left: Jess Dempsey (science leader), Christian Otto (physician), Bill Henriksen, and Bill Johnson (construction supervisor) speaking on the phone.
Jess Dempsey (center) is on the phone, and Bill Spindler is behind her at right.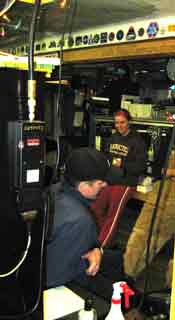 W/o doctor Christian Otto discusses advances in the local medical scene over the past 50 years with one of the Biloxi particpants, Dr. Olav Loken, former Secretary of the Canadian Committee for Antarctic Research (and a 1957 Wilkes w/o glaciologist) .