[photo by Nick Powell,
Antarctic Photo Library
]
NEWS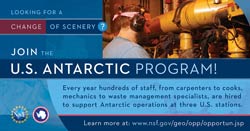 Like almost all employers, the Antarctic program is still hiring! At this point given the long time for the PQ process as well as for quarantine/isolation, most of the open positions are for winter...but they are seriously seeking, as evidenced by the image at left that NSF posted last week. Here is the link posted in that graphic. Good info...but I think I have much more on my just-updated Antarctic jobs page.
Meanwhile...at Pole the station opening tasks are well underway...skiway preparation and runway marker installation...and the annual station deep cleaning otherwise known as "Mighty Mouse."
We all know that Pole is a cool place to spend a winter...but this 2 October Washington Post article South Pole posts most severe cold season on record says it all! If you can't see that article...I'll explain more. Turns out that the average Pole temperature between April and September, -78ºF/-61ºC, was the coldest on record going back to Paul Siple's 1957 winter. At right is a graph by BAS researcher Richard Cullather depicting the Pole winter temperature averages over the years. The cold weather was credited to a strong polar vortex around the continent. And CU Boulder researcher Ted Scambos
noted that Antarctic weather is very sensitive to high altitude winds and Pacific Ocean conditions...and prone to rapid change. He noted that the near-maximum Southern Ocean sea ice at the end of August had tanked to a near-minimum by the end of September. Oh, the article also included a great photo (left) by sous chef and friend Lisa Minelli Endlich depicting some of the Polies greeting the sunrise from the roof of the station (at 0400 21 September SP time, despite what the article says).
Other news...it's deployment time for many. For the next bunch of main body folks heading to McMurdo, they've been enduring what the NZ government calls Managed Isolation and Quarantine (MIQ) at government-run hotels including the Sudima (formerly the White Heron) near the airport, and the Crowne Plaza downtown. They may fly south in a few days...or they may not...depending on weather. Meanwhile, the summer Palmer support crew endured a couple weeks of isolation at a hotel in Puerto Natales, about 150 miles northwest of Punta Arenas, before moving aboard the Laurence M. Gould a few days ago. The vessel is scheduled to head south toward Palmer Station on 4 October. Remember that there will only be long-term ongoing science happening at Palmer this summer, as the major activity will be construction of the new pier.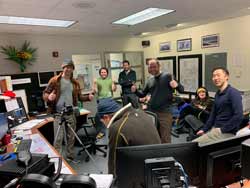 And...on 15 August there was an historic "second"...a satellite phone call between the South Pole and the North Pole! And at both ends of the "line" were Polie winterovers. The photo at right depicts the South Pole winterovers on the call in comms...speaking with Sven Lidström who was aboard the Swedish science icebreaker Oden at the North Pole. Sven wintered twice, in 2007 and 2012, and spent many other summers at Pole working with AMANDA and IceCube. More info...including about the first such phone call in 1999.
After about a month of quarantines and weather waiting...the first WINFLY flight finally made it to McMurdo on 14 August. Not the first southbound flight for the first half of Cohort 1...on 9/10 August they flew 4 of the 5 hours to McM before boomeranging due to deteriorating weather. But...all was not well, as the 14 August flight headed back to ChCh with no passengers due to mechanical landing gear issues. Stay tuned...there is still a bunch of Cohort 1 folks in ChCh awaiting the next flight. Meanwhile...the summer Palmer crew has been in firefighting training in Denver this past week...they will head to San Francisco to begin their isolation/deployment on 6 September, while the next cohort of McMurdo people will head to SFO on 11 September.
Want to tour the Pole "virtually?" The Byrd Center at The Ohio State University hosted a special presentation on 23 June at 2000 Eastern time. Information and registration is here. An archive is not available, but there are participant bios and shared links.
Yes...the Midwinters Day dinner and festivities happened on 18 June...have a look at the celebration and the midwinter greeting card!
It's almost Midwinters Day...planning has been progressing at all 3 stations. At Pole, the wax-sealed invitations have been sent out for the 18 June event which will feature seafood crepe and seared duck main courses. Interestingly, McMurdo is celebrating on the 19th and Palmer's festivities are on the 21st. If you were wondering, the actual solstice occurs on 21 June at 0332 UTC or 1532 South Pole time.
Otherwise, things have been fairly quiet at Pole. Preparations have begun for the annual Pole Marker competition...on 26 May the Polies had an excellent view of the blood moon/lunar eclipse, and on 11 June, for the first time the temperature dropped below the magic -73.3ºC, which in some parts of the world is known as -100ºF.
Pole's Physician Assistant Josiah Horneman, whose videos have been mentioned here before, was interviewed by NPR's Scott Simon. Here's a transcript of the interview which was broadcast on Weekend Edition Saturday on 12 June US time. Oh, here is his YouTube channel, as well as an earlier Buzzfeed article about his TikTok activity.
There was a virtual job fair today (6 May Denver time) held by PAE looking for employees for the 2021-22 season. I didn't mention it previously...but I hear that over 100 people participated. Here's a good 5 May Colorado Sun news article describing the job fair as well as a bit of program contracting history...in the 80's I worked for the contractor in Paramus, NJ...and oh by the way, here is my more detailed version of the USARP/USAP contracting history.
Palmer update...the Gould did not arrive until about 13 May, after leaving Palmer Station on the 24th. It arrived at Punta Arenas with the summerovers on the 29th. That left 18 souls at Palmer Station for the winter.
More news from the other side of the continent from McMurdo...the Laurence M. Gould headed south from Punta Arenas on Saturday 1 May with the winterover crew--who had been quarantined aboard in PA for two weeks after a previous quarantine in San Francisco. They'll arrive at Palmer on 8 May...and the summer crew will head north around the 27th. Also regarding Palmer...the pier replacement project has been given a go-ahead for the 2021-22 summer season...which means that during that period there will be NO science projects on station...only the ongoing monitoring projects which will be tended by research assistants. Here's the 21 April USAP report about the pier project...and this FAQ provides additional information. Note that the preliminary 35% design was completed by ASC in 2017 and the preliminary "sources sought" request for procurement was issued in December 2018. The project was obviously delayed by the COVID-19 pandemic...the task for contractor Pacific Pile and Marine (Seattle) includes completing the design.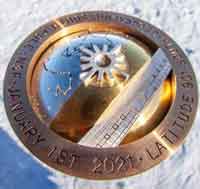 Okay...a bit late, but it's time for a look at the winterover statistics updated for 2021, along with all the details about the new Pole marker which was unveiled on New Years Day! Have a look....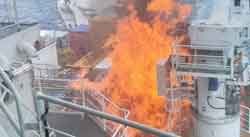 Elsewhere...the Palmer Station winterovers have been in isolation in San Francisco for two weeks, and should soon be flying to Punta Arenas for 2 more weeks of isolation aboard the Laurence M. Gould. Also, the vessel MPV Everest, which had been resupplying Australia's Davis and Mawson research stations, suffered a significant fire in the port engine room on 5 April (6 April Australian Antarctic Division (AAD) news article). The photo at right is from this 7 April ABC News (Australia) article which includes a brief video of the fire. None of the 109 people on board was injured, and the ship made its way to Fremantle rather than its normal port of Hobart, arriving on the 13th (13 April AAD news article). More coverage is available on this AAD News page. Everest was chartered to support the Antarctic program this year, as the previous support vessel RSV Aurora Australis had been retired in March 2020 (AAD article), and the new vessel RSV Nuyina (August 2020 AAD article with video) will not be ready until next season.
Two images denoting the end of the summer season on the ice, both shared by the NSF Polar Programs Facebook page...on the left, during the last full week of March, Pole folks gathered to say goodbye to the sun and lower the American Flag while BICEP winterover Brandon Amat (not in the photo) was playing the National Anthem on electric guitar...photo by Josiah Horneman. It should be noted that although the official sunset day was cloudy, things later cleared up and the famous green flash was seen on 25 March. And on the right, folks at McMurdo present a toast (with ginger ale) to the closing flight of the season (photo by Nikki Klein).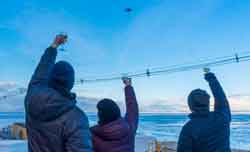 137 people are wintering at McMurdo. The next flight will will be in August. Speaking of air operations, here's an older (1 March) Defense news service article noting the end of the New York Air National Guard's 2020-21 season. Because of the COVID-19 pandemic, only three LC-130 aircraft were deployed to Christchurch...they eventually made six flights to McMurdo--three were medevacs and three were flown during the midsummer season when things were too warm for the Phoenix airfield to support wheeled aircraft.
In the evening of Wednesday 17 February...the last outgoing passenger flight left Pole for McM...leaving behind 39 Pole souls, the smallest winterover crowd since 1998!
Something that only happens every 10-12 years...NSF is preparing for the next rebid of the Antarctic support contract. The current contract which is held by prime contractor Leidos (transferred from Lockheed-Martin) was originally announced in 2007...the first formal announcement came out on 30 April 2008...for a contract originally to be awarded in time to start fully on 1 April 2010 (after an austral summer transition period), with a 4-year original term with two 4-year renewal options. That didn't happen...things were delayed for 2 years before Lockheed-Martin took over fully on 1 April 2012...so the full 12-year term now is scheduled to end on 31 March 2025. So...time to start the process again. I have updated my detailed coverage of the previous rebid process which you will find here...it includes all of the gnarly details, fancy presentations, and arcane contractual verbiage.
In case you missed it...I've finally gotten around to adding some new South Pole links, including blogs from two of the 2020 winterovers. Here!
As of 16 February, what is known as the "air bridge" began with the first arrival to McMurdo of a C-17 on 11 February. It would take some of the summer folks home the next day. Earlier...2 weeks ago the last "cohort" including most of the remaining Pole and McM winterovers arrived...on a NYANG ski LC-130 aircraft...actually their trip involved THREE ski aircraft. The first one boomeranged, and the second one had mechanical issues before it took off.
The original plan was for all of the "midsummer" flights to be RNZAF wheeled C-130 aircraft, but temps were too warm to allow for wheeled aircraft to land at the Phoenix airfield. There are currently four NYANG LC-130s in Christchurch. About 20 more C-17 flights to McMurdo are planned through the end of March to bring in some of the cargo which might otherwise have arrived by vessel.
As for other travelers to Pole, the third SPoT Traverse showed up on 3 February (right; photo by Gabe Nerf) and is now on the way back to McMurdo.
In Seattle, the icebreaker Healy arrived at its snowy home port on 13 February. Work on aligning the replacement motor is continuing...earlier, the vessel spent a couple of weeks at San Francisco's Pier 27 (updates).
The latest news...on Inauguration Day (20 January) @SPTelescope tweeted that the portrait of the 46th President had been erected at Pole!
Happy New Year! Yes, the newest latest Pole marker was unveiled on New Years Day! Have a look at the marker, the ceremony, and the design! Other holiday and midsummer events included a great Christmas dinner, the Round the World Race on the 26th, and the South Pole Marathon and half marathon on 10 January. The marathon winner was Brandon Amat (BICEP) with a time of 4.5 hours...not a very good time for Boston but quite impressive at Pole temperature and altitude.
The rest of the 2021 winterovers are currently in isolation in Christchurch, scheduled to head to Pole near the end of January. Meanwhile, the current Pole population is about 63...fewer people than the 86 that I wintered with in 2005.
28 December...a couple of sad updates. First...the previous Antarctic COVID-19 outbreak was at Chile's isolated Bernardo O'Higgins station on the Peninsula mainland...but on 23 December news came out that another outbreak had occurred at the village of Villa Las Estrellas at the west end of King George Island...which includes the Chilean base Presidente Eduardo Frei Montalvia as well as Bellinghausen (Russia) and Great Wall (China) as well as the airfield. Given the logistics aspects of the airfield presence, this outbreak has a more significant potential for spread. More information from this 23 December Polar Journal article.
And then there is the sad story of what was to be the Russia's shipment of the modules for the new Vostok, which was covered here earlier. It seems that the Russian nuclear cargo vessel Sevmorput transporting the modules south...had one of the 4 blades of its single screw break off somewhere west of Angola. After futzing around in the southern Gulf of Guinea for several weeks, divers arrived and cut off the opposite screw blade...so that the vessel could...head back north to St. Petersburg. More details including exclusive coverage!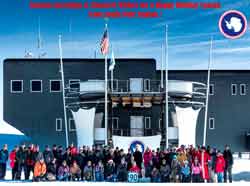 Some deployment and redeployment news...the Laurence M. Gould is scheduled to head north from Palmer Station on 25 December local time, taking the 2020 winterovers north. And the last major cohort of McM and Pole 2021 winterovers will be gathering in San Francisco in early January, before their charter flight south. They are scheduled to arrive in Christchurch on 11 January.
Oh, it is the holiday season, so THIS happened (left). Seasons Greetings from South Pole Station!! As of this past weekend there were 61 people at Pole...a smaller crowd than we had during my 2005 winter.
A major project was recently completed...the overhaul of generator #3, with lots of help from several New Zealand folks from Terra Cat (formerly Gough). The work included replacement of the crankshaft. Two more engines to go.
24 December...the complicated AAD medevac from Davis has been completed successfully as per the plans outlined below, and the patient was successfully flown from the Wilkins Aerodrome near Casey to Hobart by the A319 Airbus, arriving there on the afternoon of 24 December. Here's the final press release with a video statement by AAD director Kim Ellis. At right is a photo of the A319 at Wilkins, ©Glenn Jacobson AAD. The press releases include links to additional high resolution photos and video along with detailed copyright information. Additionally, here is a 26 December NPR news report about the medevac.
Alas, the coronavirus pandemic has reached Antarctica. Nowhere near any of the American stations, as the US and NZ have been bending over backward to keep the continent safe (such as folks in November who were quarantined/isolated for 45 days in San Francisco and Christchurch, with later delays due to...weather. No...this is at Chile's Bernardo O'Higgins station, which is located on the mainland of the Antarctic Peninsula (63º19'S-57º54'W). All 60 people from the base were evacuated to Punta Arenas last weekend...36 of them had the virus. The station was then thoroughly cleaned before a new crew took over. Two news links...this 22 December New York Times article...and (with no paywall) this ABC (Australian Broadcasting Company) article with a video.
There is a major medevac underway for an Australian expeditioner at Davis...I almost must say just "it's complicated." Briefly...the Chinese icebreaker MV Xue Long 2 will stop at Davis so that its helicopters can transfer the patient to the inland skiway. Meanwhile, a Kenn Borek Air Basler will fly from McMurdo to Australia's Wilkins Aerodrome to pick up a doctor and continue to Davis...to pick up the patient and fly them back to Wilkins. Where hopefully the Australian A-319 Airbus can fly the patient to Hobart. Here is the first Australian Antarctic Division (AAD) press release which includes videos and photos including the map at left (which depicts the intended schedule) as well as a press conference by the AAD director, who states that the Wilkins runway is currently able to receive the wheeled Airbus. If things change, the patient may have to travel to Australia by ship in January.
At right...photos from 10 December of the first two Air National Guard LC-130s...as seen by Ethan Rudnitsky from his quarantine room at the new Novotel at Christchurch Airport. The third one showed up on the 13th. After the flight crews complete their required 14-day NZ quarantine, the aircraft will...stay in New Zealand for the rest of the season unless they are required for medevac or search-and-rescue.
The first of three South Pole Operational Traverses (SPOT 1) arrived at Pole on 1 December. It had departed from McMurdo on 5 November for the 1,032-mile journey. It delivered more than 162,000 gallons of fuel as well as cargo pallets and shipping containers. At left is a photo of the arrival by Gabriel Nerf which was shared on the NSF Office of Polar Programs
Facebook page. SPOT 1 left Pole on 9 December, while SPOT 2 left McM
on about 30 November.
Some old news from last summer, but it only recently came to light...there is now a Little Free Library at Pole! This actually happened last summer, but the news has only surfaced recently. The benefactor is NOAA Boulder senior scientist Russell Schnell, who actually has sponsored 37 Little Free Libraries. The library was staged for photos at the Ceremonial Pole before it was moved to NOAA's warmer ARO. One of those photos, by Yuya Makino, is at right.
The second flight to Pole this season didn't happen until Tuesday 24 November...delayed by weather this time at McMurdo. The flight weather margins for Basler aircraft are stricter than for the LC-130's as Baslers fly at a lower altitude and are slower. The next flight showed up on Thursday the 26th. Meanwhile, the northbound winterovers have been spending the weekend at McMurdo due to some urgent repairs needed to the Phoenix runway...and the boomerang of a RNZAF C-130.
What's happening at Pole this summer? Not nearly as much as usual. Many of the ongoing projects are not sending any representatives this year...work on them is being done as needed by the research associates. And some of the larger projects such as IceCube are having the 2020 winterovers hang around for part of the summer to work with the new winterovers, in lieu of sending a summer team. What's really going on with science this year at Pole and on the rest of the continent...can be found in the 2020-2021 USAP Science Planning Summary.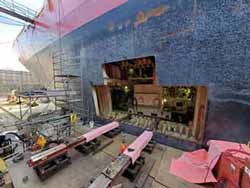 . And there has been talk of sending in some Caterpillar reps to overhaul the power plant engines. COVID precautions...there is a system of "Green" and "Yellow" (and hopefully never Red") in effect at McM and Pole...Condition Yellow is in effect at both stations for 7 days after the arrival of a passenger flight from New Zealand to McMurdo. And one of the berthing wings has been converted to a COVID isolation area should that be necessary. Elsewhere, the Laurence M. Gould was to head to Palmer Station on 27 November after the southbound passengers had quarantined aboard the vessel in Punta Arenas for 2 weeks. And up north at the Mare Island Dry Dock in San Francisco Bay, the Coast Guard icebreaker Healy now has a big hole in its starboard side (right) so that its failed drive motor can be replaced. Follow along as the repairs continue...
Winter is over at Pole at last. The first Basler arrived on the afternoon of 18 November--the second latest opening flight in program history (the opening flight in 1958 was on 20 November). The first arrivals were in quarantine/ isolation/travel status for about 45 days from leaving home...and the actual summer Pole season is only about 100 days. In addition to the COVID stuff, the ~50 Polies were stuck at McMurdo since 29 October, partly due to weather. At Pole. During the second week of November there was lots of blowing snow and winds up to 40 mph! After which of course the skiway needed some rework. At left, a photo (by Wayne White) of some of that raunchy weather. And guess what? The second Basler flight scheduled for 19 November was canceled due to weather.
Looking at the other side of the continent, the summer Palmer team finished up 10 days of quarantine in San Francisco and flew to Punta Arenas on a charter flight on 9 November. They're currently in 14 days of quarantine aboard the Laurence M. Gould before that vessel heads south.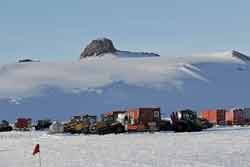 In other travel news, the first South Pole Operational Traverse (SPOT 1) left McMurdo on 5 November. It is the largest in the history of the program--14 tractors including one Sno-Cat--and is carrying 170,000 gallons of fuel as well as 100,000 pounds of food and other cargo--including a freezer container. Previous traverses have carried about 100,000 gallons of fuel and minimal cargo. At right is a photo of the traverse fleet (from Jake Carruthers/The Antarctic Report) shortly before departing McMurdo. In the past the fleet has included Case tractors, but I don't see any of them in this photo. As of 18 November they were still on the Ross Ice Shelf with 447 miles to go to reach Pole. The total distance is 1,032 miles, and they travel about 7 mph (slower when climbing to the Plateau) for 10-12 hours per day. They should reach Pole in the first week of December, and the second traverse will leave McMurdo at the end of November.
Flight updates...the USAP-chartered Kenn Borek Air aircraft--one Basler and two Twin Otters--arrived at McMurdo on Saturday 7 November McM/Pole time, after refueling at the otherwise-closed Union Glacier camp. In the next few days they'll head to Pole to end the 2020 Polies' winter isolation.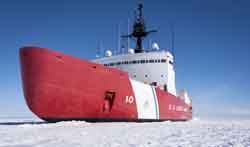 So...the Polar Star is doing an Arctic science cruise this boreal winter, as it is not heading to Antarctica as discussed below. Here is the government press release which doesn't reveal the details of the science cruise. At left is a photo of the Polar Star from this article...in the fast ice 20 miles north of McMurdo in January 2020.
Why is the Polar Star doing an Arctic cruise? The main reason is because the icebreaker Healy suffered a major fire in August just after leaving Seward, Alaska for its Arctic science cruise. No injuries or worse, and the vessel made it back to its Seattle home port safely...but one of its main drive motors was destroyed. Currently it is in drydock at Mare Island...amazingly 23 years ago when Healy was being built, a spare motor was constructed. It's now being shipped to Mare Island. More information...at right is a photo of the hull being pressure washed to remove barnacles before it can be cut open to replace the motor.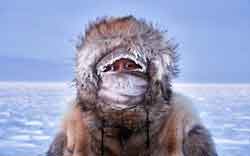 On 5 November a great article in Texas Monthly featured the current Pole winter site manager Wayne White (photo from the article at right). This has been his third winter in that role, and the second in that role. I've met him...he's a great guy who managed the place in yet another successful winter this year. I thought I'd achieved something by running more than 1000 miles at Pole, but he's walked several times that.
On 29 October about 50 of the Pole summerers and winterers headed south from Christchurch to McMurdo, along with other McM folks and 22 Italians heading to Mario Zucchelli Station...on a C-17 with everyone masked up. The first flight into Pole (a Basler of course, again, no Hercs this year) may not happen until at least 10 November. Which is a late opening date in recent years...although back in the day in 1958 the first flight arrived on 16 November, and in 1959 it arrived at Pole on 20 November. Those flights by the Navy's VX-6 were Douglas Aircraft Company's R4D's otherwise known then as DC-3's, and of course the first (and only) flights into Pole this year will be by Baslers (and perhaps Twin Otters) which are after all converted DC-3's. Typically these aircraft transit to McMurdo from Punta Arenas via Rothera and Pole, but this year the transiting aircraft have been stopping and refueling at Union Glacier instead...to limit the potential spread of COVID-19. AL&E has canceled their Antarctic tourist season this year, but special arrangements were made with the U.S. Antarctic Program and the Italian program so that the charter aircraft could refuel at Union Glacier. Earlier in October, two Kenn Borek Air aircraft chartered to the Italian program (a Basler and a Twin Otter) took this route to McMurdo, so that they could fly the the Italian crew to Mario Zucchelli. Here's a good news article from ENEA (the Italian National Agency for New Technologies, Energy and Sustainable Economic Development) which operates Mario Zucchelli Station (in Italian, use your favorite translator).
As for the Kenn Borek Air crews flying the Baslers and Twin Otters...they were in COVID isolation aboard the Laurence M. Gould in Punta Arenas...that vessel has been there since the end of the last austral summer. Meanwhile, the Nathaniel B. Palmer had headed to Punta Arenas from San Francisco, on 2 November. It is carrying members of (update) five science teams, led by principal investigators (PIs) Kenneth Halanych of Auburn University (Auburn news article; Kevin Kocot from the University of Alabama Tuscaloosa (Alabama news post); Deric Learman and Andy Mahon from Central Michigan University; and Sarah Gerken from the University of Alaska Anchorage. The teams are posting on the blog Icy Inverts. On 9 November Peninsula time the vessel left Punta Arenas, heading for their first research destination, Neko Harbor, on the Peninsula east of Anvers Island. They were scheduled to arrive on the 14th.
Speaking of aircraft, there ARE helicopters operating in Antarctica this summer. At right is a photo of one (from Mike Cemanski) at Black Island at the end of October. The current USAP helicopter contractor is Air Center Helicopters based in Burleson, Texas. This is one of their AStar AS350B3e aircraft...these can carry 5 passengers, 2,500 lbs of cargo at a speed of 140 knots and a range of 400 statute miles. Air Center Helicopters will be operating two aircraft out of McM this summer, and they'll also be supporting the New Zealand program, as Antarctica NZ (ANZ) is not contracting any helos this season.
In late October, the news about the upcoming season is getting interesting. There will be NO cargo vessel or icebreaker...partly because of the reduced program due to the pandemic...but more significantly due to the fact that bad weather as prevented the completion of the ice pier. Work on the ice pier has been continuing so that it will be ready for ship offloads in the 2021-22 season. And it may yet see some use this season, as the Nathaniel B. Palmer's next science cruise (after the one described above) includes a return transit from Punta Arenas to McMurdo, with stops in New Zealand before and after the McMurdo port call. All cargo will be shipped south by air from Christchurch on USAF C-17 or on RNZAF wheeled C-130 aircraft. I did not mention the Air National Guard ski LC-130s...as they are not coming south either. All flights from McMurdo to Pole will be on Basler aircraft which means a severe limitation on cargo or mail (no large packages). As for fuel...the program had already planned for no tanker to McMurdo this season, as increased fuel storage and conservation has eliminated the need for an annual tanker visit (there was no tanker in 2018-19). And as for fuel to Pole, I've been assured that the South Pole Traverse (SPoT) will fill the needs. In previous years the traverse has been supporting other field projects/camps which will be minimized this year, so there is more capability for the traverse trains to bring fuel to Pole. Currently there are three SPoTs scheduled, and they will be larger than usual, hauling containers of supplies and food as well as fuel...including a freezer milvan.
As for people...the plan continues to be for McMurdo bound passengers to quarantine near SFO for about 5 days, fly to ChCh on a charter, and quarantine there for at least 2 weeks more before heading south on a C-17. The second "cohort" aka the first main body McMurdo flight arrived there on Wednesday 7 October McM time...following two previous WINFLY flights which arrived on 13 and 16 September. Many of the people heading for Pole were quarantined at SFO in early October, scheduled to head south to NZ on 10 October US time...for more quarantine.
As of 8 October, the Kenn Borek Air flight crews (those Baslers) are also currently isolating in San Francisco, they are scheduled to fly to Punta Arenas on the 10th and isolate aboard the Laurence M. Gould before transiting to McMurdo via Rothera and Pole...er, not Pole this year.
As for Palmer Station...no news yet, although two ocean cruise science teams plus ships' crew are currently quarantined aboard the Nathaniel B. Palmer at Port Hueneme,
Spring has sprung! Officially the equinox was at 0130 23 September Pole time, but signs and signals of the sunrise have already happened, including glimpses of the sun as well as the sunrise dinner. The sunrise dinner was this past Friday the 18th...and by the 23rd the sun was well visible (photo at right from Zeke Mills). Meanwhile at McMurdo, the final (cargo only) WINFLY C-17 flight by the 304th Expeditionary Airlift Squadron showed up on Thursday the 24th. The previous passenger flights had arrived on 14 and 16 September. Everyone at McMurdo must wear masks and take precautions for 2 weeks after the 16th...then they will be able to go back to "normal" for a bit until the first main body flights show up. The first main body cohort is currently quarantined in NZ government isolation until their flight dates on 5 and 7 October, while the next main body cohort will depart CONUS on 10 October and after their quarantine hopefully they will fly south on 26 October.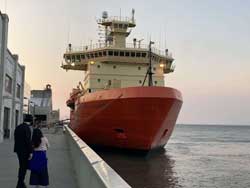 Meanwhile, the Nathaniel B. Palmer left Humboldt Bay and spent the past few days at Pier 17 in San Francisco next to the Exploratorium. Such a ship visit to SF is a rarity based on my 7 years living or hanging out in the Bay Area, and actually this year is the first time that this vessel has called at an American port in this century. It arrived on Sunday the 20th Pacific time and departed for Port Hueneme on the 24th...with the new crew and science team who will quarantine on board in Port Hueneme for 2 weeks before heading south. The science team of 31 will be studying the molecular diversity of the Southern Ocean. On 24 September, the San Francisco Chronicle posted this article, which may be more visible on this Laredo (TX) Morning Times site. One photo from the article, showing the vessel at Pier 17, is at left.
9 September update...the storms at McMurdo have cleared (although they did threaten to come back), and the folks in Christchurch waiting to fly south will have to wait in quarantine some more...until at least the 14th!
Labor Day weekend...lots of ice news! First, the folks scheduled to fly south on Winfly completed their initial 14-day quarantine upon entering New Zealand, and were then moved to another USAP-chartered hotel to continue quarantine (to keep the ice COVID-free) and they are STILL waiting for the flights south. Because McMurdo got hammered with a mammoth and long-lasting storm that pushed the flight dates back to at least the 10th. The flights had originally been scheduled for the last week of August. The storm's high winds were not as strong as the 2004 storm, but it brought MUCH more snow...which will need to be dug out to check for damages as well as to prepare the skiway. As of Friday McM time things were back to Condition 3 (calm/normal). The Air Force C-17 crew has also been in quarantine since early August (see photo below right) (Air Force Magazine article), which also notes that they brought additional maintenance personnel, and that the aircraft will be equipped with an air-transportable galley and lavatory so that crew and passengers can use separate facilities.
Another effect of the global pandemic...on 3 September, AL&E has completely canceled its 2020-21 Antarctic season...meaning no Mt. Vinson climbs and no nongovernmental tourists this season from Union Glacier. Their announcement.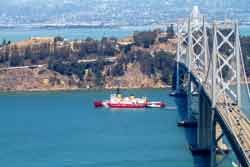 There has been a lot of icebreaker news in the past few weeks...some good, some bad and some, er, questionable. First, the good news: the Polar Star left the Mare Island Dry Dock last week...at left it can be seen heading north past Yerba Buena Island in San Francisco bay on 28 August 2020. That photo comes from the official U.S. Coast Guard Facebook page, which reports that the vessel and crew spent 114 days in dry dock on a contract that covered 66 work items at a base cost of $5.45 million.
The bad icebreaker news...Healy suffered a fire and propulsion failure on 18 August, 60 nautical miles off Seward, AK while en route to a Bering Sea science project, just after embarking scientists in Seward. The science cruise was canceled, and Healy was transiting back to its home port in Seattle for major repairs. Two news articles--one a 24 August Coast Guard press release, and another article, 25 August, from the US Naval Institute: "Coast Guard Icebreaker Healy Suffers Fire on Arctic Mission; All Arctic Operations Cancelled."
Questionable icebreaker news...in June 2020 the White House ordered a review of the Coast Guard heavy icebreaker program. The results were supposed to be released in August, but I don't think they have been released yet. Here's a 10 June US Naval Institute article, and here is the official 9 June memorandum from the President. One option for the next phase of icebreakers included nuclear power, per this July "Breaking Defense" news article.
And then there is news about the new replacement Vostok Station that will be brought south this season by the Russian nuclear cargo icebreaker. Alas, my contact and info page for this has been taken down, but for now I'll leave this teaser image which was shared by Russia's Ministry of National Resources. The materials are to be shipped south this season on Russia's cargo icebreaker Sevmorput. My full coverage!
Updates 8 August US time...on the afternoon of 7 August (NZ time) the first American USAP flight arrived in Christchurch--a C-17, per this Radio NZ news article. At left, a photo of the aircraft on the tarmac from the RNZ article, by Nate McKinnon. Two days later (9 August NZ time) the Americans who will be heading down on WINFLY arrived on a 767 that the USAP had chartered...from SFO via Hawaii. The USAP folks (at least) will be quarantined for 2 weeks (at least) in that brand new Novotel at the CHC airport, visible behind the C-17, which was under construction when I was last in Christchurch in December 2018. Other updates...a 6 August official New Zealand Government press release "Reduced international Antarctic season commences," a 7 August National Geographic article "Antarctica is the last continent without COVID-19...", and from the UK: this 7 August BBC News article "Coronavirus severely restricts Antarctic science" as well as this 7 August BAS press release "Update on 2020/21 Antarctic field season: responding to COVID-19 pandemic". Of potential impact to the USAP, both the BBC and BAS articles mention the potential difficulty of getting Baslers and Twin Otters to the ice from Calgary.
4 August 2020 updates on the 2020-21 season: First, the program announced on 4 August US time that the McMurdo upgrade project otherwise known as AIMS would be suspended for the 2020-21 austral summer season due to the pandemic. Here is that announcement. Meanwhile, there ARE science and support folks who will be heading to Antarctica...the first of these will be heading to McMurdo on the WINFLY flights scheduled for the last full week of August. Some of these people have already been heading to San Francisco...upon arrival in New Zealand they will be quarantined for at least 14 days per this 6 August Christchurch Star article. The deployment list has been seriously curtailed, to exclude people who "don't turn a wrench" (quoting a friend), but the long term science will continue, and the program IS still hiring people to fill critical positions. I have recently updated my Antarctic jobs information page...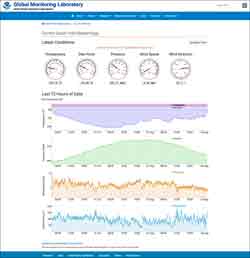 And...the Pole weather has been "cool" in the past week. Several times the temps dipped into 3 digits (ºF), beginning last Thursday 31 July at about noon local time. At right is an archive photo of the NOAA 72-hour weather display page (which uses UTC, 12 hours behind Pole time during the winter). Oh, the temperature dipped below 99.9ºF again more than once in the next few days...You can follow along in real time on the NOAA live weather page which provides a record of the past 72 hours in both metric and English units.
At the end of June, construction of the new ice pier at McMurdo was well underway (left), although successful completion will require appropriate weather and sea conditions. So far so good...more information and construction details are here.
I've covered the latest information about how various national Antarctic programs are dealing with the COVID-19 pandemic here before...here is the general news from June 2020. S
NSF plans for the upcoming Antarctic Season (11 June)
Australian Antarctic Division plans (26 June)
Antarctica New Zealand (9 June)
British Antarctic Survey (9 June)

26 June, we have some news from the Arctic (well, actually from Washington DC). Battelle just issued a press release announcing that they'd been officially awarded the NSF Arctic support contract, which operates Summit Camp in central Greenland and Toolik Field Station in Alaska, and also supports NSF research throughout the Arctic including in Asia and Europe. The contract award was actually announced on 20 December 2019, but the losing bidder, Jacobs Polar Services-CH2M Facility Support Services, protested more than once. The contracting process had started in 2017. More information, including credits for that aerial photo of Summit Camp (or Summit Station if you prefer) is here.
And there is unhappy Antarctic news. At 1340 UTC on 21 June, a fire broke out in the met office at Russia's Mirny station. It destroyed the building known as Radio House which housed various science labs and berthing for 11 of the 23 people on station. It spread to the main accommodation building but that building survived. No one was injured, and communications with the rest of the world have been restored. Three articles: this 22 June Washington Post article based on wire services, a longer 23 June article from list23.com, and a pdf report with map (in Russian) from Russia's Arctic and Antarctic Research Institute. Here's Google Translate's English version of the text.
And an older bit of news that didn't get much publicity...on 8 May 2020 at Ukraine's Vernadsky station, cook Vasily Omelyanovich apparently committed suicide due to personal reasons. This was his fifth deployment to Vernadsky, which is about 30 miles south of Palmer Station. During my deployments to Palmer in the late 1980s, the base was the British Antarctic Survey's Faraday Station...I saw it from a distance once as we sailed past, but did not get to visit. It was transferred to Ukraine and renamed in 1996. Here is a 9 May 2020 news article from the Ukraine describing Vasily's death. That article states that "the issue of delivering the body to Ukraine is being solved." Accordingly, the Laurence M. Gould called at Vernadsky to transport the body north, this was overnight on 16-17 June after departing Palmer Station on the 16th.
Happy Midwinters Day! The official solstice day was Saturday 20 June, when the Midwinters dinner celebration was held! At left is the official Midwinters Day greeting card. Photoshop was involved, so no Polies froze to death.
In other Antarctic program news...the latest information from the Western Hemisphere is that the Laurence M. Gould, which left Palmer Station with the rest of the summer folks on 16 June local time, arrived at Punta Arenas on 21 June after taking yet another "scenic route." Instead of the usual route through the Beagle Channel, they passed through the east end of the Straits of Magellan so as to avoid the need for the channel pilot. Sixteen souls are wintering at Palmer Station...for more details see this corner of my Palmer website.
Other and earlier COVID-19 related stuff...on 11 June, NSF announced their plans for the upcoming 2020-21 season...keeping the stations operational, maintaining long-term and statutorily required projects--most of which can be operated by ASC employees. Here's a similar 9 June announcement about the New Zealand program from Antarctica New Zealand. I've heard that the PQ requirements for the upcoming summer and winter seasons have been adjusted to restrict people who may have a significant tendency to contract COVID-19...and also that people deploying to McMurdo and Pole next season may have to quarantine in New Zealand for 3 weeks before deploying.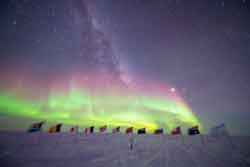 Updates 27 May US time...first of all, let's give a shoutout to the auroras that have been happening at Pole! Here at right is a rather spectacular shot from mid-May that IceCuber Yuya Makino shared recently, from the 27 May Week 19 at the Pole IceCube report. Otherwise, as the Polies have been collectively social distancing from the rest of the world, they have already started prepping for the Midwinters Day dinner scheduled for 20 June. Elsewhere...NSF is still planning to announce their plans for the 2020-21 season by the end of May, but we already know that there will be no media visits, film crews, or Artists/Writers people deploying. And as I've mentioned in the next paragraph, the Nathaniel B. Palmer is in Humboldt Bay (Northern CA) where it will be hanging for awhile.
Updates 16 May US time: Normally at this time of year, NSF would be soliciting news media visits to Antarctica, but these have been canceled for the 2020-21 season (the 11 May NSF announcement).. Elsewhere...here is an interesting 12 May report by Dr. Pradeep Tomar, the winterover medical officer at India's Bharati Station (on the coast at 69.4ºE, roughly 120 miles east of Mawson). He describes what life is like on the only continent still untouched by COVID-19. He mentions that India has called off its Arctic science expedition which was scheduled for April, and that Australia will undertake no major Antarctic science projects in 2020-21. AAD's most recent announcement on the subject (6 April) confirms that. Meanwhile, the New Zealand program announced on 13 May that they would announce a plan for their upcoming season by 1 June. The last McMurdo flight happened during the week of 3 May; the next flights currently scheduled are for WINFLY in August. And back in the US of A, the Nathaniel B. Palmer stopped briefly in San Francisco Bay and has been at Fairhaven, CA (on the Samoa Peninsula in Humboldt Bay, west of Eureka) since mid-May per the most recent (18 May) USAP schedule.
Updates 11 May US time...here's the latest BAS news release from 1 May, it outlines that all of the BAS stations are in winter status. The James Clark Ross was heading north from Rothera, and it was to meet up with the cruise ship Hebridean Sky which was docked at Port Stanley and already housing summer station crew and wharf construction workers who had previously been brought north by the JCR. The cruise ship will be taking the summer folks back to the UK. As of a few days ago, the Falklands were COVID-19 free, as was the Antarctic continent.
As for the Palmer Station winterovers, the official USAP schedule for the Laurence M. Gould was revised on 5 May--it includes the "Palmer Station Turnover" cruise departing Punta Arenas on 31 May. The vessel has been in PA since 21 March. Meanwhile, the Nathaniel B. Palmer, after calling at Port Hueneme for a few days, is now heading to Oakland. Earlier on 11 May it was west of Santa Cruz. Meanwhile at McMurdo, the last flight until August arrived and departed on 6 May. This was the Australian Antarctic Division's A-319 Airbus operated by Skytraders Aviation. It arrived from Melbourne with cargo only--no USAP passengers--and departed for Sydney the next day with 21 northbound passengers. They continued to the US after an overnight stay. The on-deck photo at right by James Penkusky was shared on Facebook by NSF.
Updates 30 April...on 27 April NSF issued a new status update on the US Antarctic program...flights to get the non-winter crew out of McMurdo were completed successfully, one additional flight is currently planned for May--probably a return trip from Melbourne, and options are being considered to the the winter crew to Palmer Station. Meanwhile, the Nathaniel B. Palmer is heading north toward the West Coast (presumably to Port Hueneme)--as of 30 April it was at 15ºN-110ºW... directly south of the tip of Baja California. The Laurence M. Gould is still at Punta Arenas. The status update also outlines planning priorities for the upcoming season.
Meanwhile, the other "big red boat," Polar Star, entered drydock at Mare Island on 13 April...it will spend the next four months there. By 16 April it was high and dry (left...photo and info from the Polar Star Facebook page).
Southern hemisphere updates Wednesday 15 April (US time)...despite the 7 April BAS press release stating that the James Clark Ross would depart Rothera on 27 April...it actually departed on the 9th from the now-completed new wharf, as described in this 16 April BAS news story. CORRECTION...that wasn't the last JCR departure from Rothera...it made another trip departing for the last time around 27 April. If you have access to Facebook, here's a short timelapse of the James Clark Ross being the first vessel to dock at the new wharf. That BAS news article also mentions that the cargo vessel MV Billesborg was the second vessel to dock at the new wharf. Some personnel deployments to Rothera and King Edward Point (KEP) (South Georgia) were canceled...and oh, the MV Billesborg later headed to KEP where another new wharf is under construction (17 April 2020 BAS blog post with links to project info). More earlier info is in this 7 April BBC article. On the other side of the Southern Hemisphere, the Australian Antarctic Division announced on 30 March that they had chartered the construction vessel MPV Everest to resupply its stations in 2020-21 (press release), as completion of the new AAD research icebreaker RSV Nuyina was delayed because of the current pandemic. It looks ready to sail, but it still needs important harbor and sea trials. At right is a photo of the Nuniya at the Galați shipyard in Romania...photo shared 15 April on the AAD Facebook page.
At Pole it has been getting darker...and on Monday 13 April the first auroras of the season made their appearance. Here at left is a sample view shared by Zach Tejral. And it's been getting colder as well--here's a link to the NOAA weather page. Also, here's the 6 April Antarctic Sun report by Kelly Thomas, describing the first two months of winter. And on 10 April, NSF Polar Programs director Kelly Falkner issued this news statement regarding plans to protect the continent from COVID-19; it includes the statement "There are currently no known or suspected cases of COVID-19 in Antarctica." Meanwhile, 3 scheduled flights to McMurdo were underway in mid-April by the Australian A-319 Airbus, but they were not bringing any passengers south. And some of the northbound passengers had originally been scheduled to stay at McM longer.
It could be said that Pole winterovers become experts in isolation...now there is some concrete advice out there from a couple of them. First...from Christine (Christy) Schultz who was the 2011 wo NOAA Corps officer--this 3 April AccuWeather news article describes some of her social distancing experiences--not only at Pole, but also on NOAA research vessels and at the Mount Washington Observatory. Alas, the article video seems to have been taken down. At right, Christy's selfie from the article. And then there's that ultimate Polie social distancer Christina Hammock Koch...as if our 2005 Pole winter wasn't enough for her, she spent nearly a year 250 miles away from the rest of us on the International Space Station, returning to Earth in February 2020.
This 25 March Washington Post article describes experiences and advice not only from her, but also from that famous Canadian ISS astronaut and guitar player Chris Hadfield. At left...my 2005 winter photo of Christina in the old cryo barn...the large white vessel left of her is full of liquid helium. Careful observers will notice that we are more than 2m apart.
Southern Hemisphere updates Thursday 9 April 2020 (US time)...the Nathaniel B. Palmer docked in Punta Arenas on 29 March...the one New Zealand citizen caught flights to Auckland via Santiago (he was quarantined for 14 days), while the Americans took later flights to Miami also via Santiago. The 10 British researchers who were dropped off at Rothera, along with 20 others, had been flown to the Falklands where they were quarantined for awhile at the Malvina Hotel in Stanley; they were flown to the UK overnight on Sunday 5 April on a MoD flight that refueled in Senegal as the usual refueling stops on Ascension Island and Cape Verde were closed. But there's a lot going on involving Rothera. The James Clark Ross is currently there unloading supplies for the winter, while summer personnel from the other BAS stations (Signy, King Edward Point, and Bird Island) already are on board. But there are about 90 other summer people at Rothera that need to be gotten home...most of these are construction workers working on the successfully completed new wharf at Rothera. They will be ferried to Port Stanley by the James Clark Ross (JCR), while the remainder of the Rothera winterover crew will be ferried south from Port Stanley. Meanwhile, BAS has chartered the cruise ship Hebridean Sky operated by Noble Caledonia, currently moored off Port Stanley, to house some of the folks from Rothera and eventually take them back to the UK. The Rothera winter will begin on 27 April when the JCR and the last Twin Otter head north. News sources...this 7 April BBC article "Coronavirus complicates journeys home from Antarctica" and this 7 April BAS news release.
As for USAP, at the end of March NSF issued a report addressing operational changes in the polar programs in response to the COVID-19 pandemic. For McMurdo, the April flights will not be taking any folks south...and as New Zealand has recently adjusted their travel restrictions, the northbound pax from McMurdo will be able to fly to Auckland and back to the US. For Palmer Station, the summer staff will remain on station until such time as the winter crew can safely deploy, and winter science events have been canceled.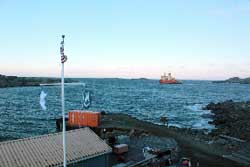 Southern Hemisphere updates Thursday 26 March 2020 (US time): the Nathaniel B. Palmer arrived at Palmer Station before dawn on Tuesday morning 24 March. At left, a photo of the approaching vessel from Maggie Amsler; at right, a photo of a Zodiac approaching the station by Zee Evans from the USAP photo library (link to original). Folks who had been scheduled to stay until mid-April had been given only a few days warning to close out their projects/labs and pack up to head north...which they did the same day after transferring science cargo, baggage, and passengers to the vessel by Zodiac. Currently after 11 people left there are still 20 people at Palmer Station...with about a 2-3 month supply of fuel and food. There are no plans at present for the Laurence M. Gould to show up with resupplies and winterovers anytime soon. And while the Palmer has, at present, permission to dock in Punta Arenas, there's no path as of yet for people to even leave the vessel, much less head north to the US given quarantine restrictions, border closures, and flight cancellations. In fact, the group of people who went north on the Gould earlier this month had a police escort from the pier to the PUQ airport, and once there, they learned their SCL-IAH United Airlines flight had been canceled. It took some high-level negotiations to get it reinstated. Stay tuned. Meanwhile, here's PolarTREC educator Sarah Slack's 26 March blog post from the Palmer (I mentioned her earlier). You can follow the links to her earlier posts and the project science.
The Polar Star arrived in Seattle on Wednesday 25 March after a successful Antarctic trip, which not only included breaking ice for the McM resupply, but also involved Antarctic Treaty inspection visits to Mario Zucchelli (Italy), Jang Bogo (South Korea), and Inexpressible Island (China)...this was the first American inspection trip since 2012. Details from this 25 March Coast Guard press release.
Updates from the Southern Hemisphere...most recently from US national media: this 24 March Washington Post article "One continent remains untouched by the coronavirus: Antarctica" which includes commentary from a number of stations and folks, including 1990 Pole winterover and friend Michelle Rogan-Fennimore who is currently the executive secretary for COMNAP. Meanwhile, the Laurence M. Gould arrived from Palmer Station and docked at Punta Arenas this weekend, flying the quarantine flag. Americans aboard flew to Santiago on Sunday Chilean time and were on a flight to Houston on Monday. The scheduled 2020 Palmer winterover crew are...hanging out in the USA and may yet deploy in a few weeks. Meanwhile, the Nathaniel B. Palmer called at Rothera on Sunday 22 March, and the 10 British researchers aboard were dropped off there so that they could be flown to Stanley (Falklands)...originally thought to not happen until June. Its next port call is Palmer Station to pick up some of the summer people and at present (24 March) they think they'll be able to dock at Punta Arenas as they've been quarantined at sea since 26 January. As for getting home from there, things are questionable for people of all nationalities including Kiwis,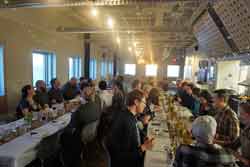 as restrictions and flight cancelations change daily. The Nathaniel B. Palmer has been participating in the International Thwaites Glacier Collaboration, otherwise known as the THOR project. You can follow along with what's happening aboard the Palmer with Sarah Slack, a Brooklyn, NY middle school science teacher who is a PolarTREC participant with one of the international projects--specifically this one. Above left: a photo from the bridge of the Palmer at sunrise on Sunday 15 March, as the vessel entered the Bellingshausen Sea from the Amundsen Sea--this photo is by Cindy Dean and from the USAP Photo Library (link to original). Another wrinkle...there is a cruise ship with ~90 Australian doctors and dentists that was turned away from Argentine ports at gunpoint last week. Stay tuned as things are subject to rapid change, I have friends aboard the NBP. As for the winterover Polies...they've been in social isolation from the rest of the world for six weeks...and they had the traditional sunset dinner on Saturday 21 March (right, photo from Zeke Mills).
And what about that other research and support vessel, the Polar Star? Fortunately, unlike last season when there reports of fires and other casualties, this year we've heard nothing. Or perhaps there's another reason...the vessel has had a severe communications failure during the northbound voyage, so no news may mean just...no news. As of 23 March it was west of southern California and heading north.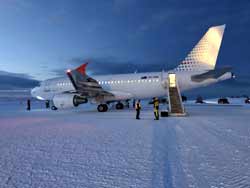 Things are getting weird in the world. Presumably not for the 42 Pole winterovers, as they've already been social-distanced from the rest of the world for more than a month. But for McMurdo...the RNZAF flight scheduled for this week (as early as 18 March) will not be bringing any people south...only taking people north. And those northbound passengers may find themselves required to self-isolate in NZ for 14 days per NZ Customs restrictions at the time.. And things are also getting interesting on the other side of the continent as Chile has closed its borders to all foreigners effective 18 March. Apparently they will allow the Laurence M. Gould (LMG) to dock in Punta Arenas (scheduled date 21 March) as well as the Nathaniel B. Palmer (scheduled date 25 March)...but the arrangements for the 2020 Palmer Station winterovers to arrive in Chile and head for Palmer are still uncertain.
Another medical update...this one totally unrelated to COVID-19, the disease caused by SARS-CoV-2...on 14 March the AAD conducted an emergency medevac from McMurdo...their chartered A-319 flew south from Hobart to McMurdo and flew an ill patient to Christchurch. Conditions were challenging as the temperature at McM was -22ºF/-30ºC with wind chill. Here is the AAD news article; the photo above left of the aircraft on deck at McMurdo is from that article.
The Pole summer is ...over! The last flight out headed north on the 15th leaving 42 people behind to watch several traditional movies and otherwise get along with each other for the winter!
Fellow 2005 Pole winterover and friend Christina Hammock Koch...now much better known to the rest of the world as Astronaut Christina...returned to earth on 6 February after 328 days on the International Space Station...a NASA record for women! Two NASA news articles...this 6 February article with a great photo of her (at right) details the return of her and her teammates in Kazakhstan, and this earlier (3 February) article outlines the many projects she was involved with while in space. Throughout her mission she's had a great cheering section of Polies and other ice folks...after all she also spent time at Palmer Station.
5 February shipping season update...the Ocean Giant has completed offload, loaded cargo for the trip north and pulled out at about 1500 McM time on 4 February...to be replaced at the pier almost immediately by the tanker Maersk Peary; meanwhile, the second cargo vessel SLNC Magothy completed loading cargo at Port Hueneme and headed south on 22 January (dvids news article with photo). And this 23 January USNI News article about the Polar Star describes the icebreaker's uneventful breakout of the shipping channel...while the Winter Quarters Bay area was free of ice, 23 miles of ice had to be broken out further north, west of Ross Island. Here's another earlier (29 January) Seabee Magazine article about the cargo offload evolution, as well as a later 20 February Military Sealift Command article about the completion of the cargo evolutions.
Icebreaker procurement update...on 31 January the U.S. Coast Guard announced they were procuring a contract to extend the life of the Polar Star until the second of the new Polar Security Cutters was available. Details on my icebreaker procurement page which I update as needed.
The IceCube project did a significant amount of work at Pole during the 2019-20 summer...not only the usual wiring fixes, server upgrades, digouts and measurements, but they also spent significant effort to dig out and inspect the various drill camp modules in preparation for the 2022-23 "IceCube Upgrade" which was funded in July 2019. Two of the camp generator modules, which had been sent to McMurdo for use at other field camp sites on the continent, were returned to Pole by the third South Pole Traverse. Also, another new optical Cherenkov telescope was installed on the roof of the ICL (IceCube news article). Also...this 28 January IceCube news article presents an off-the-ice interview with the 2019 winterovers Kathrin Mallot and Benjamin Eberhardt...and Benjamin has prepared a great 5-minute timelapse video (right) of the winter horizon and skies!
By 18 January the third of four seasons of the 88S Traverse had returned to Pole...this effort led by principal investigator Kelly Brunt is performing GPS elevation measurements of the ice sheet to help validate measurements by NASA's ICESat-2 satellite, which was launched in 2018. For each of the past 3 seasons, Kelly and her team have traversed a 90º quadrant of the 88ºS latitude line. The four-person team used two Pisten Bullys which pulled HDPE plastic "magic carpet" sleds with their equipment and pre-erected tents (left, photo from Kelly Brunt). You can read more about this and previous years' traverses in this blog.
A death in Antarctica is never good news...and it happened on 11 January 2020. Staff Sgt. George Girtler IV, a member of the 109th Airlift Wing, passed away from natural causes. The cause of death was pulmonary embolism, a blockage of blood vessels in the lungs. Here's a 24 January Stars and Stripes article, an Air Force Times article, and an obituary from the DeVito-Salvadore Funeral Home in Mechanicville, NY.
The end of the Pole NGO tourist season came early on 19 January 2020 SP time when an ALE group guided by Christian Styve and including Lucy Reynolds arrived from Hercules Inlet...the team spent 2 nights at the Pole tourist camp before heading north, as the camp was being dismantled. My record of the season is here. Meanwhile, there is news from last year's happenings...in 2018-19 the Brit Lou Rudd and Oregonian Colin O'Brady completed what both claimed to be "solo unassisted Antarctic crossings." The "Antarctic crossing" part was somewhat controversial as neither actually traveled from coast to coast, and "unassisted" is also questionable, as both used the prepared and well-marked route. Now that O'Brady's book The Impossible First came out recently, National Geographic has taken a more detailed look at Colin's claims in a 3 February article "The problem with Colin O'Brady" by Aaron Teasdale. Give it a read! Oh...on 13 February Colin responded to the National Geographic article with a 16 page letter reasserting his claims and requesting National Geographic to retract its article (seen here in Willamette Week, a Portland, Oregon weekly. Meanwhile, after a significant discussion on Facebook, in late February Australian polar guide Eric Philips posited a letter to NatGeo in support of Aaron's article and asking for signature support. I of course agreed, and the resultant letter was set to NatGeo with a list of more than fifty "leading polar explorers, guides, and adventure specialists" including...me. Read the letter here! On 4 March Willamette Week reported that National Geographic stands by Aaron Teasdale's article, although three clarifications were made. The "Impossible Row" has continued to draw media interest...such as this this 28 May 2020 article by ExplorersWeb freelancer Martin Walsh. He depicts the route map of the Ohana ("family" in Hawaiian), notes that the boat's track had to be diverted to avoid the search area for the missing/lost Chilean military C-130 aircraft (Wikipedia article), and mentions that Colin O'Brady was NOT the originator or leader of the rowing event...rather that was Icelandic ocean rower Fiann Paul...who'd recruited a team of experienced oarsmen but was unable to secure funding...so O'Brady, the only non-rower on the team, was brought in. Walsh's article also notes that the chase boat operated by the Discovery Channel was one of the conditions that Chile imposed on the venture.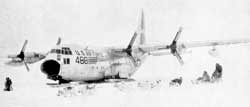 The end of January marks the 60th anniversary of the first ski-equipped C-130s to arrive on the seventh continent! NOT flown by the Navy...but rather the Air Force, which had pioneered the concept and done deep research and tests in order to support the DEW Line and the DYE sites in northern North America and Greenland. The first Herc arrived at McM on 23 January 1960, and the first one of these landed at Pole on the 28th. A complicated story...as the resupply of Byrd and Pole had fallen behind, there was concern that the Russians might occupy these stations if they had to be abandoned. At right, the first Herc at McMurdo is met by more traditional means of transportation. The rest of the story!
New Years Day marked the annual ceremony of unveiling and placing the new Pole marker...this one was designed by 2019 winterover Luis Gonzalez...who actually was on station on 1 January so he got to unveil his design, seen at right (more info and photos).
Other stuff that has been going on at Pole...a large IceCube team showed up to evaluate the long-stored drill camp modules in preparation for the future IceCube Upgrade...by the 21st they'd pretty much finished...meanwhile SPoT 3 was nearing Pole bringing a couple of the drill camp generator modules that had been used for other field projects.
The first cargo vessel Ocean Giant arrived at McM on 22 January and immediately started offloading the Modular Causeway System (MCS) aka the pontoons. By the 25th the pier was almost ready to start the cargo offload, as seen at left from a McM webcam photo. You can follow along here by selecting the Ice Pier camera, and there are photo archives from the past 24 hours.
Shipping updates...the Polar Star HAS been sighted from McMurdo, as documented on the McM Ice Pier webcam which does not at present (~noon 9 January McM time) show the vessel, although a photo from the previous day (right) when the weather was better shows the icebreaker hard at work. The first cargo vessel Ocean Giant is well southwest of Los Angeles and is scheduled to reach Lyttelton around 13 January, the second cargo vessel Magothy is scheduled to reach Port Hueneme from Honolulu on 10 January, and the tanker Maersk Peary is now approaching the NW Australian coast...it will call at Fremantle between 12-15 January.
The new year also traditionally brings the first arrivals of NGA skiers/kiters/trekkers...well, actually the first of these arrived in late December. No speed records to Pole this year, but there are other records including an unquestionable Antarctic distance record by Aussie Geoff Wilson (despite his skipping a stop at Pole due to leaky fuel bottles) and a questionable rowing record from South America to Antarctica. Details...
At Pole, Christmas was celebrated in traditional fashion with a great holiday feast as well as the "Round the World" race...these events allowed for a bit of a break from the summer projects...such as getting glaciologist Kelly Brunt's traverse ready--the third of 4 90º quadrants along 88ºS--a GPS survey in support of the ICESAT-2 satellite. A major project this season is the replacement at MAPO of the Keck Array telescope system with the BICEP Array...as seen in the mid-December photo by Steve Bruce at left.
In Port Hueneme, the cargo vessel MV Ocean Giant departed for McMurdo via Christchurch on Christmas Eve...carrying not only cargo but also the floating modular causeway system (MCS) that was first used at McM in January 2012. A second cargo vessel, the MV Magothy is scheduled to arrive in Port Hueneme for onload in a few days. This DVIDS news service article has more information. And what about the tanker, you may ask? After skipping a year, the Maersk Peary is expected to show up near the end of January. Currently (31 December) it is approaching Sri Lanka, and it will also call at Fremantle before heading to McMurdo.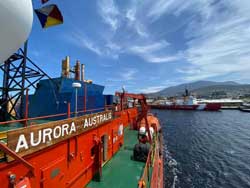 And to kick off the shipping season, the icebreaker Polar Star is already south of Cape Adare. Earlier it called briefly at Sydney and also spent a few days in Hobart...as seen in this 22 December photo from the Australian Antarctic Division (antarctica.gov.au) Facebook Page along with the Aurora Australis which was departing for Casey.

And some Antarctic news from 250 miles up in space...as of 28 December, friend and fellow 2005 Pole winterover Christina Hammock Koch set a record for the longest single space flight by a woman--289 days. She is scheduled to remain on the International Space Station until February 6, which would be a record of 328 days. The all-time space flight record is held by Valeri Polyakov, a Russian who spent 437 days aboard MIR in 1994-95. Here's a UPI news article.

***

Some older items of interest (other old news is in the archive):

WIRED magazine has a feature article on Jerry Marty, Carlton Walker, and the station construction in the July 2002 issue. Read about the settlement problems...why the place wasn't considered fit for occupancy for the 2002 winter.
Pole land cargo traverses in the works...in October 2002 NSF flew a specially equipped D8 from Christchurch to McMurdo aboard a C17...this equipment was be used to prepare a road south towards the Leverett Glacier, eventually hopefully to Pole. This is to augment the LC-130 flights for station construction cargo as well as for ICE CUBE and forthcoming science projects. More information...
Another new science project...in 2002 a 10-meter submillimeter telescope (up from 8 meters!) that will search for new galaxy clusters and study dark energy. Plans were to attach it to the DSL (dark sector lab) University of Chicago press release. It was originally scheduled to have a ground shield that is larger than the Dome (built by Temcor, the same company that built the dome...). The telescope was completed in 2006-07, and the huge ground shield was eventually cancelled.
On 8/13/02 NSF had a meeting with potential contractors and suppliers for a possible fiber optic cable to Dome C. Yes, you read that right (news article). Since Pole is way below the horizon for the commercial geosynchronous satellites, one option is to run a cable about 1050 miles to the newly constructed French/Italian Concordia Station at Dome C. (This station is scheduled for full-time occupancy next winter.) The project calls for several years of studies and trials, with the actual stuff involving traverses to get the cable to Pole and Dome C as well as along the route.
Back in mid March 2002 two other iceberg events happened. First, there was another piece of the Thwaites Ice Tongue (75°S-108°W) about 2100 square miles (Guardian article and archived NOAA press release) which got designated B22. And then there was the collapse of another hunk of the Larsen ice shelf east of the Antarctic Peninsula. The Larsen Ice Shelf B disintegrated within the past couple of months, as evidenced by photos and animations from the NSIDC in Boulder, which also has links to other coverage. The BBC has an excellent article about both events.
The venerable New South Polar Times mailing list moved to a home on Yahoo, thanks to 2001 w/o science tech Andrea Grant. There have been no posts in the past few years, but the archived posts are here.
The American Society of Civil Engineers (ASCE) had a major feature on the Pole construction in their December 2000 magazine, including articles by Frank Brier and Jerry Marty. That section is no longer online, although I did archive the original article by Dennis Berry and Forrest Braun (BBFM Engineers, Anchorage) which features the details of foundation design and the jacking systems.
Here is the link to my 1999 Doc Jerri medevac coverage. The spectacular April 2001 medevac flight to Pole is covered here. And my archive of other news, links to press releases, and older media coverage is here.
Other Antarctic news sites...
Explorersweb and its newer offshoot Pythom have been covering exploration news ever since the early 2000's. The sites were originally created by Tom and Tina Sjogren, the "Wearable" expedition folks that trekked to Pole in 2001-02. During the past year the sites have been relaunched...at present (July 2018) it appears that the Pythom.com site is covering primarily space and science news, while Explorers Web continues to cover climbing, water, and polar expeditions, although one needs to use the search bar to locate specific coverage. The Sjogrens are still involved with the site.

Brendon Grunewald's old 70 South news site later evolved into the Polar Conservation Organisation , but that site also seems to have disappeared.

The Antarctic Sun is extremely prolific of late. The editor through July 2015 was friend Peter Rejcek, a 2004 Polie winterover.. He's currently a traveling freelancer; some of his work can be found on singularityhub. The current editor, also a friend, is Michael Lucibella. Sun archives run back to 1996-97, the final year when the McMurdo newspaper was a Navy publication, the Antarctic Sun Times. Before then in the old days it went by other names....here is that story.

NZ Antarctic Philately pages by Steven McLachlan . The news page features many current events through 2006, including many pictures from the various private expeditions at Pole. He also has information on the 99-00 cruises of the Polar Duke south of NZ in support of German and Italian science projects, 98-99 construction of the new base at Dome C...

The Australian Antarctic Division (AAD) published biweekly newsletters on NGA (private) expeditions, cruises and tourist events. Unfortunately this was discontinued in May 2003, and the archives are no longer available. But they do feature a separate news page for the official Australian program.

The NSF Polar Programs (PLR) page contains links and a search engine. Most recent press releases are also here, scroll to the bottom.

The rest of the story... can now be read online or offline in the newsletter of the Antarctican Society. Highly recommended. Here is the latest contact info as well as the historical background about the group.

[top] | [home]

Weather information... has been moved to a separate page.

About the satellites...has also been moved to a separate page.

[top] | [home]
SPORTS (?!)
The 2019 Antarctic Treaty Consultative Meeting (ATCM XLII) was held in Prague, Czech Republic, between 1-11 July. Once again I saw absolutely NO American media coverage...but that was not the case in Australia. This is because the Chinese delegation proposed a "code of conduct" for their Kunlun Station at Dome A...in the midst of Australia's claim. It was rejected, as was a 2014 effort to create an ASMA there. Here's the ABC News (Australia) article) about this, the discussion report about the Chinese request, China's proposed code of conduct text, and a map of the proposed area, which interestingly resembled the Pole ASMA in both size and nomenclature. Of course, Kunlun (unlike Pole) doesn't get any NGO visitors--skiers, trekkers, tourists, pilots, etc. I always look for a Russian report about the Lake Vostok drilling project, but there have been no reports in recent years, although Russia did propose the construction of new winterover station facilities. The 2020 meeting was to be held 25 May-4 June in Helsinki, Finland, but the COVID-19 pandemic caused it to be canceled. The 2021 meeting is still scheduled to be held in Paris on 14-24 June 2021, pandemic permitting. Here is the official Treaty home page. From there you can navigate to the final reports, or you can search the various meeting papers by selecting the "Meeting From/To" and/or the submitting nations/delegations.
Nowadays there are a number of commercial marathon/ultramarathon ventures in the Antarctic...most commonly sought out by people who want to complete a marathon on all seven continents. Note...I have not updated these links lately due to that darn pandemic.
As for nongovernmental visitors to Pole, the 2011-12 season was the biggest ever for Pole, as it had been the centennial year of Amundsen's and Scott's arrival at what has been called an "awful place." But folks continue to show up. There are two principal tourist operators--flights from Punta Arenas to Union Glacier and beyond are operated by Antarctic Logistics and Expeditions (ALE) (which has now fully assimilated Adventure Network International/ANI). ALE continues to be actively booking tourists. The other operation is based out of the airstrip at Novo (Novolazarevskaya), a Russian base which is served by flights from Cape Town. It is operated by Antarctic Logistics Centre International (ALCI), which does not in itself offer tour services, but rather it works with other tour agencies such as White Desert, which has established a tourist destination "Whichaway Camp" near Novo (no, nowhere near the Whichaway Nunataks) with penguin colonies and mountains nearby. TAC also operates its "Oasis" guesthouse--the only hard-roofed commercial base on the Antarctic continent, about 10 miles from Novo at Schirmacher Oasis. TAC does not do bookings directly...one option for a stay at the Oasis Guesthouse is offered by Icetrek...€30,000 ex Cape Town. Novo is a 3000m blue ice runway originally built by ANI near the Russian Novolazarevskaya base, in the past it was known as Blue One, and on some maps you may see it designated as "White Desert." Perhaps the most serious travel agent booking Pole trips is the Chicago-based company Polar Explorers...they are booking trips to Pole via PA/Union Glacier starting at around US$51,250 ex PA.
Here's the current listing of NGO treks, ventures, a flight(!), and a rowboat trip(!!) which mostly happened in 2019-20. Expedition links from previous seasons are on the news archive page; see these links at the bottom of this page.
now age 34, followed up his transcontinental trip of last season with what he called the "Impossible Row," which he first announced on Jimmy Fallon's "Tonight Show" on 15 November. Briefly, it was a six-man ocean row from the tip of South America to the Antarctic Peninsula in a 24-foot ocean rowing boat. This trip HAS been done before...in 1988 Ned Gillette and three others did it in a 28-foot aluminum craft, although their boat had a small sail occasionally used to maneuver the vessel near land. Here's a good memorial page by Eva Schandl with details and photos of the Sea Tomato venture, as well as a bit more information shared by participant, good friend, and 1980 Pole winterover Jay Morrison (he, Ned, and Mark Eichenberger of the crew are no longer with us).

In addition to Colin O'Brady, his team includes Cameron Bellamy, Fiann Paul, John Peterson, Jamie Douglas-Hamilton, and Andrew Towne. They set out offshore south of Cape Horn (the island--further south than Ned Gillette's departure point closer to the Patagonia coast) on 13 December 2019 at 0900 Chilean time (UTC-3) and landed on the Peninsula (at at 1045 Chilean time on Christmas Day at about 64º-12'S-61ºW--just south of Hughes Bay--with a time of 12 days 1 hour 45 minutes. The team took turns rowing in 3's for 90-minute shifts 24/7. This discovery.com page includes a bit more info and a link to a photo gallery of their training in Scotland. And unlike the Sea Tomato, O'Brady's craft was followed by a 120-foot boat from the Discovery Channel, which covered the trip for a documentary, although no support was to be offered except in case of emergency. The Discovery Channel has been putting up links to their videos here...they may or may not work depending on your location and your browser. Here's a Guinness World Records page about the venture and a team hero shot taken after their landing (from Colin's Instagram account).
is a planned flight by Robert DeLaurentis from pole to pole scheduled for 2019-20 after being postponed from last season. He was scheduled to head south from San Diego's Gillespie Field on 16 November. This is by no means a fast flight, as he plans to stop in a number of countries along the way (route details)...the overflight of Pole is planned for New Years Day. His original plan was to take off from PA, overfly Pole, and head to King George Island for refueling...a 20-hour flight in his modified twin-engine Turbo Commander. He will then make many stops in Africa and Europe before flying over the North Pole to Anchorage. He may carry representatives from his sponsors on some of the legs, but not on the Antarctic leg. Robert's plans are described in this 12 November KGTV San Diego article. He left San Diego on 15 November and initially flew to Portland, OR before returning to Los Angeles. As of November 26th he was in Panama City, Panama. When he got to southern South America his plans changed; he successfully finished his return flight from Ushuaia over Pole on 16 December. After the Antarctic trip he visited the Falklands over Christmas before continuing north to Brazil and Africa. As of 7 January he was northeast of Durban.
is Queensland physician Geoff Wilson, who is starting out on a really long solo kite/ski journey--3600 miles--from Thor's Hammer, a 2000-meter peak southwest of Novo, to Pole via the Pole of Inaccessibility (POI), and then a return to Novo via Dome A (Dome Argus), the site of China's summer Kunlun Station. Dome A is the highest plateau on the continent (14,000') and has never been ascended on foot. He was flown to Novo by ALCI on 6 November, and apparently driven to his starting point on 11 November by Arctic Trucks. I'm unable to locate Thor's Hammer on a map or atlas...his planned start point was 72º 0'18.31"S, 10º51'56.96"E, but I'm unsure of the actual start point. On 2 December he reported arriving at the bust of Lenin at the Pole of Inaccessibility, his first expedition milestone. But after losing 3 bottles of fuel due to leakage, he announced on 8 December that he would not visit Pole but instead travel directly to Dome A. He then successfully returned to Thors's Hammer on 3 January and then continued downhill to Novo, after stopping for several hours late that day at 4,500 feet, the wind changed allowing him to reach Novo early on 4 January Novo time (UTC+3) shortly before a serious windstorm hit the base. Here's a map of his final route, this is from his Facebook page where he also posted updates and photos. His final distance of 3297 miles/5306 km is a new distance record for solo unsupported Antarctic travel.
age 29 from Edinburgh, is on a solo unsupported ski expedition from Hercules Inlet to Pole. Previously she has summited Everest twice, from both the north and south sides. She hopes to become the youngest woman to do the solo/unsupported trip. Here is a 1 March 2019 Renfriewshire News article about her venture. In February she was training in Norway, followed by two weeks in eastern Greenland. Her Facebook page includes additional info, including updates and photos of her training, and she's also posting updates on Twitter. She was on the first ALE passenger flight to Union Glacier on 10 November...fortunately her sled, stuck in Santiago for a week, arrived in

PA

in time for her flight south. She set out on the 14th, and on the 26th she crossed 81ºS. On Tuesday 8 January SP time she was at 89º-27'S and hoped to reach Pole by Friday. Earlier, on 27 December, she'd met up with Wendy Searle. She reached Pole on 10 January after traveling 58-1/2 days, although she lost her unsupported status by needing an emergency food resupply near Thiels Corner. Still, she's set a record as the youngest woman to reach Pole solo, as she is 15 days younger than Anja Blacha, who also reached Pole on 10 January.
is a 2019-2020 expedition being planned by Wendy Searle, a mother of four from Salisbury in the UK. Originally her plan was to be a 400-mile trip from the Ross Ice Shelf "coast of Antarctica" up a never-before-climbed glacier to the plateau and thence to Pole with an unnamed guide, but her plans shifted to setting the women's speed record from Hercules Inlet to Pole, solo/unsupported/unassisted. In May 2018, Wendy completed a 27-day crossing of the Greenland ice sheet guided by Lou Rudd (Lou is her expedition manager for her current venture). Here's a January 2019 Guardian article about her plans, and here's an interesting guest blog post she wrote before the Greenland crossing about "how to go to the toilet in the Arctic" and other relevant topics. She left Heathrow on 10 November en route to PA, where as of the 20th she was still waiting to go south. She reached UG on the 23rd and was flown to the starting point on Wednesday the 27th. She reached the Pole after 44 days late on 8 January or perhaps early on 9 January SP time...without resupply. As for a speed record to Pole, that didn't happen...Johanna Davidsson's 39-day record in 2016 remains unbeaten (Explorersweb article). Wendy's travel time was 42 days, 16 hours, and 23 minutes. The other woman who was attempting a speed record is...
the London-based lawyer and athlete, plans to complete the solo/unassisted/unsupported ski trip from Hercules Inlet to Pole that she had to abort last season. After traveling more than 200 miles she was running out of food, and was later evacuated to Punta Arenas with a bowel infection and peritonitis. She headed south from England around 18 November and as of the 20th was probably still stuck in PA. Presumably she made it to UG on Saturday the 23rd along with Wendy Searle and was also flown to the starting point on the 27th, but not on the same flight as Wendy. As of 6 January, Jenny was within the last degree, but was suffering from a thigh injury and also having problems with her (only) broken stove. This and other recent updates are on her Twitter feed. She reached Pole on 10 January after receiving an emergency resupply a few days earlier...she'd traveled for 43 days.

Southern Solitaire

is Anja Blacha, a 29-year-old German now living in Zurich, had plans for a solo unsupported/unassisted trek to Pole from Berkner Island...or more specifically the emperor penguin rookery at Gould Bay Camp Cache, which is 125 miles further north than most "Berkner Island" starts. She plans to complete the 870-mile trip in about 60 days. In 2017 she became the youngest German to complete the Seven Summits, earlier in 2019 she summited K2, and she's also crossed Greenland. I haven't found any website for her, but in mid-October she was interviewed by Ash Routen for Explorersweb, her Facebook page includes a recent video from RTL.de, and she's been adding posts on Instagram. She arrived at Union Glacier around 10 November. She started on the 13th and has been posting weekly video updates (in German) on intersport.de. In early January she was on the Plateau but I've seen no exact location. She reached the Pole on 10 January after traveling 57 days 18 hours 50 minutes.

Jing Feng

another Chinese explorer who in 2017-18 was the first Chinese woman to ski to the South Pole (from Hercules Inlet), had a unique expedition planned--a trip from the coast near Novo to the Pole of Inaccessibility. She was accompanied by guides Sarah McNair-Landry and Erik Boomer and they did not use kites. This 6 November Xinhuanet news article has more information, including that she flew from Cape Town to Novo on the 5th. As the described distance of their journey is 1100 miles, presumably they'll be picked up at their POI destination. According to ExplorersWeb the team was into their fourth week of travel as of 6 December...and by 2 January they were 340 miles from the POI. They arrived on 25 January after traveling about 1120 miles in 77 days, after which they were picked up.

The Women of Antarctica

...specifically the five women listed above (as well as others from previous years), were discussed in this excellent 12 January Team Fram blog post.

Tanel Tuuleveski

plans to be the first Estonian to ski from the Messner Start to Pole...also solo and unsupported/unassisted. He's previously summited Everest and Vinson, and one reason for his trip is to celebrate the 200th anniversary of the Bellingshausen Antarctic expedition which was a Russian/Estonian venture. He has posted several updates on Facebook...as of the 20th he was stuck in PA with the others. He also was on the flight to UG on the 23rd and was flown to the Messner Start point on Monday the 25th. He didn't post many reports, but he did reach Pole on 30 December (his photo documentation from Facebook) after a mad dash for the last 20km to catch an ALE plane north...so he could attempt a Vinson summit. So it appears that Tanel was the first of the NGO folks to reach the Pole on foot this season. He completed the Vinson ascent on 2 January--the last of his seven summits.
from Poland, is underway on a solo unsupported ski trip from Hercules Inlet. He was on the flight to Union Glacier on 11 November...and he was flown to the starting point and set out on the 13th. There were not many updates on his website, but he did reach Pole around 2100 UTC on 5 January after traveling for 53 days and 4 hours, per this londynek.net (mostly in Polish) news article.
is Neil Hunter, a Royal Navy veteran, currently a police officer in Surrey, England. He will be flying from PA to Union Glacier on 18 November to begin his solo/unassisted/unsupported ski journey from Hercules Inlet to Pole. As a Type 2 diabetic, he'll be raising money to support Diabetes UK. He was scheduled to leave the UK around 11 November...on the 20th he was among the group stuck in PA as flights have been delayed. He also was on the flight south on Saturday the 23rd and was also flown to the Hercules Inlet starting point on November 27th. As of 8 January he was at 88º16' S. He's also been posting updates on his 90 Degrees South Solo Facebook page. He reached Pole on 16 January.
now age 63, attempted a trek which he calls "Last 300"...in other words, completing the last 300 miles of his 2017-18 Pole venture that he had to abort because, in his words, he was slowing the group down. After returning home, he had a hip replacement in September 2018. He was accompanied by filmmaker Kyle O'Donoghue and guides Johanna Davidsson and Kathinka Gyllenhammar. They started in the Thiel Mountains near the point from which he was evacuated in December 2017, halfway to the Pole from the Messner Start (82º10'S-65ºW), while leading the South Pole Energy Challenge. This last 300 miles was also to complete Robert's long-term goal of crossing the entire continent, albeit not all at once. The first part of this crossing was the 1985-86 "Footsteps of Scott" expedition from Ross Island to Pole. In October 2019, while preparing for his trip, Robert visited his 104 year old mother in Teesdale, England per this Teesdale Mercury article. He arrived at Union Glacier on 23 November and since then he already suffered a blister on his toe while doing some local skiing. Updates and videos were being posted on the 2041 Foundation Facebook page. The team set off from Thiels Corner on 3 December. But...on 30 December at 88º22'S Robert suffered a severe hip dislocation from a fall (2041 Foundation press release). He was medevaced to Union Glacier and thence to Punta Arenas on 4 January SP time (4 January 2041 Foundation press release). Meanwhile, the rest of his team pushed on to 89ºS where they were met up with their "last degree" team on 5 January. Members of this team include Robert's son Barney, Paulina Villalonga Abscal (age 19), UK/Australian Mary Nicholson, and Americans Rob Miller, John Foster, and Cameron Kerr. Massachusetts native Cameron, who lost his lower left leg in Afghanistan in 2011, was training in Breckenridge in December (15 December Summit Daily article). The total team of 11 people reached Pole on 14 January. The expedition website is flaky, here's a link to a Google cached version.. This website page includes a bit more info if you click "continue reading" and scroll to the bottom.

The All Women Expedition to Antarctica (AWETA) (postponed from 2018-19)

is a planned 4-woman venture to be led by Malaysian Sharifah Mazlina (full name Sharifah Mazlina Syed Abdul Kadir), who previously made a ski/sailing trip from Pole to Patriot Hills in 2004-05, guided by Mike Sharp. This time she will be leading 3 other women--selection finalists Salehah Abu Nor, Siti Jumaida HJ Bensali, and Nurul Atiqah Tamarun--on a trek from Union Glacier to Pole beginning in November 2019. One of the goals is to retrieve a time capsule she left at Pole in 2004...while leaving another one to be uncovered by future generations of Malaysian women, perhaps in 2050. Three 2018 news articles--this one from This Week in Asia describes her 2004-05 venture, and this one from the Sun daily has more details about the training and the upcoming trip, and this New Straits Times article mentions the time capsules. Not much detail available from the website...the now-deleted FAQ was presented in Malay graphics. At a press conference on about 23 October 2018 they announced the postponement of the event to 2019-20 (graphic of announcement). The original plans involved six women...from the limited information on their Facebook page it appears that they might be preparing to leave for Antarctica...?? And...from that FB page it turns out that this was a Last Degree venture...starting on the 24th and reaching Pole on New Years Eve SP time. And due to language issues I'm unsure of the team members' names.
has reportedly announced a trek to Pole per this 11 November ExplorersWeb article, but as of the New Year there was nothing about it on his website or anywhere else. BUT...on 11 January he emerged on social media to say that he'd been in Antarctica since mid-December (11 January Instagram post from his website) and left Hercules Inlet for Pole on 17 December. As of 13 January he'd made it to the last degree, but was he carrying enough food? Here's the 13 January explorersweb story. He arrived at Pole on 15 January as reported in this BBC News article...and he also posted this and other updates/photos on Instagram.

Wen Xu

a 32 year old Chinese scientist and mountaineer, has also announced a major solo unsupported ski manhauling journey, starting from Berkner Island, to Pole, and originally planning to finish at the base of the Axel Heiberg Glacier--3231 miles--longer than the distance covered by Lou Rudd and Colin O'Brady last summer. He's posted some updates here on Facebook, and this 13 November Adventure Blog post describes his plans and references this 22 October China Daily article. As of 20 November he was underway. His original plans had him finish at China's newest and fifth Antarctic station on Inexpressible Island, but that would require SAR support. As of 30 December he'd crossed 87ºS en route to Pole, and on 8 January he crossed 89ºS, and he reached Pole on 10 January at the same time as Anja Blacha. He was planning to continue north, but he head to cancel that because of delays--soft snow on Berkner Island, and his supplies were delayed 12 days in Chilean customs due to ongoing riots and strikes. He posted photos and updates here on Instagram.
a nearly 40-year-old breast cancer survivor from London, was underway on a guided/assisted trip to Pole from Hercules Inlet...the ALE Ski South Pole Expedition. She was flown to the starting point on the 27th...the group was guided by Christian Styve, although I don't know about the rest of the team. As of 8 January they had reached 87.8ºS...they crossed the last degree on the 14th and reached Pole on the 18th.

Jaco Ottink and Paula Strengell

were being guided to Pole from Hercules Inlet by Ryan Waters of Mountain Professionals. Ottink (originally from the Netherlands) has previously climbed the Seven Summits. They were on the flight to the starting point on the 27th along with Neil Hunter and Wendy Searle. They crossed 87ºS in early January and reached the Pole on the 17th after traveling 52 days.

Ski South Pole Axel Heiberg

was the first

ALE

guided trip on this route which followed Roald Amundsen's route up the Axel Heiberg Glacier, starting with a visit to the cairn Amundsen left behind on Mount Betty. They reached Pole on 12 January. Not much detail, but his and other ALE-supported expeditions are discussed on this ALE news page.
was an 11-person "last degree" venture led by Brits Michael Tobin, Louis Moody, and Alan Chambers. They planned to raise money for brain tumor research--here's their justgiving page as well as this 2 December article on the braintumourcharity.org page. They arrived in PA on New Years Day before heading south....and after traveling for 10 days from 89ºS they reached Pole on 12 January per this Brain Tumour Charity article.; the effort raised more than £300K.

Not On... Olivia Gourley

currently 15, from Stewiake, Nova Scotia, planned a Pole trip in 2019-20 along with her 42-year-old father Chris. Not a lot of details yet, but the two intended to start from the Union Glacier base and ski to Pole alone and unsupported/unresupplied. At age 11 Olivia had major spinal surgery to deal with scoliosis (abnormal spine curvature), but the following year she was fit enough for a 5-day hike with her father in high-altitude Peru. More here from this 21 August 2018 CTV News article with video. I've seen no recent news, and her GoFundMe site has been deactivated. And at this point in the season their venture obviously has not happened.



Scheduled to happen in 2020-21...did not happen. Who knows about 2021-22?

is a 4-person British venture that planned to retrace Shackleton's intended 1914-17 route across the continent, starting from Vahsel Bay (the last confirmed location of Shackleton's vessel Endurance) and crossing the continent via Pole and the Beardmore Glacier to McMurdo Sound. The team was to consist of Alan Chambers (age 50), Ann Daniels (55), Wayne Hoyle (52), and Rupert Fyne (52), using kites. The website (which is no longer online) contained only biographies of the team members and a promotional video which is unavailable in the US, but an available version of the video is here, and a description of their plans is available on the extremeleaders website.

Postponed from 2019-20 Team WETWO

is Phoebe Smith, a British writer, broadcaster and journalist, and Dwayne Fields, a Jamaican living in London. They've announced and were in training for a 2020-21 trip to Pole, starting from the Emperor penguin colony on Berkner Island. In 2010, Dwayne participated in the Polar Challenge, a 400-mile trek to the 1996 location of the north magnetic pole (Wikipedia information), and he'd previously announced Antarctic treks for 2012-13 and 2013-14 which didn't happen. In December 2019, Phoebe plans a training trek the length of the United Kingdom island hauling a wheeled sledge. And in 2021 they'd planned to take a group of underprivileged young people to Antarctica on a specially chartered expedition ship, which might yet happen. This 9 November 2019 Isle of Wight County Press article has a bit more information about Phoebe. Current post-pandemic (hopefully) plans...Phoebe and Dwayne are planning a 2022-23 walk (!) from the Berkner Island penguin colony to Pole.

Postponed from 2019-20 Baz (Barry John) Gray

is the Royal Marines Commando veteran who in 2018-19 skied solo and unsupported/unassisted from Hercules Inlet to Pole. Before he started that trip, he announced that in 2019-20 he'd do an 1800-mile solo Antarctica crossing from the north end of Berkner Island, across the plateau via Pole, and to McMurdo Sound via the Shackleton Glacier. There is little on his sponsor's website linked above, but this old PDF gives a bit of information about his trip plans. As of November 2019 I've seen no recent news on his website or elsewhere, but I learned that he was considering this trip for 2020-21, which obviously did not happen.
a 21 year old British student, was training for a 2020-21 solo walk from Hercules Inlet to Pole...if he succeeds, he'll be the youngest person to do so. His plans were first reported by news media in April of 2019, including this 11 April Euronews article. Tom is currently a student at the University of Nottingham, and he'd originally considered doing this in 2019-20. He still hopes do do this in 2021-22.
Here are my records of the nongovernmental expeditions (skiers/hikers/kiters/drivers/sledders etc...) for: 2018-19, 2017-18, 2016-17, 2015-16, 2014-15, 2013-14, 2012-13, 2011-12, 2010-11, 2009-10, 2008-09, 2007-08, 2006-07, 2005-06, 2004-05, 2003-04, 2002-03, 2001-02, 2000-01 and 1999-2000. Keep in mind that the older expedition web sites tend to disappear, although I keep many of the links around for historical interest. Note that the 2000-01 Russian "Millennium Expedition" (skydiving/ballooning) is covered on a separate page.
[top]
---