Back to Ohio
But first...in December 2001 the Moss Landing Power Plant project had a Christmas party aboard a party boat that cruised around San Francisco Bay on a Saturday night, with dinner and dancing etc. The event included bus transportation from the project site and an optional motel stay near Fisherman's Wharf. This is the only picture I took...out my motel window looking north towards the bay. A great time...I particularly appreciated the great weather..Sunday morning gave an opportunity for one of my all-time favorite runs...from Fisherman's Wharf west through the Marina district and the Presidio to (and across) the Golden Gate Bridge.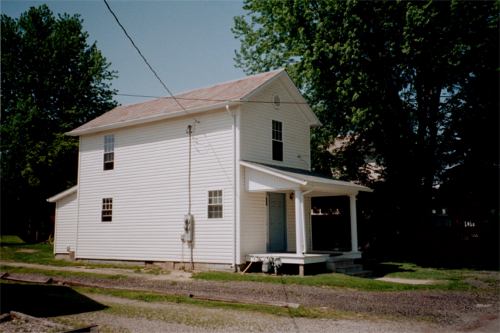 I left Moss Landing (and my Salinas apartment) at the end of February to help finish up another power plant in Beverly, Ohio which was on the same schedule but severely behind. I stayed in a motel in nearby Marietta for a couple of weeks until I figured out how long I would be here. This is the house I rented; I got lucky, one of the departing folks was moving out. It is in Waterford, a village just across the Muskingum River from of Beverly and 4 miles south of the jobsite power plant. It was originally built in 1912 but had basically been completely rebuilt in 2000 by the owner who is a cabinetmaker/installer. Needless to say, lots of cabinets.





Another view looking northwest, this one shows the carport. There were 2 bedrooms upstairs, living room, kitchen, bath and laundry room downstairs. It was rather narrow, as were the stairs...the previous tenant bought a queen size bed that wouldn't fit up the stairs, so they took out an upstairs window to get it in. Result, it was left behind for the landlord (and me). Behind the house was a garage used for storage by the owner, but it had a small upstairs apartment that was occupied by a pipefitter on the project...when he moved out I told the senior superintendent James Holland about it (he like me had been brought in to finish up the project) and he moved in.





Looking north up Main Street, downtown Waterford. The street ends at the Muskingum River, at one time the ferry was there. Post office on the left, businesses on the right. The railroad serves a coal fired power plant 5 miles west up the river (and was also used to bring in heavy components for our power plant project).


.


The right side of this building in Waterford was the local hair salon and water company. I had to pay them a $110 deposit.






Looking north along the main highway (one block west of Main Street Waterford). In the distance is the bridge across the Muskingum to Beverly. (closeup of historical marker)

---
Across the Muskingum river | Back to index