Beverly
The main street of Beverly, looking west. I'm standing directly north of the bridge from Waterford. Beverly is a village with a population of 1282 (the Waterford population is 600).


Looking south, down a hill, at the bridge across the Muskingum to Waterford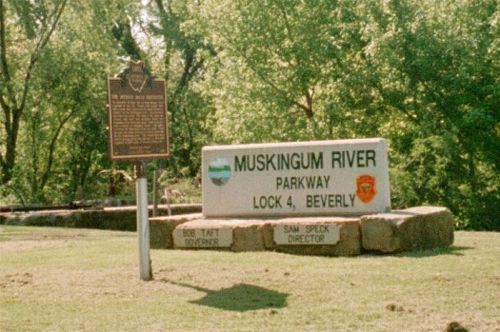 The series of locks on the Muskingum River is sort of a linear state park. Here's the sign on the one at Beverly (there are 2 more south of here before the Muskingum meets the Ohio, they are #3 and #2. #1 was right at the mouth of the Ohio and was removed long ago when the Ohio River dams revised the water levels.





The lock looking downstream, the main river channel is to the right. The Muskingum lock system is the only hand-operated lock system in continuous operation (from the 1800's). Of course only in the summer months. Nowadays passes for boats range from $5 to $50 for a season pass. There were 2 lock tenders here that I chatted with on this Sunday afternoon.





This is Lock #3, the next one downstream, in Lowell, about halfway between Beverly/Waterford and Marietta. These locks were of course constructed adjacent with a low dam which regulated the river but was not used for power generation.


---
Historic Marietta | Back to index