February 1988, initial testing of the newly arrived and assembled hovercraft...note some of the packaging still on the front seats. Lou Albershardt is at left in the red hat...the guy in Big Red is probably the instructor from the operator training (MD).
After the 1986-87 season, the program made a decision to purchase a hovercraft. Approved by NSF of course, but championed by ITT/ANS engineering manager (and my supervisor at the time), Mickey Finn, with a bit of help from Army engineer Steve Dibbern. Later in 1987, several people went to Philadelphia for operator training on the mud flats of the Delaware River... perhaps the closest nearby approximation to the McMurdo sea ice.
The two original operators that went to that training were Sarah Krall and Lou Czarniecki (now Albershardt). Sarah had been a field processing assistant in 1986-87, her second season on the ice, and Lou had been a night janitor in her first season. The hovercraft was named Maxine after Lou's mother.
The hovercraft was shipped to McMurdo on the vessel that arrived in January 1988, assembled and tested at the end of the season, and placed in service in 1988-89. It was about 35 feet long, with an aluminum hull and a two-section cabin--the aft section could be removed to permit more cargo capacity. The maximum payload was 2000 pounds, theoretically 10 passengers, this was roughly comparable to the payload of one of VXE-6's Bell 212 helicopters. It was powered by a six-cylinder Deutz diesel engine, which drove two fans, one for lift and one for forward propulsion. To retain the air under the vehicle, there was a rubber skirt in a louvered chevron design that proved excellent for maneuvering.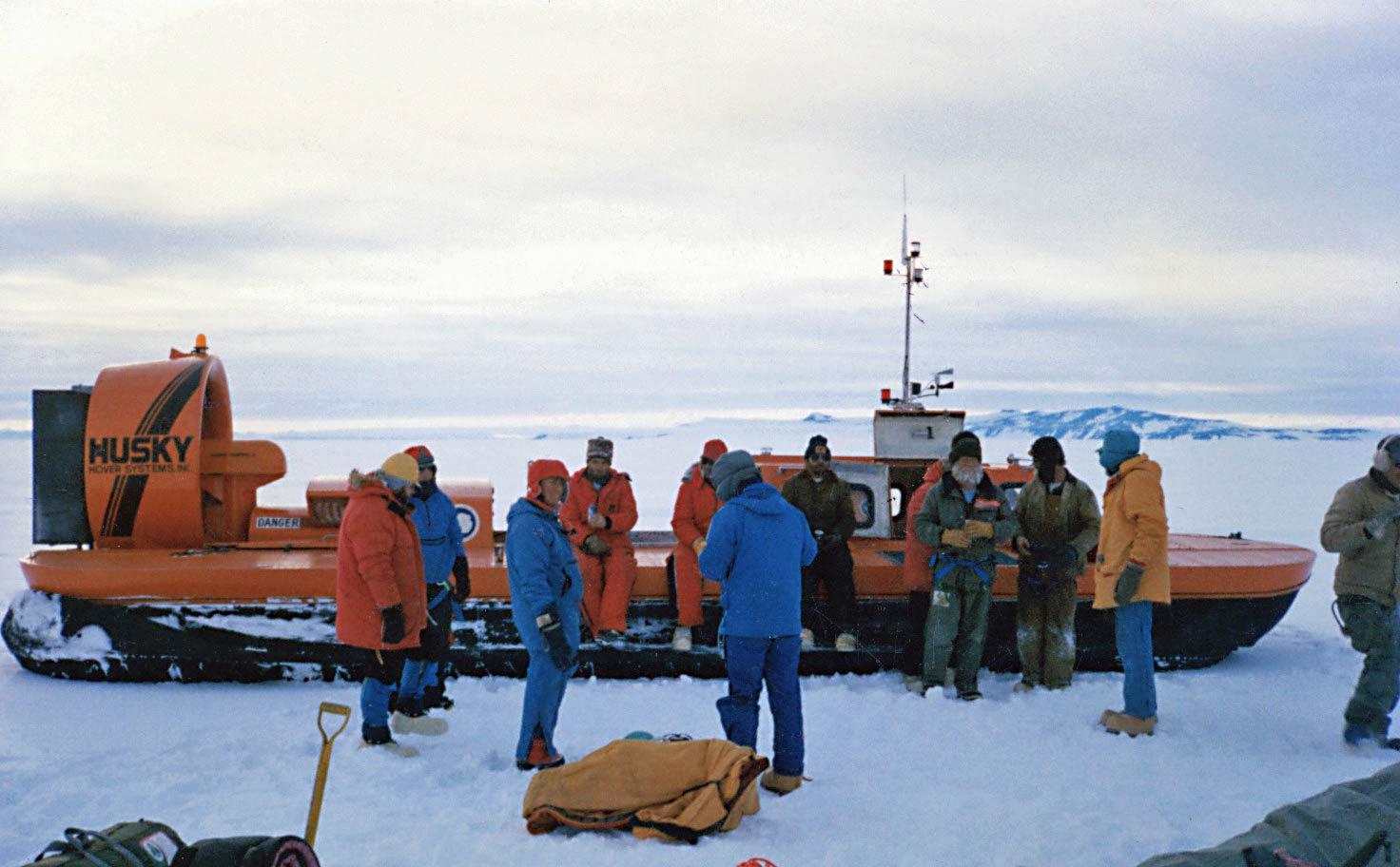 SAR team members gather around the hovercraft before a
rescue mission, Thanksgiving, 1990 (JT)
Hovercraft are designed to operate over water or reasonably smooth surfaces such as ice. The USAP vehicle was never intended for normal use on open water, although a few of the cruise ships have brought them to McMurdo Sound for that purpose in the past. This model of hovercraft had a normal operating height ("loft") of 18", but Maxine had been modified with the addition of two braces running the length of the hull, to strengthen it against impact from a hard surface. These struts reduced the clearance to 14", so navigation through areas of pressure ridges or sastrugi was difficult. And the hovercraft could not navigate across open crevasses of the type found on glaciers, since crevasses are basically slots in the ice, all of the loft would be quickly lost, and a crane would probably be required to recover the vehicle. Still, with experienced operators, Maxine saw a lot of use taking out scientists, supporting dive operations, setting out fuel caches, and showing Distinguished Visitors around, among other things.
Maxine only saw three or four seasons of use...for various reasons which, well, I really don't know. During one of its seasons, the annual sea ice didn't go out, so its area of operations was limited. One possible factor may have been the support contract changeover from ITT to ASA in 1990 and the accompanying loss of continuity. It was still in use in 1991-92, at left you see Cole Mather at the controls in November 1991. The last report I heard was that after sitting in disrepair in the retro yard, it was shipped out in 1992-93. There is a rumor that it was sold to a New Zealand tour company (see update below). But it is of interest to note that the concept has been reconsidered more recently. In 2010 RPSC did some research; more recently, at the July 2011 National Science Board meeting, NSF OPP director Karl Erb and staff mentioned the possible use of hovercraft in the future to facilitate cargo and fuel movement from the ice edge to McMurdo if an icebreaker were unavailable.
It must be noted here that this was not the first such craft used in the McMurdo area. VXE-6 brought an airboat to McMurdo in the 1974-75 season (left). This 20-foot long vehicle was powered by a 250 hp aircraft engine, and had a maximum theoretical speed of 60 mph. It was fitted with an enclosed insulated cabin to seat 12 passengers, and was initially intended for crew transport between McMurdo and Williams field. It was around for several seasons, but the reason for its demise is unknown. Here is the news article with the photo--these were from a DF-75 VXE-6 press release.


The manufacturer of the airboat, the American Airboat Corporation (then located in Florida), offered to provide the vehicle to VXE-6 for testing purposes. The company, now located in Orange, TX, is still offering these airboats. their FAQ carefully defines the difference between an "airboat" and a "hovercraft." Their airboat engines use only a small percentage of their power to provide loft--perhaps a few inches, compared to those of a hovercraft which might use 50% of its power to provide significant loft.
Then as now, one had to be properly trained and licensed to operate vehicles and equipment. Here's Dick Spaulding's airboat license from 1974. I first met Dick a couple of years later at Pole when he dropped in for a visit (literally, via parachute).
The New Zealand program had been considering hovercraft use at least since 1965. They had planned to conduct tests in Antarctica in 1970-71 of a New Zealand-made craft powered by two Wankel rotary engines, but these trials were postponed and eventually abandoned because the manufacturer did not continue the project. But in January 1977 this 4-passenger British air-cushion vehicle (right) was flown to McMurdo for tests. Built in England by Pindair Ltd, this Skima 4 craft had a maximum range of 100 miles, a payload of 800 lbs including fuel and driver, and a top speed of 25 mph over hard surface land or water. It was powered by 3 20hp engines and cost about NZ$7000. During the tests it exceeded 35 mph on one downwind run, but observed issues included the unprotected position of the driver, small controls not suitable for gloved hands, and fragile skirt material. For whatever reason, this vehicle was not purchased. In the photo at right, the husky pup Cherry is observing this strange piece of equipment...along with (from left) J.S. Rankin, Scott Base engineer and 1977 station leader, Dr. R.I. Garrod, director of the Australian Antarctic Division, R.B. Thomson, director of the New Zealand Antarctic Division, DSIR, and Senator James Webster, Australia's Minister for Science.
New information...here is an excellent Antarctic Sun article about the hovercraft, published by Peter Rejcek on 1 November 2013.
Newer information...after an owner or two, Maxine was acquired by Howard Smith, a now-retired wildlife biologist living in Rosseau, Ontario. He's invested considerable time and money in Maxine...including a trip to the manufacturer Griffon in England where he tested a similar model, and then made some modifications including remounting the duct relative to the fan, and adding a separate 80 HP diesel engine to run the lift fan. The result...it gets over the hump in less than 10 seconds. Below, several photos of Maxine--or Northern Myst, as she is officially registered--the registration happened before Howard learned that she was originally dubbed Maxine.