We were visited by a VXE-6 aeromedical rescue team that decided to leave the airplane before it landed..
I assumed they were aiming to land at the Pole, but most of them ended up between the dump and the old construction camp...perhaps they were trying to stay clear of the aircraft which had circled to land.
Anyway, they had to get picked up by one means or another
so that they could do their thing...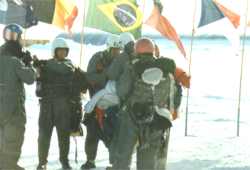 Actually what is happening is the celebration of Chief (PRC) Dick Spaulding's 1000th jump, here he is getting big orange wings pinned on, to document the occasion...January 19, 1977. Other participants in this event have been brought to my attention by Dick:

Yeoman Second (YN2) Wellington ("Tad") Jones
Disbursing Clerk Third (DK3) Dale Overfors
Hospital Corpsman Second (HM2) Tom Boxburger
Mess Management Specialist First (MS1) Joel Mateo
Photographers Mate Third (PH3) Paul Dearing

Below is some of the documentation Fritz dealt with in the post office...

This was not the first parachute jump at Pole...earlier ones by VXE-6 happened on Christmas Eve 1973, and in 1966. The very first jump was by TSGT Richard J. Patton, USAF of the 1710th Aerial Port Squadron on November 26, 1956.
All these guys were serious professionals and knew what they were doing. Other NGA parachute jumpers at Pole more recently have not been in the same category. On December 7, 1997 (Pole time) six participants in a private expedition jumped out of a plane over the station. Two of these were Norwegians, and they did a "tandem jump" meaning they stayed together and used only one chute. The other four were an Austrian and three Americans. The Austrian and two Americans died from impact with the ice, one of them was former ASA carpenter Steve Mulholland who had worked at Pole. When the bodies were examined, two of the three jumpers were still in a state of free fall and had made no attempt to open their chutes. The reserve chute on the third jumper had just started to deploy; whether by his efforts or by ground impact, could not be determined.
The fourth jumper survived, but he didn't deploy his main chute either. He lived because was the only person carrying an AAD which automatically deployed his reserve chute when he got too low. He survived unharmed although he landed 1/2 mile from the target drop area; he then walked back to the drop zone where a group of Polies was still watching for the rest of the parachutes...so he could seek help, commiseration, and body bags, as the jump plane landed. More information, details, references, and a photo of the participants at Pole, can be found here.