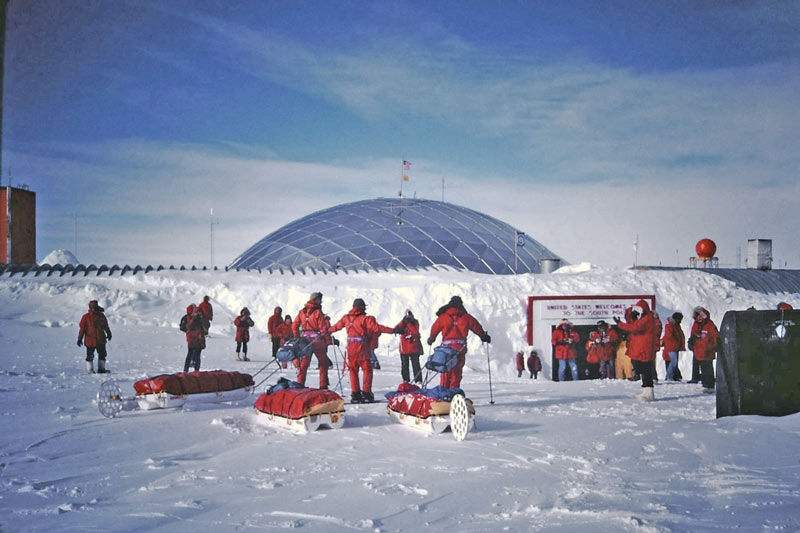 This is the "Footsteps of Scott", three skiers who repeated the Scott party's trek to the pole. They were also the first of what are now called "adventure tourists" to reach the pole overland, having wintered over at their Jack Hayward Base (at Cape Evans, 200 yards from Scott's hut), arriving on 11 January 1986. The full story of their venture is, of course, too much to be covered here. What you see here is their staged arrival at the pole. They had actually arrived two days earlier, at night under overcast conditions. So, when the weather improved, they staged a suitable "arrival" for their planned book, magazine articles, films, etc. All of the folks at Pole enjoyed their stay, but NSF and the Navy were less than enthusiastic. L to R, with their sleds: Gareth Wood, Roger Mear and Robert Swan.
A larger sized version... (JM)
The above photograph (FS) also shows that staged entry--it is similar to this one from my copy of A Walk to the Pole by Roger Mear and Robert Swan, © 1987 by Roger Mear and Robert Swan, published in the US by Crown Publishers Inc. The British edition was titled In the footsteps of Scott © 1987 by Roger Mear and Robert Swan, published by J. Cape (London). The third expedition member was Gareth Wood. Roger and Robert ventured back since, Roger's trek to Pole in 1995-96 failed when he got slowed down by problems with his sled...
This book describes a strange episode in Pole history, many friends of mine were present when these folks arrived...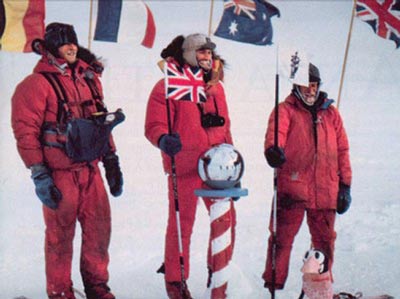 Here's the group hero shot at the Ceremonial Pole (FS).
Gareth Wood after entering the dome. Behind him on the right in a red shirt is John Lynch, the NSF representative. Behind Gareth, wearing suspenders, is station manager Lee Schoen (AC/JM).
Roger Mears removing his goggles. He was the most experienced mountaineer and navigator of the group. These first two photos were taken within a minute or two of their arrival (AC/JM).
This is the expedition's aircraft, a Cessna 185, at Williams Field in January 1986. It had been brought down from Hobart on the
Southern Quest
and assembled with skis on an ice floe near the Cape Evans expedition base. It was selected after previous arrangements by pilot Giles Kershaw to use a Tri-turbo fell through. Giles later flew the aircraft back to Cape Evans where it was dismantled and shipped north along with the hut and other remaining supplies (MS).
This article from the
South Polar Times
(the Navy McMurdo newspaper) documents the tragedy of the
Southern Quest
sinking
(larger full-sized article)
(GCR).
Credits: Jim Mathews (JM), Mike Savage (MS), Gordon Cheryl Rzewnicki (GCR), Allen Cull photos with captions by Jim Mathews (AC/JM), and the 2041 Footsteps of Scott gallery (FS) which contains many more great photos...have a look!..