This is the "Footsteps of Scott", three skiers who repeated the Scott party's trek to the pole. They were also the first of what are now called "adventure tourists" to reach the pole overland. The full story of their venture is, of course, too much to be covered here. What you see here is their staged arrival at the pole. They had actually arrived two days earlier, at night under overcast conditions. So, when the weather improved, they staged a suitable "arrival" for their planned book, magazine articles, films, etc. All of the folks at Pole enjoyed their stay, but NSF and the Navy were less than enthusiastic. L to R, with their sleds: Gareth Wood, Roger Mear and Robert Swan.
A larger sized version... (JM)
This photograph (FS) also shows that staged entry--it is similar to this one from my copy of A Walk to the Pole by Roger Mear and Robert Swan, © 1987 by Roger Mear and Robert Swan, published in the US by Crown Publishers Inc. The British edition was titled In the footsteps of Scott © 1987 by Roger Mear and Robert Swan, published by J. Cape (London). The third expedition member was Gareth Wood. Roger and Robert ventured back since, Roger's trek to Pole in 1995-96 failed when he got slowed down by problems with his sled...
This book describes a strange episode in Pole history, many friends of mine were present when these folks arrived...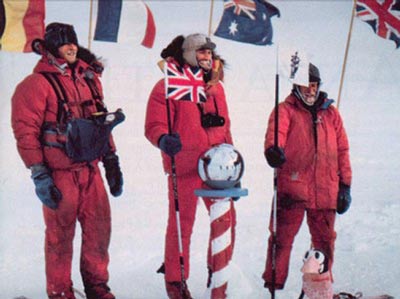 Here's the group hero shot at the Ceremonial Pole (FS).