The above map is the first of several published recently by the Australian polar guide Eric Philips (and used by permission)...Eric has worked for the Australian program at Mawson and guided a number of trips to the North and South Poles. To quote his comment on his Facebook post of this map, "To add further clarity to the discussion about Colin O'Brady's claim on the first solo, unsupported and unassisted crossing of Antarctica, I have made up this map of solo crossings to date with some supporting narrative.
"Other factors also have a bearing on modern polar expeditioning such as the psychological benefit of satellite phones, accessible weather forecasting and sponsor obligations, and economic and logistic pressures that encourage people to choose routes that start and/or finish closer to logistics hubs.
"The terms unsupported and unassisted are no longer adequate in themselves so I have refrained from using them as labels. We are currently working on new definitions for these terms."
So, there are lots of issues. First...a few comments about the Colin O'Brady and the Lou Rudd treks. Needless to say, these were extremely difficult ventures, and I do not mean to degrade what they had to go through. But...they did NOT cross the continent from coast to coast (read from open water to open water) as Shackleton had planned to do in 1914 (with better ice conditions he might have made it). Both men started at an artificial point known as the "Messner Start"--arbitrarily named for the point that Reinhold Messner and Arved Fuchs were forced to begin their 1989-90 continental crossing after aircraft and fuel difficulties forced them to move their start point from Germany's Filchner Station on the Ronne Ice Shelf to an arbitrary point (82ºS-72ºW). Messner/Fuchs' total trip still was 1750 miles, and they finished at Scott Base. They used kites ("support" by some current definitions), and of course I met them at Pole on New Years Eve 1989-90 (my coverage with audio). But...the "Messner Start" has since arbitrarily been moved to an arbitrary point at the edge of the Ronne Ice Shelf--currently according to ALE: 82°21.756S - 64°48.34W, with the exact dropoff point subject to where the aircraft pilot can find a safe landing site.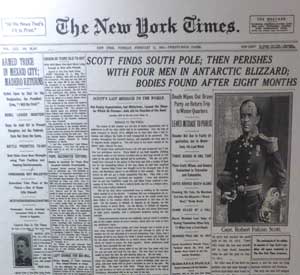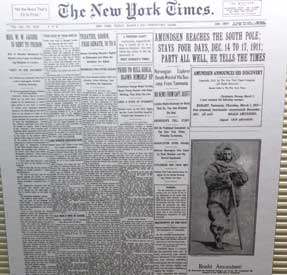 Back to the "race" between O'Brady and Rudd. The concept stirred up much attention in social media as well as traditional media. I'll use the New York Times as an example as I'm in America and it lands on my doorstep every morning. One of their first articles about the two men, "No One Has Ever Crossed Antarctica Unsupported. Two Men Are Trying Now" (published 11 November), stated that "Rudd announced in April that he would make the attempt. Then, in mid-October, with just weeks to spare, O'Brady, who had also been preparing for months, revealed on Instagram that he planned to do the same" (here's the link to his mid-October announcement). It is not obvious when the two men had agreed to "race," as Rudd's original plan (still displayed on his website when he was being dropped off with O'Brady at the Messner Start) was to begin from Hercules Inlet. I must say that newspapers like to cover this stuff, as evidenced by the two New York Times front page plaques covering Amundsen's success and Scott's demise (plaques photographed at Pole by Mike Rice). And it is interesting to note that the Times apparently had some sort of exclusive agreement to cover Amundsen's exploit in the US.
The New York Times continued to cover the two men extensively, including this special article (originally published 18 December) "Tracking the Race Across Antarctica," the 26 December article "Colin O'Brady Completes Crossing of Antarctica With Final 32-Hour Push," two days later "Louis Rudd Completes His Trek Across Antarctica 2 Days Behind Colin O'Brady," and more recently a special Sports section on 18 January which discusses the experiences of and with both men.
But the discussions and complaints started to pour in...beginning in the comments sections of the early Times articles, which of course were written for the general public, not for folks who have been to Antarctica and know a bit about what it is like to do these traverses. A few random plaints: "they didn't cross the entire continent including the ice shelves," "they were not 'unsupported' because they had satphones and ERB's," "they followed the SPoT route for the last 360 miles of their travel," and perhaps most significantly, "didn't Borge Ousland do this in 1996-97, the first ever solo crossing of Antarctica," a 1,864-mile, 64-day coast-to-coast epic that many say set the standard for Antarctic crossings (at left, a photo from O'Brady's Instagram post at the end of his trek, clearly showing the SPoT trail marker). Here are two great interviews about the O'Brady-Rudd race from Boulder-based ROAM media--the first with Mike Horn, who (as noted on the map on the top of this page) completed the longest solo crossing--2929 miles [or 3,542 miles, or somewhere in between...see this footnote discussing Mike Horn's actual crossing distance--in any case it is impressive] in 2016-17. ROAM also later interviewed Borge Ousland [or Børge Ousland as he is known in Norway] here where he compared his trip with those of O'Brady and Rudd...as well as with that 2016-17 continental crossing by Mike Horn (alas, Mike's documentation of that venture has totally disappeared from the web). Mike Horn deserves further note as his trip is unique--he actually both started and ended on Antarctic coasts, as he accessed the continent on his own boat. And it is not insignificant to this discussion to note that the traditional tour and venture supporters AL&E and ALCI do not have the feasible (read not terribly terribly expensive) capability to access what might be considered the seacoasts of the Ross Ice Shelf, McMurdo/Scott Base, or coastal western East Antarctica.
ExplorersWeb has been covering NGO South Pole ventures almost as long as I have, and it didn't take them long to weigh in on the controversy. On 27 December, Australian journalist Peter Winsor wrote "O'Brady's Antarctic Crossing: Was It Really Unassisted" which includes a photo of Colin O'Brady following packed tractor tracks on the traverse route. That article drew many comments, including one by Australian climber and writer Damien Gildea (who has trekked to Pole, summited Vinson, and written the 2010 book Antarctica: Climbing the Frozen South (more about Damien Gildea and his books), who said:
"The ice shelves are land ice and therefore part of the continent. This was accepted by all the earliest polar travellers who did, or attempted, crossings - Shackleton (who didn't have a choice to fly), the Mordre brothers, Messner and Fuchs, Dansercouer and Hubert, Ranulph Fiennes and Borge Ousland. This means you start OUTSIDE them, not inside them. So you probably begin at the 'outside' ie north side of Berkner Island and finish at Ross Island (Scott/McMurdo base). This is a continental crossing. When Fiennes-Stroud failed to make it across the Ross Ice Shelf in their attempted crossing, they initially admitted that they had failed. Only later, did they spuriously introduce the idea that by crossing the land only did they make a continental crossing.

"In the mid-late 90s some South Pole ski teams decided that Berkner was too expensive (requiring an extra flight to cache fuel) and so made a new start point at the edge of the land at Hercules Inlet - a long way from the actual coast. This was for reasons of cost and convenience (it's easier and shorter than starting from Berkner). As is the way of things, being cheaper and easier it became more popular, though for people wanting to achieve big firsts a Berkner start was still preferred."
I highly recommend you go to that article to read the rest of the comment, which ends up with:
"O'Brady can do whatever he wants, and his trip is a genuine sporting achievement, but if he wants to make such big claims that rest on the actions of his predecessors, he should respect the parameters of the game that they did. If he changes the rules then just starts shouting that he won, he is cheating."
That post, and Gildea's comment, caught the attention of the New York Times! The result, an amazing 3 January editorial(!) by climber and writer David Roberts, who mentored Jon Krakauer. Later (in 2013) he wrote Alone on the Ice (about Mawson) which piqued his interest in Antarctica. Oh, here is that editorial; the comments are also highly recommended. Here's the last paragraph:
"As the news of Mr. O'Brady's 'first' spread across the media, Mr. Ousland wrote magnanimously on his Facebook page, 'We congratulate Colin O'Bradly [sic] with his achievements in Antarctica.' But he added that he 'was the first person to ski alone across Antarctica.' As he told me in an email: 'It should not be necessary for me to have to stand up and fight for my "honor." I believe that I should be credited as the first to have crossed Antarctica solo and unsupported from coast to coast. Period.'"
This was followed up on Explorersweb by this 9 January article by Damien Gildea, "Crossing Antarctica: How the Confusion Began and Where Do We Go From Here".
Meanwhile, on 14 January Lou Rudd issued this special blog post "Post Expedition Reflection" in which he fully acknowledges the earlier feats of Borge Ousland and Mike Horn, adding that "In reality, you couldn't do Borge or Mikes journeys without the use of kites because of the sheer distances involved and the time available. The Antarctic expedition season is at best 90-100 days long before the weather turns and the logistics support company (ALE) pack up and go home...the current options for coastline start points is restricted by the capabilities of the logistics support operator and getting to the edge of the Ross Ice Shelf for example is a non-starter unless you have your own boat, or kite out there." He also addresses the use of the SPoT route, saying that "...for most of the time it was a hideous surface to ski on and actually skiing parallel to the road on the much firmer flanks was mostly a better option. It is marked every 400m or so with a bamboo pole again which some claim is an artificial aid..." Check out Lou's other blog posts here.
Eric Philips created more maps, seen below: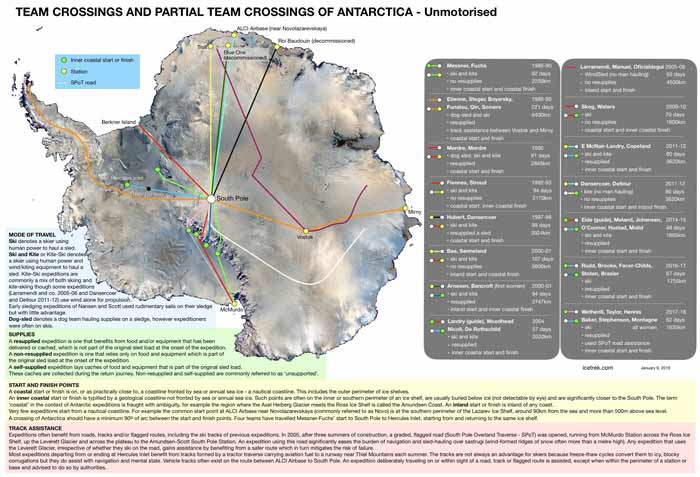 The map above depicts unmotorized return expeditions, starting from the heroic era...it illustrates that there
are an infinite number of ways to "cross Antarctica."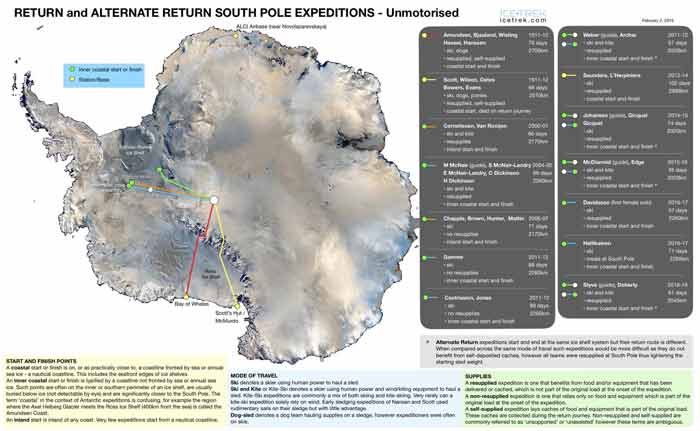 The map above depicts return (round-trip) and alternate return expeditions.
The above map depicts the first/historic motorized routes onto the Antarctic Plateau. I've assisted Eric with
some of these maps, most significantly with this one.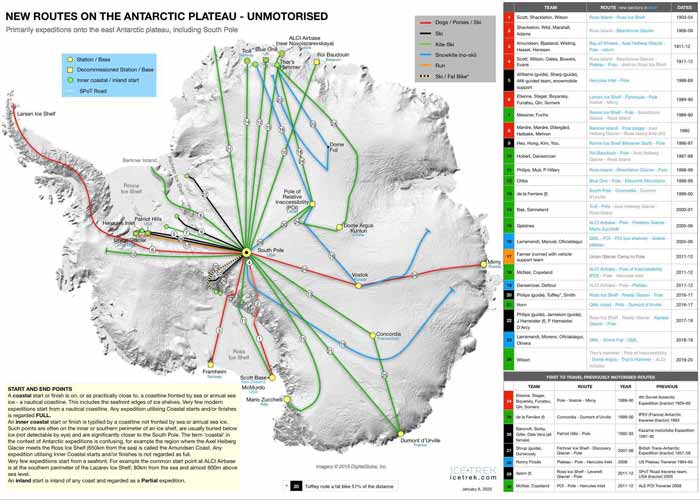 A map of recent unmotorized routes...this map was updated in January 2020 to include Geoff Wilson's
2019-20 venture to the POI and Dome Argus.