SK2 Andrew Burl Moulder was responsible for seeing that all the cargo was properly unloaded and put away so that it could be found in the middle of the winter when it was needed. To coordinate with the aircraft loadmaster and the equipment operators on the ground, he was frequently at the cargo ramp. During the late summer when temperatures are cold, the aircraft engines create a zero-visibility ice fog behind the aircraft...during such conditions on 14 February 1966 (Pole time, 13 February EST) he was crushed between the 20-ton cargo sled and the aircraft ramp. Death was instantaneous. He left behind a devoted wife Evelyn Parker Moulder, older son Gregory Andrew Moulder, age 10; daughter Michele Louise Moulder, age 8; and younger son "Jeffery Scott Moulder (who later changed his name to Andrew Burl Moulder III), age 2.
Some remembrances...



Andrew enjoying time off

From a fellow member of the winterover crew, scientist Lars Andersson: "I have a very good memory of him. He was the store-keeper and we often chatted, both when I came to the store to buy my "coffin-nails" (cigarettes) and in leisure-times in "Club 90." On the very night before the accident he talked about his collections of Indian handicraft. It was really a shock when I showed up for a late breakfast and Dave, the cook, said: "You remember Moulder, he was killed this morning."

Also some of Lars' diary entries:
"Saturday Dec 5,1965: "......Happy hours in Club 90, to much beer and whisky. I have a very faint memory of that I snatched Moulder's steak........"
Sunday Dec 6, 1965: "...... Terrible hangover. Everybody could tell me that I stole Moulder's steak......"
Moulder must have been a very friendly man, so also after having maybe as many beer as I. If he had been a nasty man, he would probably have knocked me down. But not so!
Wednesday Jan 19, 1966 ".......Moulder helped me to transport the heavy cable drum."
So even if that nasty Swedish gay snatched his steak, Moulder helped him to move that heavy, 1300 lbs, cable. I was to build a rhombic antenna, aimed towards Europe and I needed a feeder cable. (The antenna worked fine.)
The fourth time: Monday February 14, 1966. "Moulder was killed this morning in an accident. He was crushed between the big 20-ton sledge and the loading-ramp on a C130. A lot of snow was stirred up by the running props, so Hartl, the tractor driver, couldn't see him and he didn't observe the sledge, when he stepped forward to adjust something. Death was supposed to have been instantaneous. He was 31 years old......."
From his daughter, Michele Moulder Gamble: "I used to watch him get ready for work and have coffee with him at 6:00 a.m. when we lived in Japan. When we lived in Pensacola, Florida, he volunteered to go to the South Pole. I remember standing at the airport window, crying and made him start crying, not wanting him to leave, San Antonio, TX Airport. The last time he got to come home was October 1965, we celebrated his birthday(10/7) and Andy's birthday (10/4), we lived in Texas.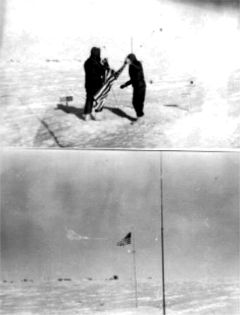 SK2 Moulder raising his flag, South Pole

Andrew sent many pictures and mementos home to his family, who were then living in Texas. He even sent his daughter some penguins (well, one was a stuffed animal, and one was a charm). From his younger son: "My birth name was Jeffery Scott. At age 11 I had my name legally changed to Andrew Burl Moulder III. I wanted my father's name to live on, we were very proud of my father and his time on the ice. We never could find information other than what was contained in the 2 books, On the Ice [cruisebook] and I'm not sure of the other books name. I have both books and about 12 to 15 pics... I also have other mementos, a Zippo lighter w/ Operation Deep Freeze on it. I also have his Flag that flew at the South Pole. After 9/11 American flags were almost impossible to find, I wanted to show my pride in being an American. So the flag that had only been flown at the bottom of the earth was flown once more.

I'm sure my father would have wanted it that way.After a week or so my employer International Paper issued everyone a new American flag , So daddy's flag was once again put away for safe keeping . I hope we never have reason to need it to fly it again. Although it flew as proudly here at my home in Louisiana as it had in the Antarctic. I'm sure it put a smile on Daddy's face to see it fly once more."
His mother provided these comments from older son Greg: "He remembers his dad took a great deal of time with him surf fishing at the beach in Pensacola--teaching him not only to hunt, but how to use a gun properly. Greg enjoyed whatever he and his dad did, but their favorite hobby was collecting Indian arrowheads."


From Martin Sponholz, who was a member of the first winter crew at Plateau Station. He spent several days at Pole in January 1966 to acclimatize to the altitude: "Andrew Moulder's death was indeed a tragedy. He was a dynamic man of the US Navy that had no reserve toward the civilian scientists. My short days acclimatizing to the high altitude on the way up to Plateau Station I meet Moulder and found him a great joy. He made a person feel at ease and for me, a polar rookie, that was most important."
The photos on these pages were provided by family and friends. Here is another page of Andrew's pictures of life at the Pole...