---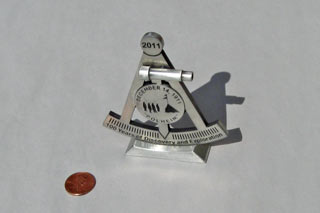 Okay, this is my photo of, well, MY 2011 Pole marker. No, it is a bit smaller
than the real one (I've included a penny so you can get an idea of the size),
it's pewter instead of brass, and it is not quite as detailed as the original,
but this copy is mine. I've been collecting these replicas for a number of
years now, and you can too! No, this is not any paid advertising...just a
suggestion that if you want one of these for your mantel or whatever, contact
the friendly folks at either the
Antarctic Connection
or Geographic Locations
International
(mountainclimb.com)
and you can have one too!
Credits and thanks...all of the photos were provided by Robert Schwarz unless indicated otherwise...some of the information came from this 3 February 2011 Antarctic Sun article by Peter Rejcek...and additional help was provided by Derek Aboltins.