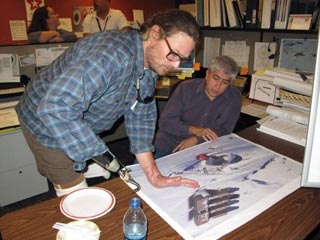 And, of course, right back to work with Andy, perhaps
contemplating the drifting and the dome demolition.
Comments from Beth Watson, "It was SO wonderful to see them! So wonderful! It was like a ray of healing light just went through everyone. There he was, standing almost as tall as he had been, bounding around as sure footed as ever...Dangnation, Bill. He's as Jake-like as ever! He's had (and continues to have) a enormously hard road to recovery. He still has a lot of real and phantom pain. But you would never know it if you didn't ask. His spirit is so positive! Oh, Man. Was it so great to see him!"
And I wish I could have been there in person. So what is next for Jake? They headed back to NZ in mid-October 2009...looking forward to getting home. They were still in the middle of treatments and prosthetic development, and there were other trips back to the US to work with the doctors. They both seemed really pleased with the treatment they have been receiving and will continue to work with their doc's here.
Now, about the Jake Speed Fund! It was created (now closed) and amazingly raised more than $36,000! That has been turned over to them, for which they are EXTREMELY grateful! Yes, we know that workers compensation pays for the basic treatment, and it has been treating Jake well, but it doesn't pay for everything and it doesn't pay a salary! So the contributions were extremely welcome, you know who you are!
After the office visit, Kathy, Jake, and other folks repaired to a local establishment for further celebration...this photo from Steffen Richter:
Except as noted, the photos on this page were taken by Al Baker, and are seen here with help (and some captions) from Beth Watson.
Next...more back story and photos of Jake!