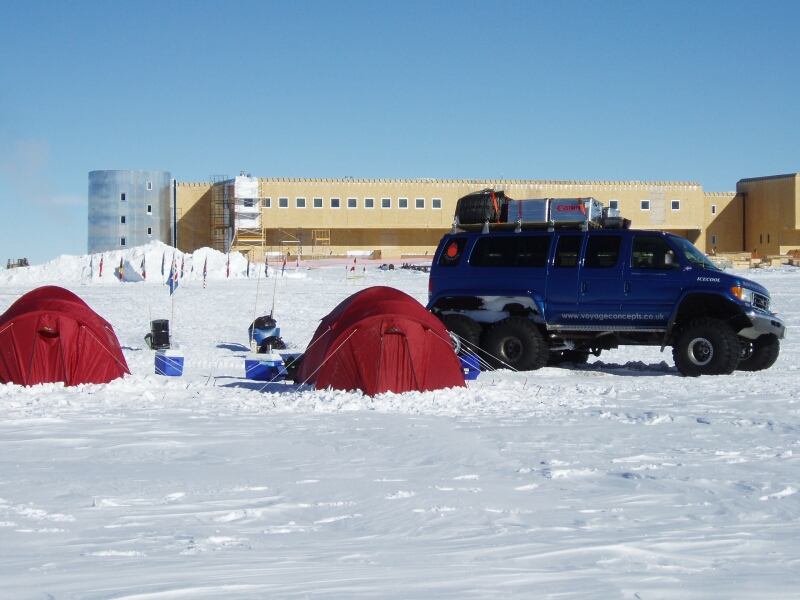 Here's the team camped out in front of the new station.
The six-man mostly-British team was led by Jason De Carteret, it included Icelander mechanic Gunnar Egilsson, owner of the Icelandic company Icecool, which had originally modified the vehicle. The other team members were Andrew Moon from the Cayman Islands, Richard Griffiths, Andrew Reagan, and videographer Andrew Miles. (Some reports indicated that only five men made the trip, but Andrew Moon assured me that maybe they meant that the cameraman slept for most of the trip). Andrew Moon had skied to Pole in December 2004.
The vehicle, named "Ice Challenger," originally a 1996 Ford Econoline, had been converted to a 6x6 all-wheel drive configuration, it was powered by a 7.3 liter turbocharged V-8 diesel. It had been flown to PH aboard a Russian Ilyushin-76 aircraft. The venture arrived at Pole at about 0100 local time on 13 December 2005 after a record-setting nonstop trip from Patriot Hills--2 days, 21 hours, 21 minutes. The 700-mile trip burned 360 gallons of fuel, which had been staged along the route--before the Pole trip, vehicle testing included a 24-hour 500-mile nonstop trip to establish a forward fuel cache. The trip broke the previous "land speed record" to Pole of 24 days set by Japanese motorcyclist Shinji Kazama and his team in 1991-92. The group encountered bone-jarring hard surfaces, fields of soft snow (for which they deflated the tires down to as low as 1 PSI), a minor cave-in in a crevasse field, and the need to replace the drive belt adjuster after the bearing seized. Their mileage was typically about 2.4 miles per gallon, although this dropped to less than one MPG as they approached the station (oh, they were burning kerosene mixed with motor oil).
After camping out for a bit at Pole, they retraced their trail; the van was then shipped back to South America and then back to Britain in February. A log of the trip with more pictures is available from 4x4offroads.com. I'm quite impressed, especially since at the time I was driving an (unmodified) 1996 Econoline van. More information and vehicle specs are available from the (archived voyageconcepts team web site). Here are a few more Polie pictures...forgive me as I was traveling in Australia without a computer when I put these up, and I didn't document the photographers' names: