I don't know when this photo was taken, but I'll take a guess from the background that it was near the end of summer. This is our Russian (or Soviet as we said then) exchange scientist Alexander Zaitsev at the Ceremonial Pole. The orange building over his shoulder is the new emergency power plant we created in the construction camp garage. The photo, presumably from Alex, is one of several that appeared in this May 2016 interview of him by RK3B at the Troitsky Center of Space Communication. It's in Russian, of course, so if your fluency in Russian is like mine, you will need to use your favorite translator.

Several times during the summer we dug up some of the old and dirty snow around the buildings, to level off the dome floor. Here I'm standing in front of the science building outside of my office window, looking at a corner of the annex and comms with the emergency exit in the background.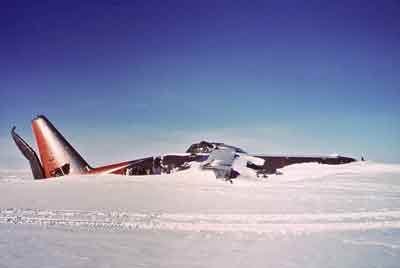 Perhaps 3/4 mile downwind of the 20 (downwind/grid south) end of the skiway is this bit of airplane wreckage. Actually this C-130 #917 crash landed almost directly in front of the new station on 28 January 1973 (no injuries, and all the cargo was recovered except for a 500-gallon seal drum (bladder) of mogas). The wreckage stayed there until 2 days before the new station was to be dedicated in January 1975. Then it was quickly towed here, just before the DVs showed up for the dedication. The wreckage was lined up with the skiway coordinates to serve as a radar beacon. It is amazing to see more recent pictures of this aircraft which show only a couple of feet of the tail above the snow...before it disappeared from sight (but not from radar)...
Inside the cockpit. In our days this was not a hazardous confined space, but it WAS COLD! These 917 pictures were copied from Alex...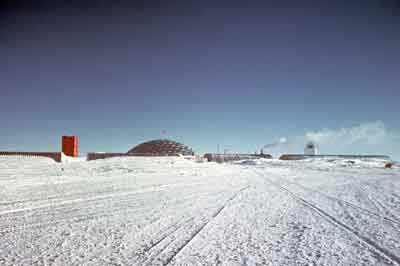 Very late in the season, I look back towards the station from near the ceremonial pole, across the landscaped snow. Some months later some of us would be contemplating this distance in the dark at -100°F (and unclothed) (with drifts and sastrugi in our path).


The night fuel team finishes up another one. If my memory is correct, we had a total of about 120 flights during the summer season, which got to be way too many as they came fast and furious at the end of the season. Remember, we had a supply department manned by ...John Heg... and whatever help could be scrounged up. The new station construction, enhanced science, and trash retrograde dictates that the place gets three times as many flights a season and has a massive cargoid operation.
We were incredibly glad to see the airplanes and summer folks go away so we could get some sleep!