Spring 2000 running in New Orleans
Spring in New Orleans is really a brief season about 2 weeks long before the weather turns hot. Well, actually these first few pictures were taken in winter in late February; I took my camera to a 10K race at Bayou Segnette State Park, a new park on the west bank of the river (more or less directly south of Kenner).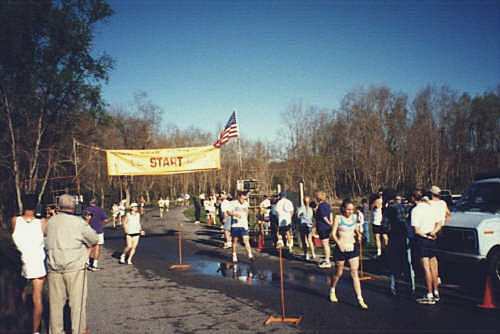 Commonly they have a 1/2-mile race before the main event; this is good because it provides a chance for kids and spouses to have a go at the course. That is what is happening here.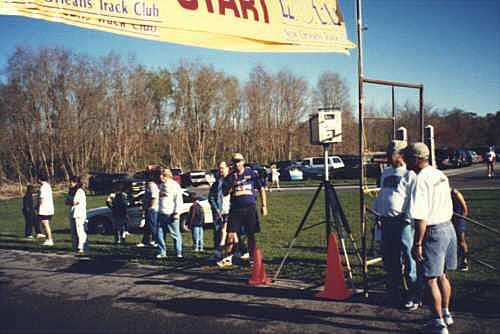 Chuck George, the executive director of the New Orleans Track Club, is in the center in the purple shirt.




Another view of the finish line activity.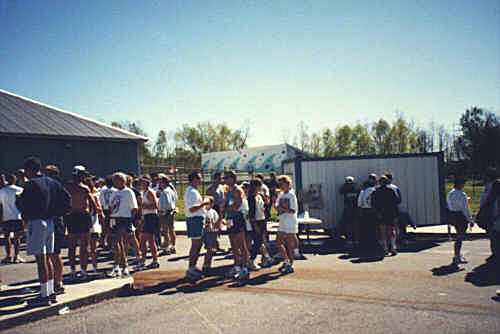 After the race there was fruit, red beans and rice, cheese curls, and of course Lite beer, here is the beer wagon. This area of the new park was in front of a swimming pool with a wave machine (!) of course it wasn't open this time of year...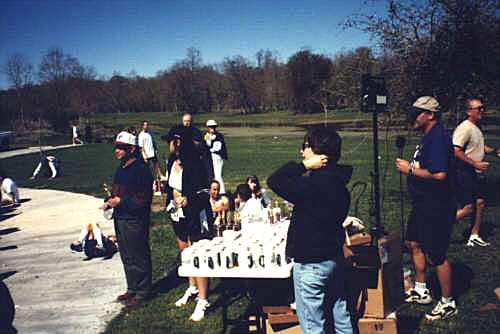 The awards ceremony. There are lots of awards for various age groups...but as I get older it seems that other fast runners do to. I've collected a couple, but not lately.

In 1988 I did win a second place age group trophy (a pint glass) from the RadioFone Beeper Run that finished in City Park. Remember beepers?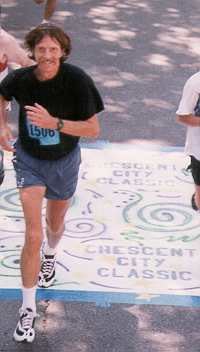 This last picture (large view) is my hero shot at the finish of the Crescent City Classic, which is the "big" New Orleans 10K race, usually held the day before Easter. This is the 5th time I've run it--it starts in the French Quarter, but this year much of the course was new and it ended up in City Park. I was about 800th, not too bad when you consider that there were 20,000+ runners, not all serious of course. I've slowed down a bit, last year I finished in just under 45 minutes, this year I did 48:34... I also volunteered a few hours earlier in the week passing out registration materials at the race expo downtown.