Some of us got together at the Volcano restaurant in Lyttelton. Around the table from the left you have Bette Hess (Katie's mother, who was visiting in NZ),Terry Eddington, Claire Petterson, and Katie Hess. Weeks Heist took this picture,
here is one I took that has him in it
.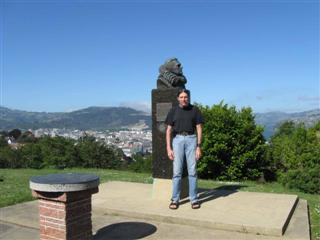 A few days later I spent some time in Dunedin...here is a hero shot in front of the Admiral Byrd memorial bust that is in a scenic park overlooking the city and the harbor.