Under the UV Lights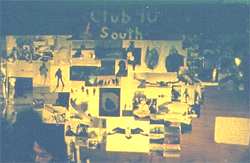 Here is another glimpse at the pictures
on the wall.Since Simon is on board, I'll
attempt to deal with a few more pictures
from the bar despite the lousy lighting...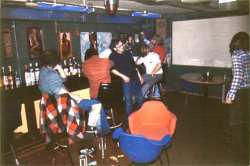 One of Stu's stranger poses...what is Gary about to do??


One of those traditional pole soul secret handshakes (?) Oh, hello, Craig.
Jerry attempts to document the damage. Note that the date of these photos is documented...there is one of those ubiquitous Easter eggs by John's right elbow, so this stuff went on well before midwinters day.




A sashafoto of one of the more serious
construction projects of the winter...
These 2 slides were copied from Alex.
Did Simon build it up to the ceiling?


Downstairs, Al is enjoying the spiked juice. Donations, anyone?


---
back to index | next