hamming it up

(here's what the back of these looked like)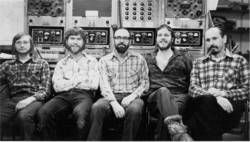 Our five amateur radio operators: Dave, Fritz, Jerry, Lloyd and Alex, here in the main part of comms. The ham shack got a lot of activity all year, not only for phone patches but also for making contacts with other amateurs all over the world in English and Russian!




Jim Fletcher in the ham shack doing a phone patch. In 1977 the winterovers at Siple and Palmer already had the capability to make telephone calls via the ATS-3 satellite, but for us the ham radio was the only way to talk to the family and friends back home.




Dave Thelander gets on the horn...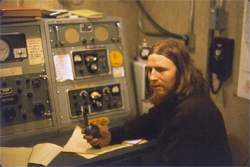 Here's my turn for a patch. Or perhaps I'm talking to Siple Station, where 5 men were wintering over in the deeply buried old station. By this time of the year they'd run out of cigarettes! We used these radios to communicate with folks at many of the other Antarctic stations.

---
the QSL card page | back to winter 1977 index | next