In the galley...from left: Hans-Albert Dahlheim, Prince Edward, and manager Pete Harding
Prince Edward, the third son and fourth (and youngest) child of Queen Elizabeth and Prince Philip, was the first member of the royal family to visit Pole, Scott Base, and McMurdo, although his father, Prince Philip, the Duke of Edinburgh, had visited British bases on the Antarctic Peninsula during IGY. (Later, Princess Anne visited Scott Base and McMurdo from 7-10 February 2002; she dedicated a plaque commemorating the 100th anniversary of the Discovery Hut...was stranded briefly by weather at the Terra Nova hut at Cape Evans, and had to return home a bit early because of Princess Margaret's death on 9 February. She later visited Rothera aboard the HMS Endurance in January 2007.)
Edward, born in 1964, was 18 at the time of his Antarctic trip; at the time he was third in line of succession to the British throne (currently he is #8). After graduating from secondary school in the UK in 1982, he spent two terms as a house tutor and junior master (positions perhaps similar to resident advisor) at a private boys' school in Wanganui, New Zealand.
Edward flew to the ice on Thursday 9 December aboard a RNZAF C-130, and visited Pole for a few hours on the 11th. The DV group included Robert Thomson, superintendent of New Zealand's DSIR Antarctic Division; Air Commodore David M. Crooks (deputy chief of air staff); Colin Monteath, field operations officer for the Antarctic Division; and a rather solid New Zealand policeman who was providing security. Before the Pole trip, Edward climbed Observation Hill with Colin Monteath.
The DV group...the prince, in yellow, is just entering the dome, and John MacMillan (in orange) is carrying his gear.
And the requisite hero shot...from left are Pete Harding, Dick Cameron, Prince Edward, and two of his crew.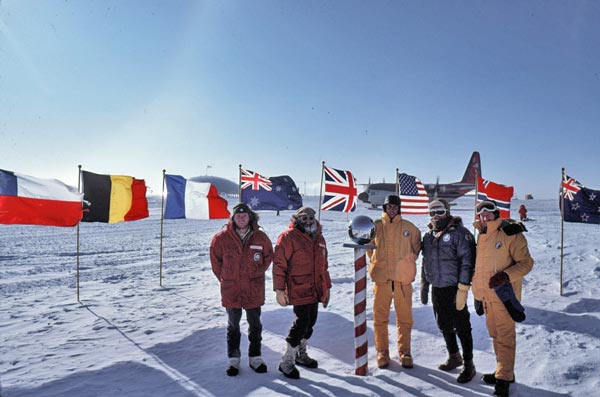 Another photo from the same angle...in color.
After the Pole trip, Prince Edward visited Vanda, inspected other science projects, and visited McMurdo. He returned to Christchurch on 15 December.
---
All of the photos except the bottom one, as well as information about the Pole visit are from 1983 winterover John MacMillan; the black-and-white photos are his; the color photo was taken by Colin Monteath and appeared in the 1984 USARP calendar. The bottom photo, also by Colin Monteath, is from Antarctica New Zealand's Recollect website (link to original photo with copyright information). Colin Monteath's photos are used with his express permission (thanks!). Other information about Edward's visit came from Jim Mathews and Rich Wiik.