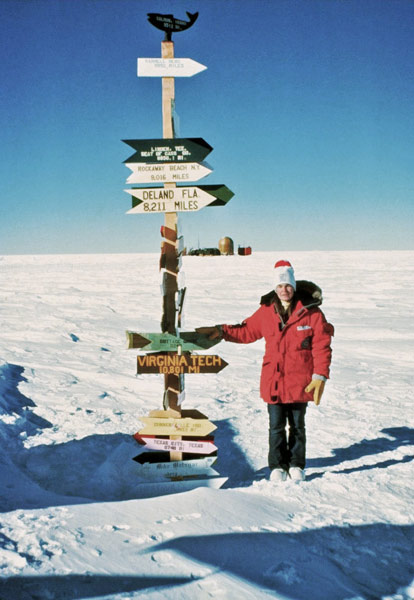 Cynthia McFee at the Pole signpost (Cynthia's photo from the
NOAA photo library)
(archive link).
LT Cynthia McFee was the third woman to winter, and the first woman member of the NOAA Corps to do so. In the above photo she's standing next to the directional signpost, which for many years including my first winter was a significant feature of the landscape.
In 1979 and 1980 there had also been only one woman on station during the winter...Michele Raney and Martha Kane respectively. Fortunately that unnatural situation didn't continue...in 1982 and 1983 there were two female winterovers. In 1984 and 1987 only one woman wintered, but things were starting to change, soon there would be a reasonable number of women...maxing out in 2005 when there were 24 women among the 86 of us.
Two more photos of Cynthia...