The list:

Rich Wiik - Station Manager
Nick Barrett - Meteorologist
Russ Berry - USGS / Cartographer / Sat Track
Rusty Brainard - NOAA / Clean Air
Hans-Albert Dahlheim - Seismologist
Bill Dietz - Heavy Equipment
Steve Fahnenstiel - NOAA / Clean Air
Glen Gerhard - Electronic Tech / Weather
Rob Gigliuto - Radio
Jim Hetrick - Bartol / Cosray
Don Kirman - Power Plant
Jim Lewis - Facilities Engineer / Electrician
Glen Liston - General Maintenance Mechanic
John (Mac) MacMillan - Supply
Ken Mighell - Bartol / Cosray
Dan Parkin - Radio
Brian Peterson - Cook
Loreen Utz - USGS / Cartographer / Sat Track
Mary Lynne Vickers - Virologist
Joe Wall - Station Doctor

The photos above were scanned from the original at Pole in September 2005 (larger photo file, 307k) (HUGE original .tiff file) (115mb).

The list is thanks to Rich Wiik with help from Jim Hetrick, Glen Liston, and Ken Mighell. Note that Jim Lewis would winter in 1985 at Palmer Station...and sadly, that he died in 2002 (obituary).


---
There also is a rather unusual w/o picture NOT found on the library wall.

Warning, this photo was taken when it was -100ºF, so you know that there might be some nudity...presented as historical documentation only. This is courtesy of Jim Hetrick who is currently chair of the physics department at the University of the Pacific. At one time he had this up on his official university web page, so it must be safe for general audiences.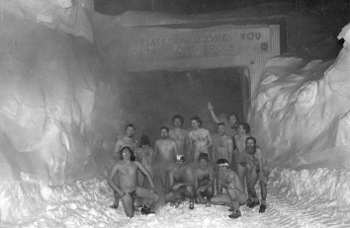 Here's the list of people in the picture that Jim sent along:
1st row, L->R:

Dan Parkin
Brian Peterson
Nick Barrett
Glen Gerhard
Glen Liston


2nd row, L->R:

Rusty Brainard
Mary Lynne Vickers
Rich Wiik
Hans-Albert Dahlheim
Jim Hetrick
Bill Dietz
Ken Mighell
Joe Wall
(Dan Parkin also contributed another photo of this event which started this whole thing)

Below, one last photo depicting many of the winterovers, taken the evening after opening flight: