I'm not sure when the idea for this event originated, but I heard about it in the spring of 2017, when 2004 Pole winterovers Lisae Miller (in Arizona) and Angela Drexler in Minnesota) announced their weekend trip to Colorado and Denver on the last full weekend of June. Many people were invited...some sent their regrets because they were in Australia, east of the Mississippi with no extra time off, or for various other reasons. But other folks DID show up! One reason I'm sharing these photos is to spread the word that there are Antarcticans and Polies all over the world, and if you can come up with an opportunity to get together with a few you know and/or a few you don't know yet...go for it!

Friday evening (23 June 2017) we gathered for dinner at Earl's Kitchen and Bar in downtown Denver. A noisy place even though we were on the fairly empty second floor. At right, a few of us gathered for a photo in the back. From left--Bill Spindler, Randi Dixon, Lisae Miller, Angela Drexler, Mountain Miller, and his daughter...with Tom Banks in front.

After dinner we went to our hotel bar at the Crowne Plaza--it was much quieter.





Saturday morning we headed west to Golden...goal #1 was to locate Doc Jones. We had his address, but hadn't heard from him. Amazingly, just after we pulled up in front of his house, so did he!

After chatting with him and his wife in their front yard, we headed off to the nearby Cannonball Creek Brewing on Highway 93 (yes, there is more than one brewery in Golden).

Around the table from left: Scott Jones, Tom Banks and his wife, Sean Ryan, Bill Spindler's forehead, Randi Dixon, Angela Drexler, Lisae Miller.



Saturday evening we gathered for dinner at Henry's Tavern, a couple of blocks from the hotel. And a good time was had by all! An after-dinner photo where we could all gather--seated from left: Randi Dixon, Lisae Miller, Sean Ryan, Bill Spindler, Paddy Douglas, and Tom Banks. In front: Andrea Drexler and Glen Kinoshita.
After dinner, many of us repaired to the hotel bar...where we plotted out our plans for Sunday among other things. Here are a few if us--Glen, Angela, and Sean. Since the hotel was being renovated, the fireplace behind Sean wasn't working, but blankets were provided for the folks who were cold. I'll spare you those photos(!)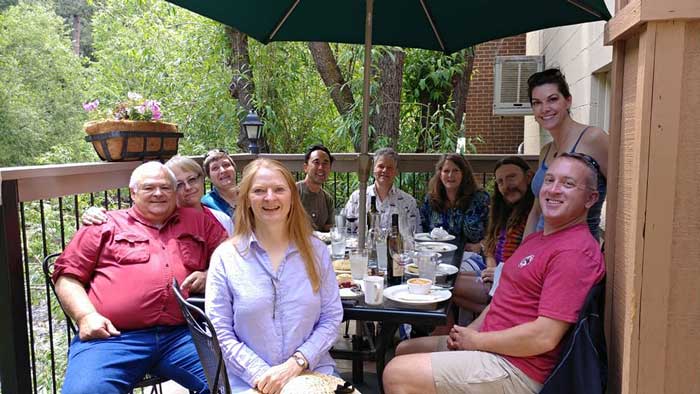 Sunday morning, we headed west again. This time we ventured up Bear Creek Canyon, west of Denver, from Morrison to Evergreen, where we ended up at the Creekside Cellars winery for lunch outside on the patio. From left to right, Tom Banks, his wife, Randi Dixon, Angela Drexler (in front), Glen Kinoshita, Dr. Scott Jones, his wife Susan, Bill Spindler, Lisae Miller, and Sean Ryan. The weather was nice, the food was great and the wine glasses were huge!
---