The above photo from Scott Smith shows the helicopter about to land on 17 December 2003 Pole time--100 years after the Wright Brothers' first flights.
The British-based Polar First (2004 archive site with links to their summer 2003-04 diary) mission, piloted by Jennifer Murray and Colin Bodill, was to circle the globe over both Poles. Their route south passed through South America to Ushuaia, and then south to Marsh, Carvajal, Patriot Hills (PH), and then to Pole via a fuel cache 300 miles north. They planned to retrace the Antarctic route on their way north, but on 20 December, 3 days after the Pole visit, the Bell 407 helicopter crashed 120 miles north of Patriot Hills (78°14'S, 75°56'W) en route to Carvajal. The crash notification came when their emergency satellite beacon was detected at 0100Z at RAF Kinloss in Scotland. Despite poor weather at Patriot Hills (PH), AL&E quickly dispatched a Twin Otter skillfully piloted by Karl Zberg. Upon arrival at the crash site it was learned that Colin had managed to get Jennifer into a sleeping bag, erect a tent and light a stove, despite weather and injuries. Colin had undetermined chest injuries, and Jennifer had a dislocated elbow. They were flown to PH where they were under a doctor's care. An IL-76 left South America to fly the injured pair to Punta Arenas. Its crew under the command of Captain Rashit Saitov braved significant crosswinds to land at PH...both patients were stable. They arrived at PA at about 1520Z and received hospital treatment.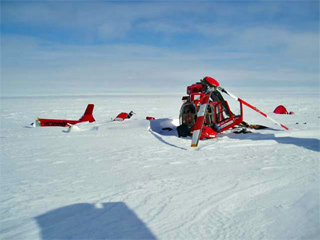 Above, a crash photo used by permission of the PolarFirst team
At the time of the crash, Jennifer's husband Simon Murray was on a separate unsupported trek to Pole (his expedition had been visited by Jennifer the week before). He continued and completed his land trek to Pole.
Details of this venture are gone from their web site, but you can follow their 2006-07 venture on the archive of their site map diary pages.
A few more pictures from Pole...the arrival (from Scott Smith):